Dermalogica BioSurface Peel
Last year saw the launch of the Dermalogica BioSurface Peel. The BioSurface™ Peel, is Dermalogica's first-ever chemical peel, exclusively formulated for use in skin care centres and spas around the world.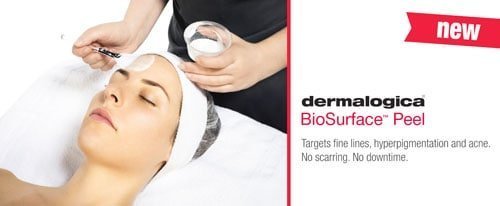 At the beginning of this year I was invited to participate in a trial, at the V&A Waterfront Concept Store, which combined the use of the Dermalogica BioSurface Peel, with the Dermalogica Powerbright TRx Treatment Kit. As you know I have hyperpigmentation and the trial was aimed at reducing the appearance of dark spots, as well as protecting the skin against further damage.
Some of you may have heard about the Dermalogica BioSurface Peel already but many people are really nervous about chemical peels, so I thought I would share a bit of info on the Dermalogica BioSurface Peel. I will share my review on the Powerbright products and more information on the trial, in a seperate post.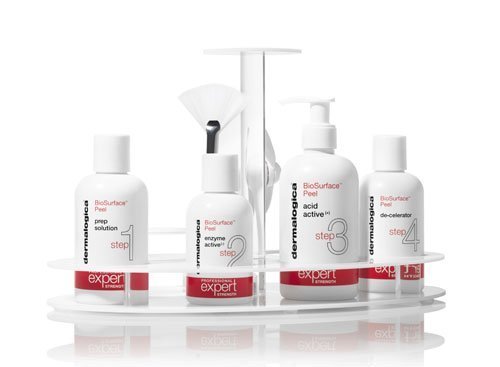 Dermalogica BioSurface Peel ~
This revolutionary four-step exfoliant system is the first range of products to be introduced within Professional Expert Strength, a new line of professional products only available to licensed skin care therapists. Dermalogica BioSurface Peel addresses a diverse array of conditions that include reducing skin roughness and the appearance of fine lines as well as helping to treat hyperpigmentation, pseudofolliculitis (razor bumps), and acneic inflammation. This new procedure offers the many benefits of traditional chemical peels, but with little to no post-peel redness or downtime—a huge advantage for consumers.
Today's woman is time-deprived, but still cares greatly about her skin health and wants results. Since Dermalogica launched more than 25 years ago, its mission has always been to set the industry standard and provide its tribe of professional skin care therapists with the most cutting edge products and treatments so they are best equipped to meet the demands of today's consumers. The new BioSurface Peel will provide consumers with the results they desire without any recovery downtime. ~ Diana Howard, VP of Research and Development and Global Education for Dermalogica and The International Dermal Institute. 
Application ~
The application process for BioSurface Peel consists of an initial Prep Step followed by layers of Enzyme and Acid Active peel solutions, which are neutralised in the fourth and final neutraliser step.  Because of the intensity of the powerful active ingredients, special training and certification are required to use BioSurface™ Peel.
Active ingredients include Salicylic Acid used in both the Prep Solution (Step 1) and Acid Active(+) (Step 3). As a keratolytic agent, Salicylic Acid causes weakening of cell connections allowing for sloughing of skin cells. Combined with a low pH, keratin bonds are loosened, creating a burst of exfoliation, which addresses signs of ageing and hyperpigmentation.
The Enzyme Active(-) (Step 2) delivers an 83% total enzyme solution utilising Pumpkin Fruit enzymes with Papain, Protease and Aminopeptidase enzymes. In addition, Moth Bean Extract offers a gentle, botanical alternative to synthetic retinoids, while offering similar effects.
In addition to Salicylic Acid, the Acid Active(+) phase (Step 3) also delivers Lactic Acid, bran-derived Phytic Acid, and Sugar Cane Extract. This step brightens areas of hyperpigmentation, helps removes impaction plugs in follicles especially in sebaceous glands, and aids in cell turnover. The De.celerator (Step 4) halts the exfoliation process with a blend of Sodium Bicarbonate, Yeast Extract and soothing Cucumber Fruit, Japanese Green Tea, Oat Leaf and Saponaria Leaf Extracts. This final phase slows the activity of the acids and normalises the epidermis while calming and comforting skin and initiating the process of skin repair.
Treatments ~
To ensure maximum results, the Dermalogica BioSurface Peel is recommended as a series of three to six treatments.
Series of Treatments
Skin Concern
When to Perform Subsequent Treatments
Ageing/Pigmentation
1-2 weeks apart
Sensitive Skin
3-4 weeks apart
Acne/Congestion
1-2 weeks apart
Normal/Maintenance
4+ weeks apart
Pre Peel Care ~
It is extremely important to prep your skin before the professional BioSurface Peel is performed. It is recommended that the following pre peel care, based on your needs and skin concerns, are followed:
Home Care
Pre BioSurface™ Peel
Focus
Products
Exfoliation
Daily Resurfacer, Daily Microfoliant®, Gentle Cream Exfoliant & Skin Renewal Booster
Acne
Clearing Skin Wash, Clearing Mattifier, Oil Control Lotion & Oil Free Matte SPF30
Ageing
Skin  Resurfacing Cleanser, MultiVitamin Thermafoliant, MultiVitamin Power Serum, Overnight Repair Serum & Age Reversal Eye Complex
Pigmentation
Tri-Active Cleanse, C-12 Concentrate, Pure Light SPF30, Pure Night
Sensitivity
Barrier Repair, UltraCalming™ Serum Concentrate
Post Peel Home Care ~
Once the peel has been performed, for optimal skin health results, you should include post peel products in your skin care routine. It is imperative that you incorporate an SPF as part of your daily routine.
Home Care
Post BioSurface™ Peel
Focus
Products
Dryness
Intensive Moisture Balance
Sensitivity
Barrier Repair and UltraCalming™ Cleanser
Dead skin cells
MultiVitamin Thermafoliant
Sun protection
Super Sensitive Shield SPF30 or Ultra Sensitive Tint SPF30
Benefits ~
Dermalogica believes a chemical peel should work with the skin, not against it. The new Professional Expert Strength BioSurface™ Peel's uniquely multi-phase approach powerfully targets fine lines, hyperpigmentation and acne to take skin health to a whole new depth.
One of the main pro's of the Dermalogica BioSurface Peel, is the lack of downtime experienced. You may experience a bit of tingling and tenderness during the treatment but I felt very little, if any discomfort and only the slightest redness, directly after the peel.
The cost of the Dermalogica BioSurface Peel is R690 per treatment. The BioSurface Peel is available at Dermalogica Concept Stores, as well as selected Salons and Spas, please visit the Dermalogica Website for more info.
Disclosure Ranking:2