August 9 marks National Women's Day, which celebrates the achievements of Women in all spheres of life.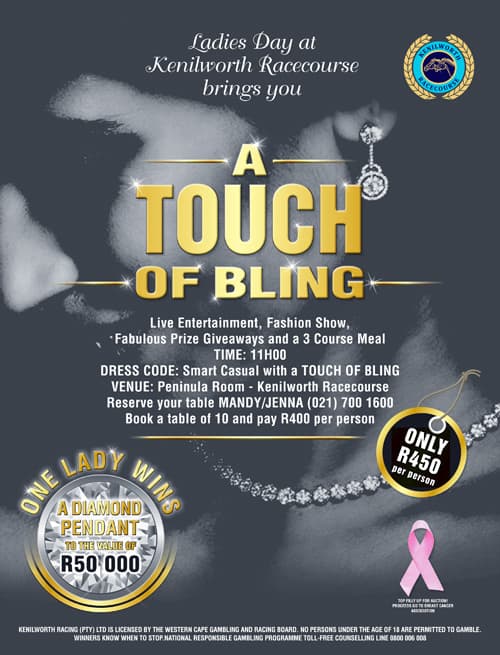 Kick off and celebrate  National Women's Day in style at Kenilworth Racecourse, Kenilworth Racing is going all out for the ladies offering various activities and quality entertainment that is scheduled throughout the day.
We have fabulous prize giveaways not to be missed! Including a sparkling prize to be won: a diamond pendent to the value of R50 000, sponsored by eDiamonds.
Tickets to this year's event cost R450 for every individual except in the event you book a table of 10 paying R400 per person, includes a 3 course meal.
The Peninsula Room will host the event and doors open at 11h00. The dress code is smart casual, this year's theme, "Touch of Bling".
At 4pm the gentleman are allowed to join in the festivities with the charity auction of a magnificent Filly will be held, courtesy of Mauritzfontein Stud and through the generosity of Jessica and Mary Slack.
Top trainer Dean Kannemeyer will be training the beautiful athletic specimen by champion racehorse, Noordhoek Flyer Filly by Prestic for free! Proceeds from this filly will go to Breast Cancer Association.
Last year the auction of the Jay Peg colt, so generously donated by Marsh Shirtliff, Lukas Theron and Hemel & Aarde Farm, and entire year's free training by Brett Crawford, Zubbadabbadoo was auctioned for R130k to 12 ladies. "Zubbadabbadoo is now in full work and will have his first run in early Spring".
Women's Day is an opportunity to celebrate the contribution of Women in our communities as well as raise awareness of issues women continue to face. Support this worthy cause and reserve your table contact Mandy/Jenna (021) 7001600 or email [email protected] or [email protected]