As I have mentioned previously nothing gives me greater pleasure than discovering amazing home-grown talent! Meeting these creative people who have taken their skills and talent and put them into practice, doing what they truly love, is truly inspiring!
I am a true sock lover and very fussy when it comes to buying socks, my precious tootsies deserve only the best! Soft and comfy and more importantly socks that do not cut off the circulation in your lower leg, are attributes that are very important to me, when selecting a pair of socks. So if this all sounds familiar then look no further, FEAT Sock Co. have a pair of socks with your name on it!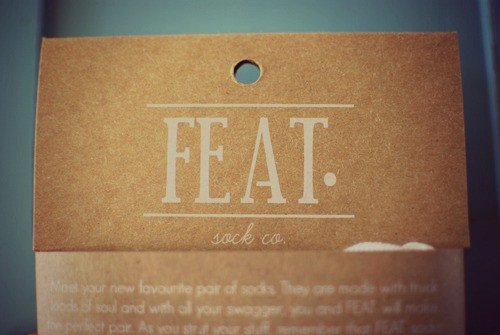 The feature of an ensemble is the focal point, the centerpiece, the element that draws one's attention. 'Feat.' socks characterise the collaboration between eye-catching aesthetics and quality comfort. They are made with truck loads of soul and with all your swagger, you and FEAT. will make the perfect pair. As you strut your stuff, remember that FEAT. socks are made with only the best yarns and all production is kept local to the Western Cape, South Africa. ~ FEAT.sock.co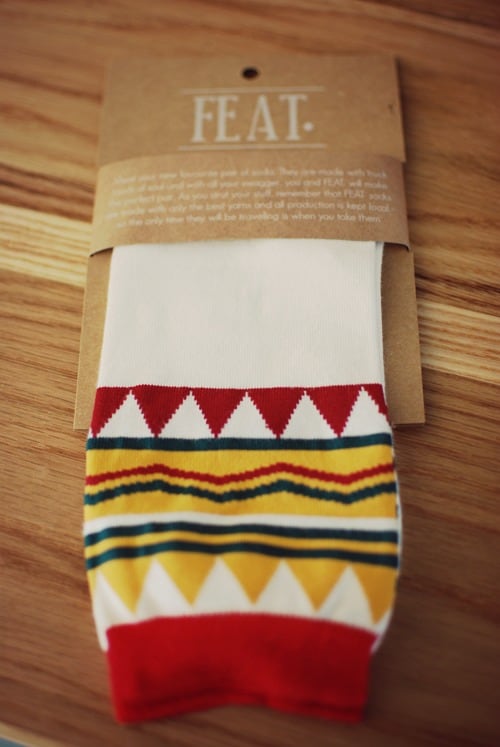 I love the funky designs and fresh colours – taking the ordinary sock to a whole new level. Below are a few of my favourites – truth be told my favourite-favourite is the pair above from their mens range, I will have to buy them for Mr and subtly move them to my sock draw!
So who are these sock loving designers?
Alison and Chelsey are two best friends whose dreams and adventures have always been cushioned by a pretty pair of socks. At age eight and nine, their friendship bloomed in dance class, wearing little, lacy, ribboned toe-socks. By age thirteen, they were stealing Ali's older sister's socks to slide around muddy paddocks with horses. Today, in their early twenties, they have decided to take their love affair with socks more seriously, with all the joy and frivolity of those two silly little girls.
Check out this great short film featuring FEAT socks:
[youtube]http://youtu.be/3RpROT5eRYo[/youtube]
If you would like to get in touch and find out more about these amazing socks you can visit the FEAT website here or pop over to their Facebook Page.
Images:©FAR Photography