You may recall my post last month featuring the Cavendish Square Beyond Words Campaign. The campaign launched in June and will run until the 13th December. As part of the campaign, Cavendish have asked me to create a "lifestyle" display for each of the Beyond Words themes. The first theme interpretation, I did, was Cosy and the theme for this month is FRESH Beyond Words. You are able to view the display on level P1 until the 21st September.
FRESH Beyond Words with Cavendish Square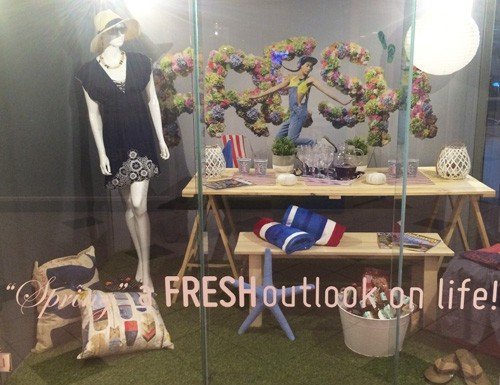 "Spring" a FRESH outlook on life!
The word FRESH means "new or different", which is the perfect definition of Spring. Spring brings with it a fresh outlook on life – green leaves on trees, sweet smelling blossoms and the promise of new life. This is also the perfect time of year, to do some of the things I love – spending time at the seaside, lounging by the pool, picnics in the garden and alfresco dining with friends.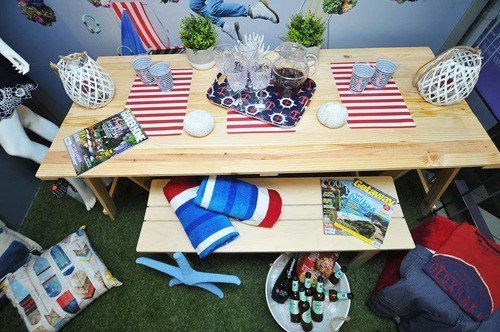 For my FRESH Beyond Words interpretation, I decided on a nautical theme – of navy, red and white. These colours work really well in an outside space and evoke feelings of poolside living or holiday's at the beach.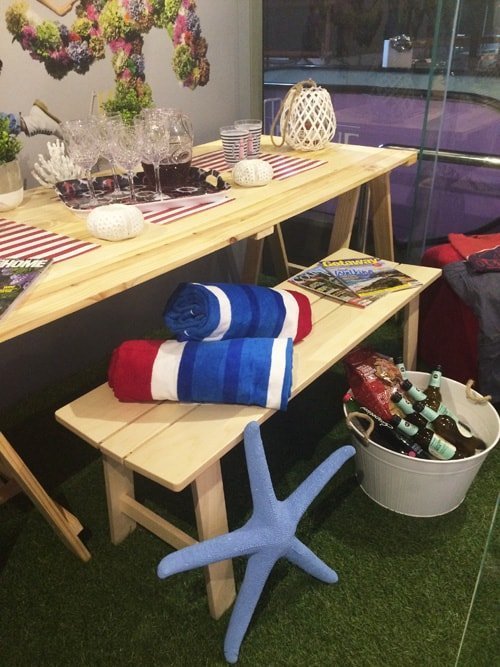 I used a mixture of these colours, for the tableware, as well as clear perspex. The wine glasses and pitcher have a funky embossed pattern, for an element of elegance and the "Seven Seas" tray, continues the nautical theme.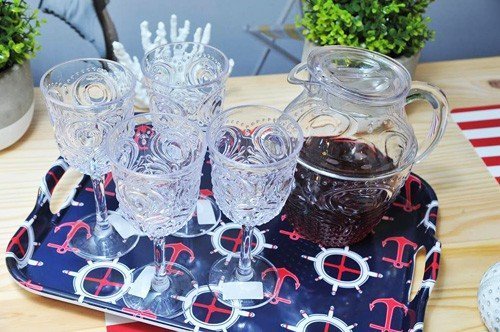 For lighting I kept it simple and "beachy" by using two Woven Rope Lanterns and Sea Urchin Candles – both in white.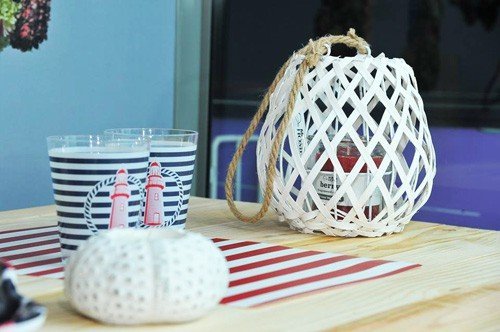 In keeping with the theme, I dressed the mannequin in stunning navy and white beachwear from Accessorize.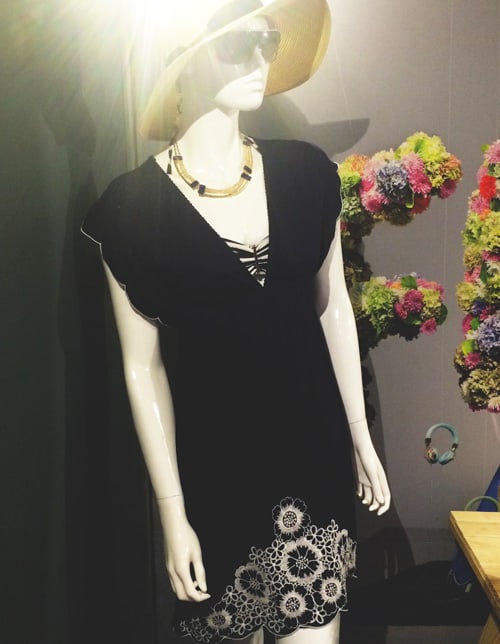 As well as being a wonderful source of inspiration, the Beyond Words Campaign offers shoppers the opportunity of winning prizes to the value of R400 000! You can enter at Cavendish Square on P1 from the 9th June until the 13th December 2015.
Cavendish Square are also offering readers another opportunity of winning! SHARE and COMMENT on the Cavendish Square Facebook Page, telling us what your favourite item from my FRESH look is and you could win a Partners voucher to the value of R410! Remember to visit the Beyond Words display on P1 to see my FRESH look.
For this look, I was assisted with the setup by Shelley Nell.
All items on display are available from Cavendish Square, please see details below:
Mannequin 
Sun Hat – Accessorize
Necklace – Accessorize
Navy Dress -Accessorize
Navy & White Bikini Top -Accessorize
Navy Detailed Flip Flops -Accessorize
Sun Glasses – Old Khaki
Table and Bench
Scatter Cushions – Mr Price
Beach Towels – Mr Price
Woven Rope Lantern -Mr Price
Embossed Wine Glasses -Mr Price
Embossed Dot Pitcher -Mr Price
Nautical Lighthouse Tumblers – Mr Price
Red and White Placemats -Mr Price
Seven Seas Plastic Tray -Mr Price
Planters – Mr Price
Starfish -Mr Price
White Coral -Mr Price
Sea Urchin Candles -Mr Price
Red Cube Seat -Mr Price
Magazines – Woolworths
White Metal Tub – Woolworths
Drinks – Woolworths
Nachos – Woolworths
Mens Wear-
Milo T Shirt – Old Khaki
Neil Shorts -Old Khaki
Jackson Thongs -Old Khaki