Whether it is a gift for a special friend, a wedding gift or simply a spoil for myself, this is my list of top online gift stores in SA…
Heart and Home is an online gift shop, specialising in home accessories, soft furnishings and accessories for children and adults. Product styles vary from vintage chic to contemporary. Each product is carefully selected to ensure a unique selection of gifts. I have been snooping around all the online stores since renovating my kitchen and fell in love with these gorgeous red canisters! To visit the Heart and Home Website click here.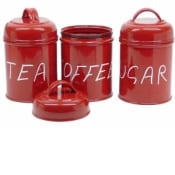 Skinny laMinx products are fun and quirky with a definite South African flavour. Skinny laMinx products are 100% South African, with design inspiration lifted from nature and everyday objects. You will find gorgeous Wild Flowers, Pincushions, Duikers and Flower Feilds in shades of Framboos, Blueberry, Cocoa to name but a few. Truly unique and exceptional designs at very affordable prices. To visit the Skinny laMinx Website click here.
Utique is an amazing on-line gift boutique, which is all about showcasing the very best of South African creative talent by carefully selecting products from local designers, artists and small businesses. To visit the Utqiue Website click here.
Yuppiechef is my favourite online kitchen store and sells the world's best kitchen tools from leading local and international brands. From knives, cookware and bakeware, espresso machines(I have my eye on a pretty red one) – they stock my favourite brands such as Kitchen Aid and Le Creuset. I love my Kitchen Aid and I am very keen to start adding a few of the attachments to my collection, especially the pasta attachment! They also offer free delivery anywhere in South Africa. To visit the Yuppiechef Website click here.