As a married couple, with children, I like to try to plan a night away, with my man, at least once a month! I think it is so important to reconnect, as a couple and spend some quality time together! We love staying in the Winelands but often that can be a bit too far for one night, so recently we have been opting for an overnight "Staycation" in the heart of Cape Town. There are so many fabulous Hotels, B&B's and Apartments to choose from! A recent Romantic "Staycation" found us at 15 on Orange, in the heart of the CBD, which is part of the African Pride group of hotels.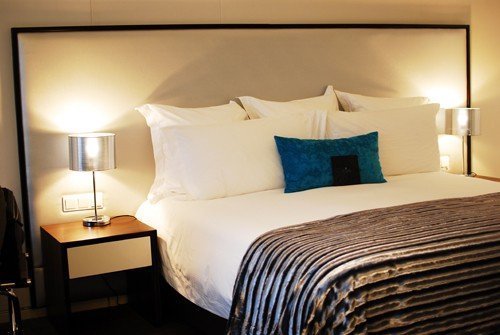 15 On Orange
I have attended events at 15 on Orange but this was the first overnight experience for us. I had heard nothing but great things about the hotel and the Spa has recently changed hands and had a revamp, so I was delighted to receive and invitation to stay over and experience it for myself.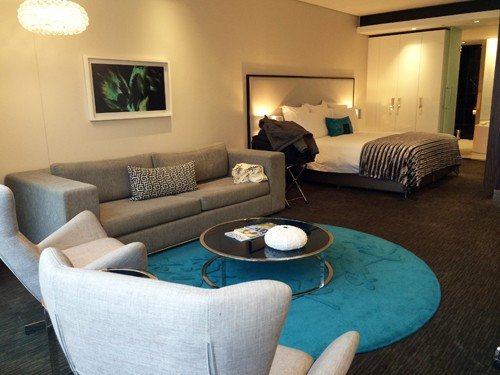 When we first arrived at the hotel our room was not ready yet, so we decided to hit Long Street for a bite of lunch. After lunch we were escorted up to our suite, by a very friendly porter! What awaited us was a rather stunning Suite, with lovely views over the city.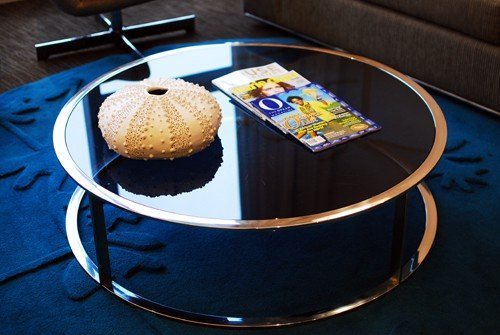 The interior decor is one of my favourite things about the hotels common areas and the suite was as stunning, with muted grey's, pops of bright blue and metallic accents. Under-stated modern, elegance at its best!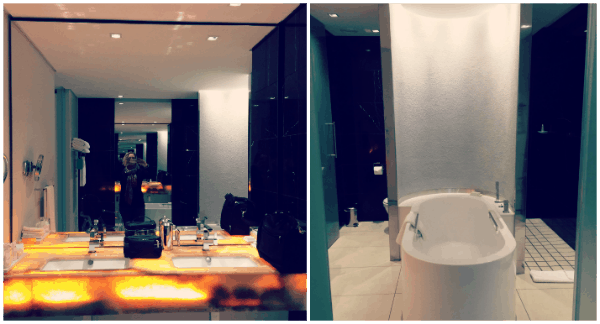 As with the suite the bathroom was gorgeous – simple yet elegant, with the most stunning black marble tiles on the walls. I simply could not wait to take a long relaxing bath but first we had a trip to the Suntra Spa planned.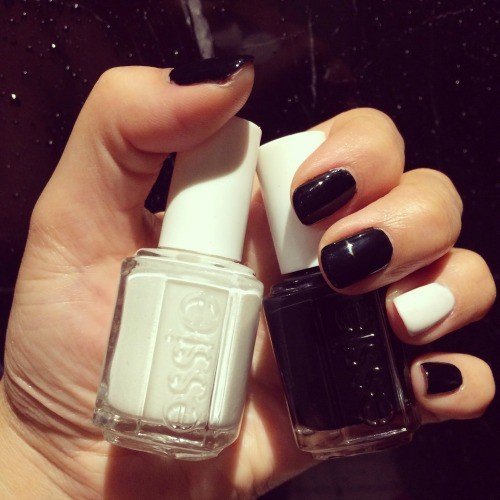 I could not resist a pic of my Black & White Mani against the bathroom tiles 🙂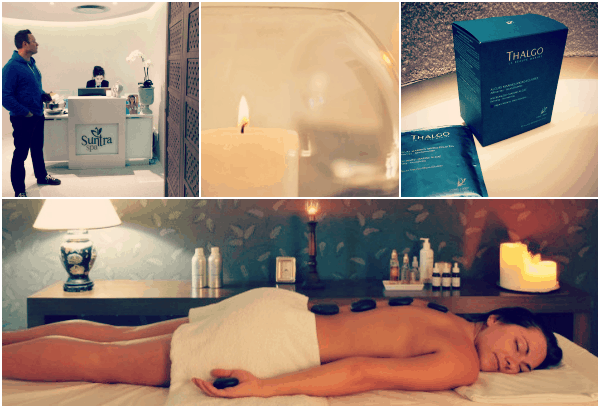 As I mentioned the Suntra Spa, at 15 On Orange, recently changed hands and under went a revamp to make it bigger and more in line, with the rest of the hotels facilities. The Spa offers a range of specialty facial treatments by Guinot and Dermalogica, as well as an extensive array of body massages, exfoliation treatments, wraps and grooming essentials.
We were booked in for a back and neck massage. Once we had completed our customer cards we were shown to a couples treatment room, where we enjoyed a wonder half hour massage. We both sit at our computers, for most of the day during the week and I tend to carry all my stress in my neck, so this was complete bliss!
The staff at the Spa were knowledgeable, professional but above all really friendly. The treatment room was lovely and spacious but unfortunately a bit too dark to take any decent photographs!

Before heading back to our room we decided to take a look at the hotel rooftop pool, which is situated on the 7th Floor next to the spa. It was a bit cold and gloomy outside and definitely not swimming weather but what a view!
Once back in our suite we ordered a lovely, chilled glass of wine and I wasted no time at all, submerging myself into a hot bath!

Before dinner we popped into the Murano Bar, for a quick pre-dinner drink – I absolutely love the decor in the bar.

Dinner was lovely – a rather quiet romantic affair, just what we needed! A few of The highlights of the meal, for me, were the Salt and Pepper Fried Calamari, with Avocado salsa and squid-ink aioli and the Roasted Gemsbok Loin, with potato rösti, spiced red cabbage and black berry jus. Naturally, although really full by this stage, we could not resist at least sharing a desert, we opted for the Molten Valhrona Chocolate Fondant, with Blue berry frozen yoghurt. What arrived was a beautiful, edible work of art – which looked almost too pretty to eat!
It was definitely time to make our way back to our room and settle in for the night! One of my main worries with staying in the CBD is the noise, we have had a few bad nights away and been unable to sleep because of the street noise. Whether it was the extremely comfortable bed or excellent soundproofing – we both slept like babies.
Thank you 15 on Orange for a wonderful, pampered Romantic "Staycation" in the heart of Town – it was a real treat, definitely to be repeated!
Contact Details
Location: Corner Grey's Pass and Orange Street, Mill Street, Cape Town. Telephone: 27 (21) 469 8000
CENTRAL RESERVATIONS: 0861 50 50 50, +27 21 430 5302 email: [email protected]
Disclosure Ranking: 2