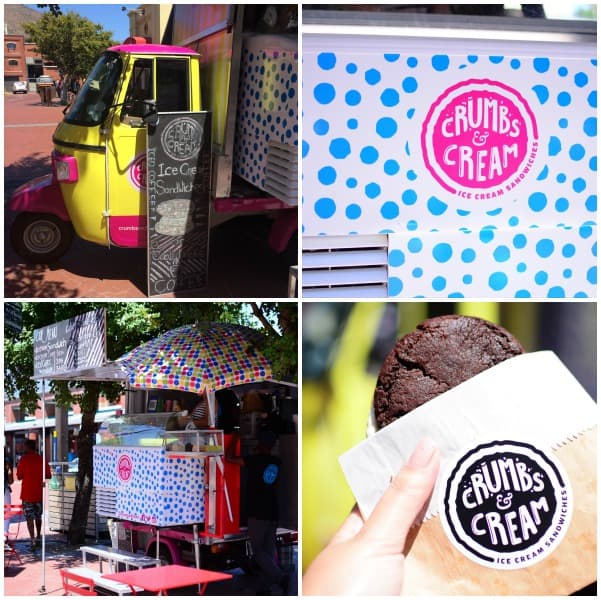 Crumbs and Cream is a new sensation to have hit the streets of Cape Town this summer! I was fortunate enough to visit this quirky ice cream truck at the Watershed Market, at the V&A Waterfront. What a treat! Choose two freshly baked cookies from a selection of delicious flavours. Pick a scoop of delectable Italian ice-cream – et voila you are in ice cream heaven!
Crumbs and Cream Cape Town
Sisters, Shahar and Or Peled, always dreamed of a home full of ice cream and cookies, so they combined the two to make a delicious ice cream sandwich. After trying out many different cookie and ice cream recipes to find the very best, Crumbs & Cream was born!
All the Crumbs & Cream cookies are baked daily, so they are always fresh and warm! Crumbs & Cream have different cookie flavours, which include: candy crush, butter, choc chips, peanut butter, brownies, Oreo and more…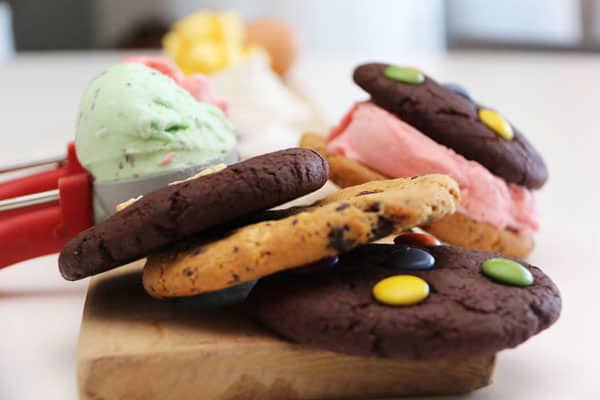 They also have different flavours of ice cream, including: Chocolate, Mint Choc Chip, Caramel fudge, Rum&Raisin. As well as Ice Cream you will find Sorbet, which is vegan and fat FREE. Flavours can include:
Wildberry, grandilla-mango, strawberry, lemon, tropical mango, blueberry…
The Crumbs and Cream menu is whatever you make it. Pick your cookies – I chose 2 different flavours, Brownies and Oreo and decided on a Vanilla Ice Cream centre. You can also add some yummy toppings! The choice is yours!
If you simply cannot make up your mind, then the super friendly staff are more than happy to offer some guidance! They also offer delectable specials, in house creations and limited edition products.
Not only are the ice cream sandwiches to die for but their ice coffee is amazing! But don't only take my word for it, pop along and have your own Crumbs and Cream experience!
Ice Cream sandwiches sell for R35 each. You can also buy the ice cream and cookies separately, which could be a fun desert option if you are entertaining friends.
The truck does move around so it is best to follow their Facebook page for the exact location each day!
Image Source: Collage – ©Inspired Living, Cookies and ice-cream ~ Crumbs & Cream