BB Cream has always been a struggle for me, particularly finding the right one. Most of them do not provide enough coverage or they make me breakout! Needless to say, I was very excited when the Amazing new Kiehls BB Cream arrived for me to review.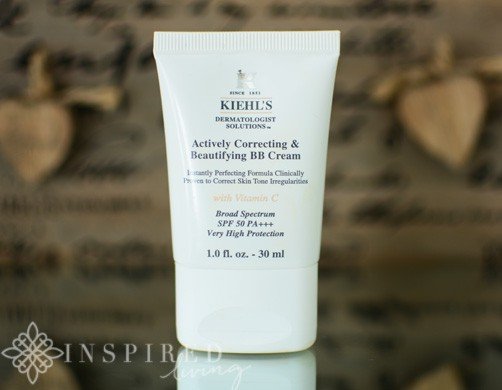 The Amazing Kiehl's BB Cream
The Kiehl's Actively Correcting & Beautifying BB Cream, was under development for two years. This included numerous formula revisions and more than 4,000 applications of the product.This remains true to Kiehl's philosophy – to take the time to develop the right formula, with skincare in mind above all else.
Kiehl's Actively Correcting & Beautifying BB Cream is a beauty industry advancement. At Kiehl's, being first in a category is not our focus. We choose to deliver real benefits in formulas that take innovation to the next level. Our customers appreciate that we don't launch and discontinue products as trends change. This BB is proof of our continued commitment to high formulation, safety and performance standards. We take the time and make the right product for our customers. ~ Cammie Cannella, Vice President of Global Education.
The Product
The first BB (the abbreviation for "blemish balm") was developed by renowned German dermatologist Christine Schrammek in the 1950s. It was prescribed to patients to help conceal post-surgery imperfections, while nurturing and healing the skin. With today's advanced skincare science, Kiehl's chemists focused on this same essential functionality, concealing imperfections but not only for instant coverage but also long-term correction.
With 71% of customers expressing concern with uneven skin tone and lack of clarity, as well as nearly 29% citing dark spots as a concern, Kiehl's chemists saw this as an opportunity. They have created a product, which effectively treats the skin, by offering skin tone correction using high potency Vitamin C.
The Kiehl's BB Cream, has been developed with amino acid-coated natural mineral pigments, which conceals imperfections, while working to correct skin discolorations. Additional benefits include reducing the appearance of pores and fine lines, while providing all-day hydration and broad-spectrum SPF 50/ PA+++ protection.
The product is available in 5 shades – light, natural, medium, medium/deep and deep.
The formula is lightweight, yet still moisturising and gives you build-able coverage. I usually apply my serum first, one which I have been enjoying is the Kiehl's Hydro Plumping Re-Texturizing Serum Concentrate and then my Kiehl's BB Cream. I find a little product goes a long way, so use it sparingly. Unless I am off to an event or meeting this will be enough of a base before I apply my makeup. If I am going out I will apply a bit of foundation or concealer to cover my pigmentation or any blemishes. 
The Verdict
I think if it were a perfect world and I was still in my twenties, I would only wear a BB cream but there are definitely those days, when my skin needs a bit more coverage! That said I do really love the silky smooth application, as well as the fact that it has a SPF factor 50+++! So if it is BB Cream I am wearing, it will definitely be the Kiehl's BB Cream.
I have tried two of the five shades, being Natural and Medium. I think Natural is more suited to my skin for winter but I think Medium will be better for the summer months.
This is definitely not a drugstore product in terms of price – at R525 it is certainly not cheap but spending a bit of money on good skincare is worth it!
Kiehl's products are available from Edgars stores, as well as the standalone Kiehl's stores.
Disclosure Ranking:2