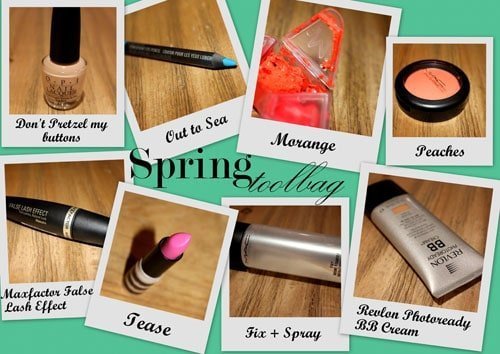 The weather is definitely improving and the flowers are blossoming – all signs that spring may indeed be here! With the change of season, comes brighter, lighter makeup colours – YAY! With this in mind we asked Kirsten Murphy Rossiter, a Cape Town based makeup artist, to share a few of her essentials for a Spring makeup toolbag.
Here are some of the essential Makeup Tools and Beauty Products, which I will be carrying around in my make up bag for this beautiful season of Spring!
Revlon BB cream ~
I love this bb cream, probably because at the moment I am feeling so pale and it is a tad darker than my winter skin tone, so it gives me a slight tan! It also contains an SPF of 30, which is so great for those days when the sun shows its beautiful face. It gives my skin a lovely even tone and I have found myself using this product more often than my beloved MAC foundation!
"Peaches " Sheertone blush from MAC ~
Most people get scared when I suggest this blush, because it looks so peach! But that is the beauty of it, a soft peach tone, with just the right amount of colour. Because it is a sheer blush, you don't have to worry about applying too much. This has been my all-time favourite blush!
MAC Fix + spray ~
I highly recommend this hydrating fix it spray! It acts as a beautiful mist to hydrate skin that has been powdered , it also fixes your makeup and helps it too stay put! Or just wear it on its own when your skin need some refreshing. This is a huge favourite of mine, which that I always use when doing brides makeup. This product is an all year round essential!
"Tease " Lipstick Topshop ~
Pink lips are making a huge comeback this Spring and I love this pretty pink Lippy, the colour just speaks for itself ! It is creamy and matte all at the same time. Make sure your dry winter lips have been well exfoliated and hydrated before wearing a matte lippy.
 Orange you glad its Spring
"Morange" MAC Amplified ~
A MAC favourite that has been around a long time. MAC describes it as "loudmouth orange!" Its creamy, amplified texture is easy to wear and is perfect for making a bold lip statement. A great introduction to welcoming Spring!
Maxfactor False Lash effect Mascara ~
This Mascara Does it all! It lifts, thickens and really does give you the illusion of false lashes! I have been asked on numerous occasions, when wearing this mascara, whether I am wearing falsies! This is another essential product, which I cannot and will not live without, all year round!
"Out to sea" MAC PowerPoint liner ~
If a neon eyeshadow is a little bit of a reach for you then why not give your eyes a bright pop of colour in a subtle way! Off to sea is a Bright Blue liner that has intense colour and great staying power.Wear it on the waterline of your eye and don your top and bottom lashes with some serious mascara and you're right on trend!
" Don't Pretzel my buttons " OPI ~
On my search to find the perfect Nude Nailcolour, I came across this in a nailbar in Singapore. When I'm performing, on stage, my nails are starved of coloured nail polish (which is a struggle because nail polish is such an obsession of mine) so a Nude is the only option. This in my opinion is the perfect nude, its creamy, biscuity and so there! OPI is such a great brand and the nailcolour just lasts for days ( providing you wear a base and top coat). It is also long lasting in the bottle, which is important, especially whilst travelling from warm to colder climates! Months later it is still as good as new.
Thanks Kirsten, for sharing this great list of Spring makeup essentials with us!