Rhino Tears Wine
I don't often post press releases but I thought that this one is definitely worth a mention. Firstly because it is for a very good cause and secondly it is about wine – one of my other favourite topics!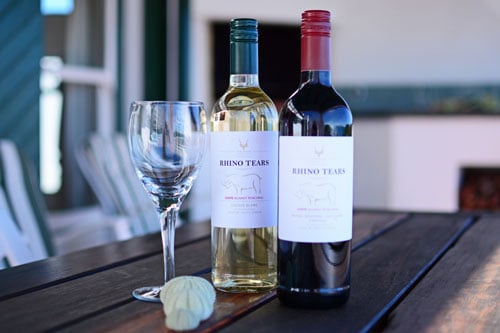 I recently received two bottles of the Rhino Tears Wine to try. I decided to take the bottles along with us over the Easter weekend, to enjoy while we were away.
Rhino Tears Wine, which launched at the end of 2014, has already raised over R100 000, to be used in the war against rhino poaching, within South Africa's national parks. The Rhino Tears range of wines, from the Mt Vernon estate in Cape Town, donates proceeds from every bottle sold to Unite Against Poaching, and after selling 8852 bottles since its launch in October 2014, has now contributed the substantial amount to the cause.
The idea for Rhino Tears wine came about when Mt Vernon MD, John Hooper, met with John Turner, Chairman of the SANParks Honorary Rangers Conservation Services Unit, as well as Andre Nel, owner of The Hat & Creek restaurants in Hoedspruit and Phalaborwa. After spending a couple of days with the field rangers at the Kruger Wilderness Experience bush camp in the Kruger National Park, the idea for a wine that could raise money for anti-poaching efforts was developed.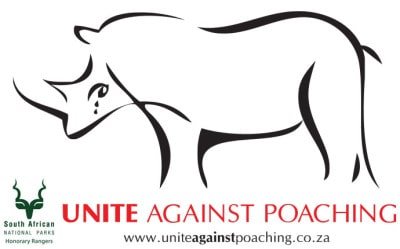 I have had an inherent love for wildlife and as a child we would be fortunate to spend our holidays in the bush, fishing or in remote locations. The selling and marketing of wine is difficult and competitive, but it is rewarding. When an opportunity arises to mix work with pleasure, I jumped at the chance to give something back and spend time with good people fighting a worthy cause. After discussions developed with the SANParks Honorary Rangers, I had a good idea on how the costs would work, as it was important to be able to develop something in which the ultimate beneficiaries were the rhinos themselves. It was up to me to create a good quality red and white wine, design an attractive and iconic label endorsed by SANParks, and make sure it was in stores, ready to sell before Christmas.  ~ John Hooper
Rhino Tearswine is from the Mt Vernon wine estate in Klapmuts, Cape Town. Hooper realised that he needed to create a good quality wine that wine lovers around the world would appreciate. An important point to consider, though, was selling a wine that people would buy often and could enjoy immediately, as this would mean more for anti-poaching than a wine that would have be stored in a cellar for years before drinking.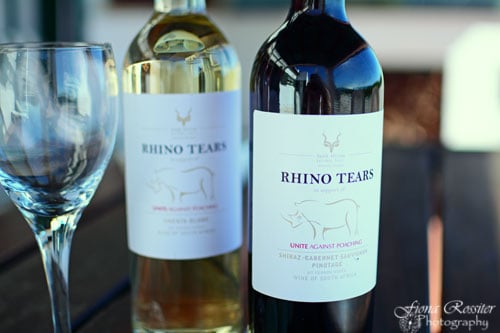 The result is a good red blend made from Shiraz, Cabernet Sauvignon and Pinotage grapes that allows for easy drinking and appeals to all levels of palate. The white is a delightful fruit driven Chenin Blanc, suitable for enjoying at all occasions.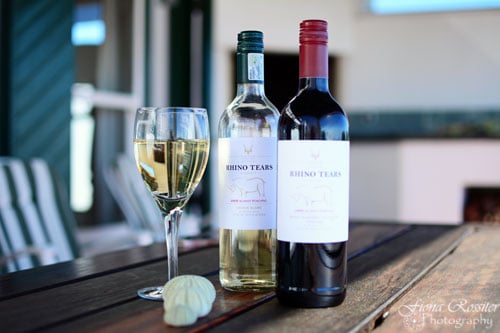 Rhino Tears wine sells at around R55 per bottle, and R15 from each bottle goes directly to Unite Against Poaching. Wine lovers can be confident that 100% of the funds raised through sales of Rhino Tears are used for anti-poaching projects in SANParks.
Every bottle purchased really makes a difference. The costs of the anti-poaching war is expensive and the men and women involved need all they can get against a ruthless enemy ~ John Hooper
So if you are looking for easy drinking wine for your weekend endeavors, why not support this very worthy cause!
Rhino Tears wine is available for purchase in major retailers around the country, including Pick n Pay, Makro, Tops, Spar, Fruit and Veg City and major independent retailers. It can also ordered online from the MT Vernon Website, SANParks or the Unite Against Rhino Poaching Website.
Photo Credit: Inspired Living SA {© FAR Photography}
Disclosure Ranking:2