One of the main goals with My 100 Healthy Days with Well I am, is to eat a healthy diet and cut out all processed foods. As I have mentioned before I am not big on dieting per se but prefer to eat healthy meals and limit my portion size, essentially making lifestyle changes, as opposed to sticking to a strict diet or eating plan.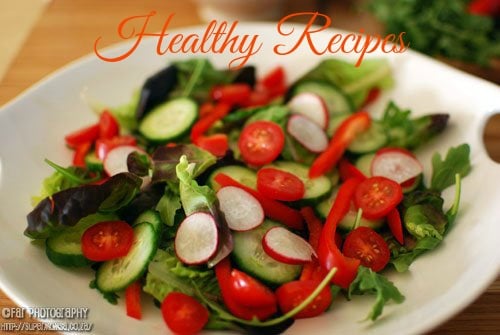 The main difficulty most people find when it comes to healthy meal preparation, is to ensure the food you are eating is tasty and appealing, as well as being healthy and low in calories – in my opinion there is nothing worse than eating a plate of unappetizing, "grey", steamed food! So I thought I would share a few of My Healthy Recipes and meal options, which are perfect for the whole family as well!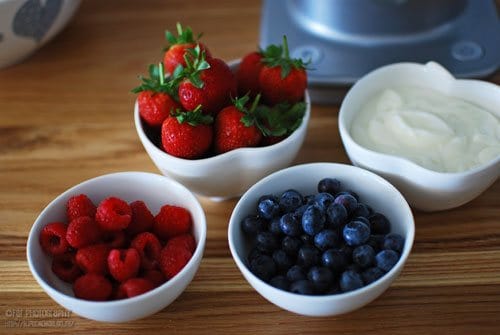 Vanilla and Berry Smoothie ~ Smoothies are a great breakfast option and you can really let your imagination run wild, when it comes to ingredients! My favourite smoothie is vanilla yogurt and berries.You can use either fresh or frozen berries. I also like to add two scoops of protein power to my smoothies for an extra energy boost in the morning, especially if I am excising. For the full recipe click here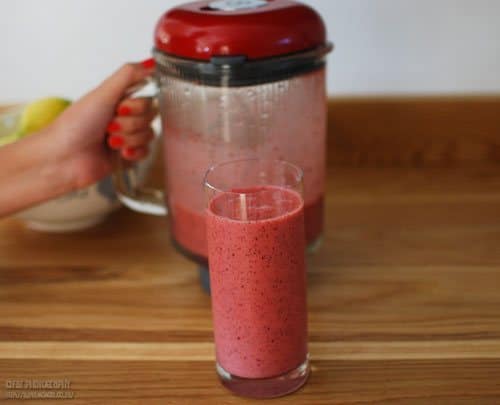 Muesli with Fruit and Yogurt ~ Another great breakfast option is Muesli, which you can make yourself or you do shop bought but ensure you choose one which is not loaded with saturated fat and sugar! When in season, I love to add fresh berries to my muesli, as well as fat free vanilla yogurt – you can also used dried fruit such as peaches or cranberries. This is also a great breakfast option if you are working because you can pack it to go!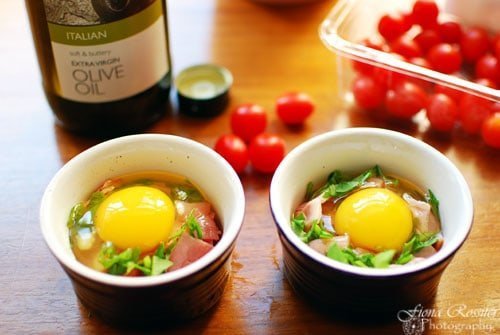 Baked Eggs with Tomato and Bacon ~ Eggs are a very important part of a healthy diet, as they are a great source of 

high-quality protein, which is rich in vitamins D and A and low in saturated fat. They also contain choline, which was recently noted for its importance in brain function. Making baked eggs in such a simple but delicious meal, which could be either a breakfast or lunch option. Preheat your oven to 180ºC then grease a ramekin with olive oil. Roughly chop back bacon and tomatoes, place in the bottom of the ramekin. Crack an egg on top of the bacon and tomatoes, sprinkle with chopped rocket leaves and oven bake for approximately 10 minutes or until the egg is done to your liking. Again you could vary your ingredients and add mushrooms or a sprinkling of cheese if you wanted something a bit more substantial.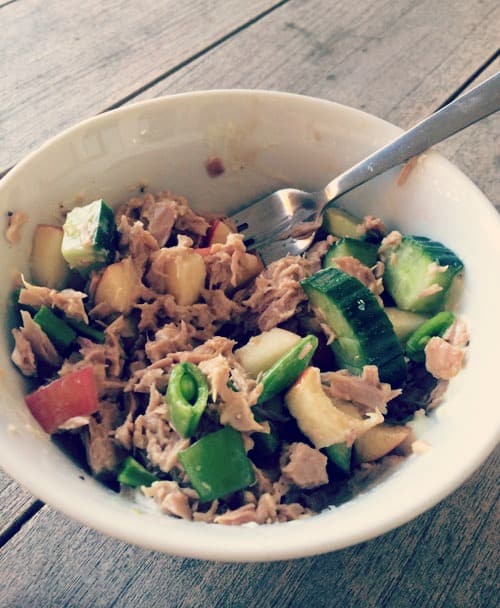 Tuna, Apple and Sugar Snap Salad ~ I always find lunch such a tricky meal to keep healthy and convenient, as I am usually running around or attending events. The easiest way to keep lunch healthy and quick to prepare is to keep it raw, so salads are a great option. This tuna salad is super easy – simply mix one tin of tuna, in brine, with a tablespoon of low cal mayo. Roughly chop half an apple, half a cucumber and a handful of sugar snap peas and mix with the tuna. Add salt and pepper and a squeeze of lemon juice and you are good to go. You could add half and avocado and a few cherry tomatoes to change it up a bit. If you do not like tuna then substitute it with grilled chicken.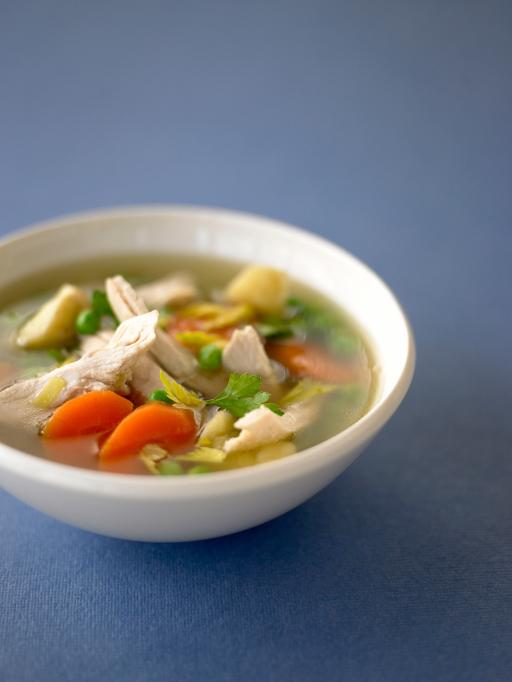 Poached Chicken and Vegetable Soup ~ Soup is another great healthy lunch option! You can make a huge batch at the beginning of the week and reheat as you need it or buy in. If you are buying soup, remember to check the ingredients and try and choose a low fat option, also check the salt and sugar content, as these should not be too high, if you are trying to loose weight. This recipe from Jamie Oliver is super healthy and easy to make.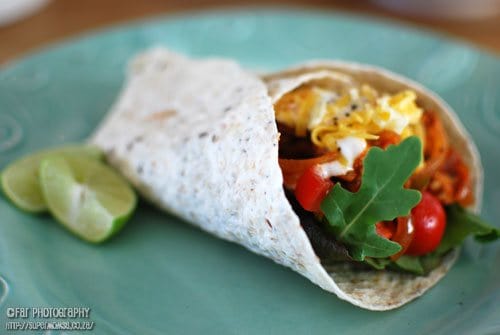 Chicken Wraps with Avocado and Rocket ~ these wraps are super easy to prepare and very yummy! As a healthier option rather than using the original flour tortillas you can using the multi-seed ones, which are available from Woolworths. If you did want to reduce the calories even further, for this meal, you can replace the avo and cheese with a raw salsa. For the full recipe click here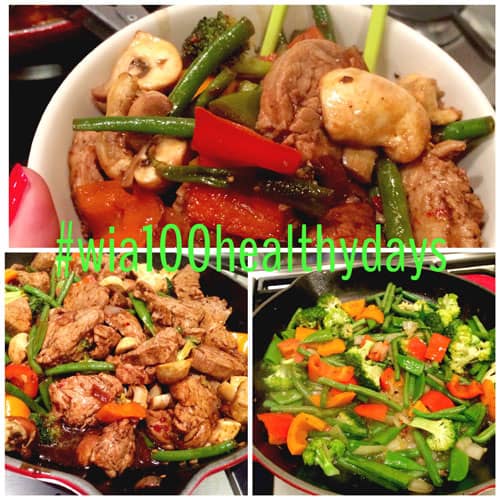 Chicken Red Pepper and Ginger Stir Fry ~ This is another really simple meal to cook, most of the effort is in the preparation! You can also vary the veg and add things like sugar snap peas, green beans, broccoli and mushrooms. The image above I changed up the recipe and substituted the chicken with pork, which is as delicious! For the full recipe click here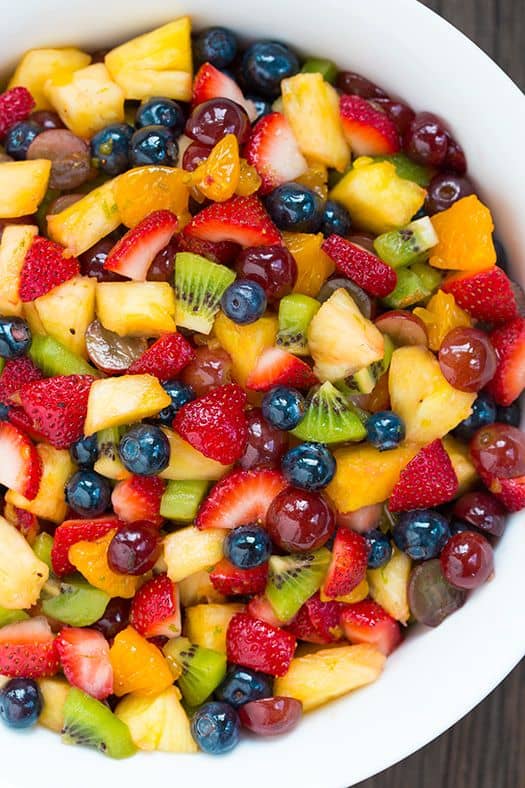 Seasonal Fruit Salad ~ A healthy desert option if you are watching your weight is a seasonal fruit salad. I am not a lover of winter fruit but I find a fruit salad, is a great way to get my daily fruit quota in!
There are so many healthy meal options to choose from and these are a few I like and find easy to prepare and cook. If you have any ideas to share please leave a comment below.