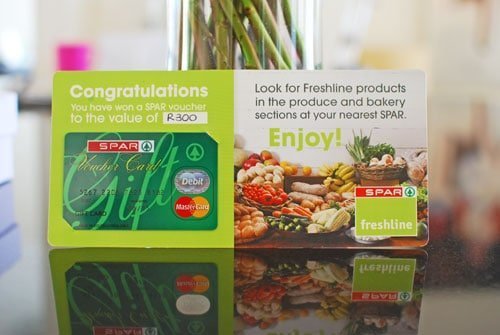 Win a Spar Freshline Voucher
It's that time of year again, the sun is out and summer is on its way. Time to enjoy the outdoors, especially the long summer days spent eating alfresco, with friends and family. There is nothing better than yummy food, fresh salad and glorious fruit enjoyed outdoors while sipping on something cool. Not only is this way of eating good for your health but it looks good and tastes delicious.
A great place to stock up on fresh produce is from Spar's Freshline range.
At SPAR, we are committed to maintaining the high standards of our Freshline products in the following ways: We specially select the growers, farmers and producers of our Bakery & produce Ranges. We ensure that they conform to high standards of hygiene and quality in production by using external auditors to perform inspections. We regularly visit suppliers to ensure they maintain these high standards. We check products delivered to our distribution centre's to ensure that they are of the correct quality and temperature.
One lucky Super Mom Blog reader can win a R300 Spar Voucher! All I need from you is show some Facebook love and tell us what your favourite summer salad is or share your favourite salad recipe with us.
a Rafflecopter giveaway

Competition Details: 
The Spar Voucher Giveaway will run from 16th October 2012, until the 24th October 2012. The winner/s will then be selected via the Rafflecopter form and announced on my blog and on Facebook. The winners will also be notified via email.
Entrants need to leave a comment on this blog, below the post, stating that you have completed the above, along with your details in the comment section below this post (please use a valid email address). Your details will be used to validate your entry if you are selected as a winner.
Conditions of entry: Anyone may enter this giveaway but please be advised that the various companies sponsoring prizes on Super Mom Blog, are based in South Africa and therefore prizes will only be shipped within South Africa. The prizes may not be exchanged for cash.