For up-to-date gift inspiration please visit our Gift Guide 2015!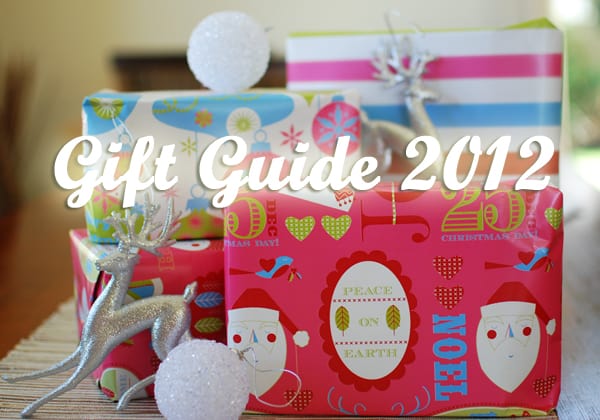 With Christmas just over a month away I thought I would publish my Gift Guide 2012! There are gift ideas to suit the whole family, ranging from under R100 to the more Luxury Items that may break the bank!
1.Rainy Day Cross Stitch Set R100, we-heart-this.com 2.Colour Africa Proverbs – colouring book R50, utique.co.za 3.Grey Fan Lace Earrings R100, utique.co.za 4.Turquoise Cork Fridge Magnets R80, utique.co.za 5. Hello Kitty Bath Set R99, rubybox.co.za 6. Tyrell Katz Pirate Set R105 each, Smitten 7. Trinket Box R99, Woolworths 8.?Zanzan Bow Tie?R100, utique.co.za 9. Spongebob Bubble Bath R99, Woolworths 10. Kids Sunglasses R89, Cotton On 11. Ovenfire Transfers R60, Skinny laMinx 12. Charm It Hip Hop Charm R65, Preciuox 13. Animal Print Scarf R99, Woolworths 14. Lime Clutch R99, Cotton On.
1. Glass Pendants from R135, Smitten 2.Ceramic Owls Set R130, utique.co.za 3. Tea Towels R115, Skinny laMinx 4. Kiehl's Mens Facial Fuel?Range from R129, Kiehl's?5. Peak Cap?R130, Old Khaki 6. Bee Natural Bath Formula R130, rubybox.co.za 7. Brown Sugar & Vanilla Pamper Pack R140, Woolworths 8.Set of 2 Cutlery Napkins R120, utique.co.za 9. Baccarat Espresso Maker R149, @Home 10. Music DVD's from R130, kalahari.com 11. Esse Trial Pack R149, rubybox.co.za 12. Kids DVD's from R125, kalahari.com 13. Kids Books from R106, kalahari.com