For up-to-date gift inspiration please visit our Gift Guide 2015!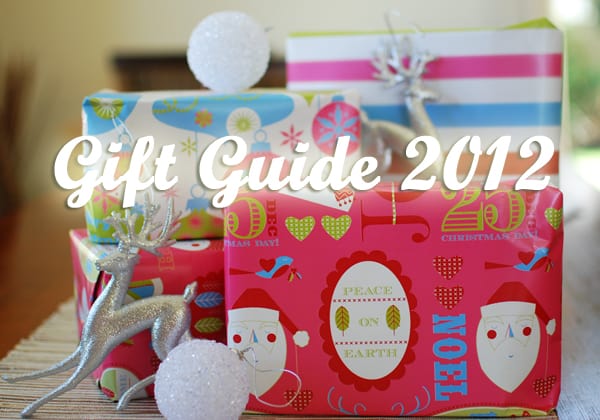 With Christmas just over a month away I thought I would publish my Gift Guide 2012! There are gift ideas to suit the whole family, ranging from under R100 to the more Luxury Items that may break the bank!
1.Rainy Day Cross Stitch Set R100, we-heart-this.com 2.Colour Africa Proverbs – colouring book R50, utique.co.za 3.Grey Fan Lace Earrings R100, utique.co.za 4.Turquoise Cork Fridge Magnets R80, utique.co.za 5. Hello Kitty Bath Set R99, rubybox.co.za 6. Tyrell Katz Pirate Set R105 each, Smitten 7. Trinket Box R99, Woolworths 8.?Zanzan Bow Tie?R100, utique.co.za 9. Spongebob Bubble Bath R99, Woolworths 10. Kids Sunglasses R89, Cotton On 11. Ovenfire Transfers R60, Skinny laMinx 12. Charm It Hip Hop Charm R65, Preciuox 13. Animal Print Scarf R99, Woolworths 14. Lime Clutch R99, Cotton On.
1. Glass Pendants from R135, Smitten 2.Ceramic Owls Set R130, utique.co.za 3. Tea Towels R115, Skinny laMinx 4. Kiehl's Mens Facial Fuel?Range from R129, Kiehl's?5. Peak Cap?R130, Old Khaki 6. Bee Natural Bath Formula R130, rubybox.co.za 7. Brown Sugar & Vanilla Pamper Pack R140, Woolworths 8.Set of 2 Cutlery Napkins R120, utique.co.za 9. Baccarat Espresso Maker R149, @Home 10. Music DVD's from R130, kalahari.com 11. Esse Trial Pack R149, rubybox.co.za 12. Kids DVD's from R125, kalahari.com 13. Kids Books from R106, kalahari.com
1.Recipe Cards R200, utique.co.za 2. Mens Grooming Set R180, Woolworths 3. Wine Opener Set R199, @Home 4. Kade Waxed Canvas Bag R199, Old Khaki 5. Chocolate Selection R169, Woolworths 6.Cross Body Nylon Bag R180, Woolworths 7. Live Bird Wall Hooks R185, Smitten 8.Zana Bracelet R190, utique.co.za 9.Wild Olive Liquid Soap R160, we-heart-this.com 10. Peony Pot Candle R 195, Smitten 11. Hello Kitty Nail Polish & Lip Gloss Set R 120, Woolworths 12. Starbright Girls Stud Earrings R180, we-heart-this.com 13. Rare Earth Scarf R 199, Old Khaki 14. Mini laMinx Apron R195, Skinny laMinx 15. Kids Books from R186, kalahari.com
1. Lavender Bath & Body Collection R249, rubybox.co.za 2. Beauty Blender Sponge R 220, rubybox,co.za 3. Man Box R250, rubybox.co.za 4. Tyrell Katz Ballet Clock R 210, Smitten 5. Striped Tote R250, Precioux 6. Starbright Girl Heart Silver Earrings R 250, we-heart-this.com 7. Cakes To Celebrate Love and Life Recipe Book R223, yuppiechef.co.za 8. Kitchen Aid Bottle Opener R 215, yuppiechef.co.za 9.Jungle Hippo Canvas R250, utique.co.za 10. Mr Men Book Set R211, kalahari.com 11. Cuisipro Deluxe Decorating Pen R220, yuppiechef.co.za 12. Pin Cushion Napkins R245, Skinny laMinx 13.Green Beetle and Lighthouse Cushion Cover R250, utique.co.za 14. The Vintners Candles R220 each, Smitten
1. Beau Clutch R295, Smitten 2.One for All Wallet R300, utique.co.za 3. Veldt Mens Toiletry Bag R260, Smitten 4. Gold Purse Plus 6 Products Beauty Set R300, Woolworths 5.Stilla Seeing Stars Smudge Eyeliner Set R 279, rubybox.co.za 6. Weber Basting Set R330, yuppiechef.co.za 7.Starbright Girl Humming Bird Silver Necklace R 270, we-heart-this.com 8. iPhone Cover R299, fossil.co.za 9. Afternoon Tea Hamper R299, Woolworths 10. Kitchen Craft Wine Bucket R290, yuppiechef.co.za ?11. Cooked In Africa by Justin Bonello R300, Selected Bookstores 12. Janod DIY Truck Set R300, mimiandjojo.com 13. Tyrell Katz Pirate and Fairy Beach Towels R295 each, Smitten 14. Eat Bread Block R295, Smitten
1. Resin Fossil Watch R1699, fossil.co.za 2. Raphaella Booz Clutch R2200, 36boutiques.com 3. Armani Code 30ml R749, Selected Retailers 4.Big Boy Leather Messenger Bag R1000, utqiue.co.za 5. Vogue Sun Glasses R850, sunglasshut.com 6. Di & Glynni Vanity R365, Smitten 7. Fuji-Instax Mini R850, ormsdirect.co.za 8. Ray-Ban Sunglasses R1590, sunglasshut.com 9. Africology Pedi Combo R330, rubybox.co.za 10. Decleor Nutri-divine Gift Set R650, rubybox.co.za 11. iPad p.o.a, kalahari.com 12. Roxy Beach Bags similar from R300, selected retailers or zando.co.za 13. Kids Swatch Watches from R800, swatch.com/za 14. Nintendogs DS Bundle R2299, kalahari.com 15.Large Ceramic Rabbit in Yellow R1900, utique.co.za 16. Kitchen Craft Stainless Steele Champagne Cooler R 560, yuppiechef.co.za
I thought I would also include a Beauty Gift Guide, which features some of the products that I have blogged about or given away on the blog this year:
1.Natural Pamper Products from R42 each, beautiful-earth.co.za 2. Natural?Body Scrub and Cream?from R77, Naturals Beauty 3.Sweet Orange & Lemongrass Hand Wash AND Hand Cream Set?R105,Naturals Beauty 4.Kiehl's Beauty Products from R149, Kiehl's 5. Rooibos Hand Cream and Body Scrub?from R29.95, African Extracts – Selected Retailers 6. The Collection R350, rubybox.co.za 7. LUSH Pamper Products from R100, LUSH 8. Delight Gift Box R267, beautiful-earth.co.za 8. Liquid Gold Tissue Oil?p.o.a , Busby Oils.
Stockists: @Home, Beautiful Earth, Busby Oils,Cotton On, Kalahari, Kiehl's,Mimi and Jojo, Naturals Beauty,Old Khaki, Precioux, rubybox, Skinny laMinx, Smitten, Sunglass Hut, Swatch, Utique, We Heart This, Woolworths, Yuppiechef, Zando
Disclaimer: This gift guide is made up of gift ideas that are purely my own and this post has not been sponsored by the companies mentioned above. Prices quoted above, were to my knowledge correct at time of publication but may differ with various retailers.