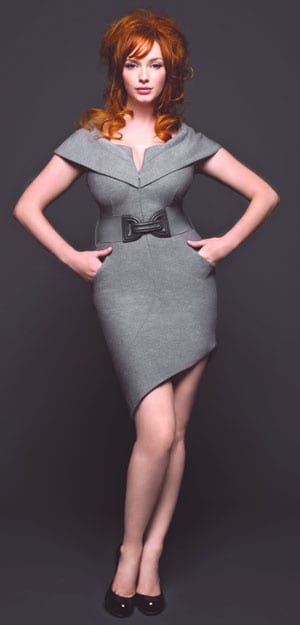 Since she first graced our screens as the delectable Joan Holloway in the hit US series Mad Men, Christina Hendricks has become a pin-up for men and a beauty and style icon for women. It is not only the way she dresses her gorgeous hourglass figure, which is reportedly all-natural and has not been subject to breast enhancement or any other cosmetic procedure, that makes her look so distinctive and so admired, but also her glowing porcelain skin, effortless style and flaming red hair.
So, how does she do it? In a recent interview with Marie Claire, as well as a quick chat with Elle, Christina revealed her top beauty and style secrets.
Homemade Tinted Moisturiser – When asked about her preparations for showing more skin on-screen, Christina revealed that she uses a kind of homemade tinted moisturiser.  She said: "If my legs are showing, the makeup artist adds a tiny amount of foundation to body lotion and rubs it in. Now if I have an event to go to, I'll buy CoverGirl foundation and mix it in with my lotion."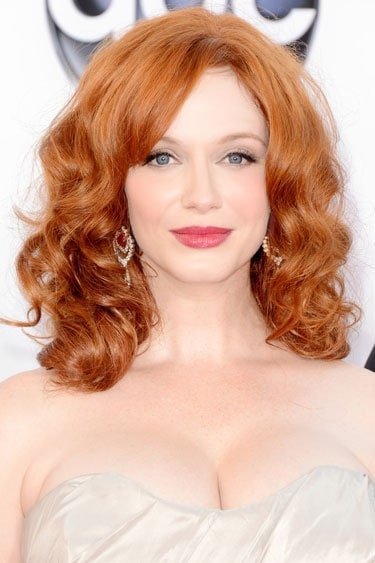 Conditioner for Coloured Hair – As the actress is a natural blonde and has been dyeing her hair its distinctive red shade from a young age, she protects it using plenty of conditioner. Christina favours a high quality colour extend conditioner to keep her hair shiny and soft, especially when filming episodes of Mad Men when she has to re-colour regularly to keep the same brightness.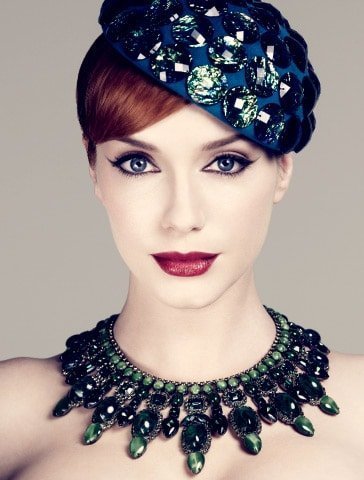 The classic red lip – Although her on-screen alter ego Joan prefers a coral lip, Christina loves a classic red lip in real life, with her favourite shade being ruby.
 Protection for perfect porcelain skin – Christina is almost as well-known for her creamy, ethereal porcelain skin as she is for her red hair and hourglass figure. The actress keeps her skin so youthful and flawless by keeping out of the sun and protecting her face from freckling by applying plenty of Dermalogica sunscreen. Christina also admits to never being without moisturising serum for her dry skin.
 Beautiful blush – a beauty bag staple – If she had to offer one beauty secret, Christina says hers would be blush. She says: "If there's only one thing you wear, make it blush. A little on your cheeks, and you'll instantly look pretty, lively and fresh. Isn't that what we all want!
Guest Author: Isabella Franklin find her on Twitter