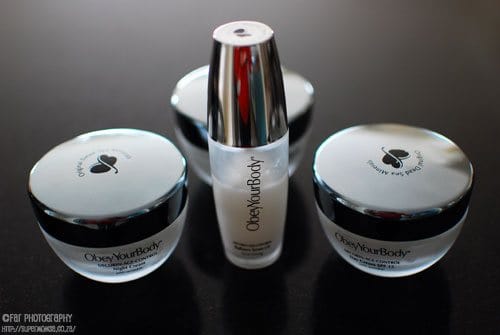 Last month I told you about the Obey Your Body Products which I received to review. Well it is just over a month since I started using them, which I feel it enough time to establish whether or not I like the products or more importantly if my skin likes the products!
The products that I am reviewing are mostly from the Age-Control Range. They are Decorin Age-Control Day Cream SPF15, Decorin Age-Control Night Cream,  Decorin Age-Control Thermal Mask and Decorin Age-Control Radiance Serum. The Decorin Age-Control (DECO) Collection fights the naturally occurring effects of aging. This range is aimed at skin which is showing signs of aging and promises to create youthful and healthy looking skin – something at the age of 40 I am definitely looking to achieve!
The other two products I received to review are the Radiance Care Creamy Milk Cleanser and Radiance Care Clarifying Facial Toner, both a cleanser and a toner should be part of your daily skincare regime.
I must admit that I was rather sceptical about the Obey Your Body Products at first, after hearing mixed reviews about the products but I can confirm that I have nothing but positive feedback to give you – so here goes:
Decorin Age-Control Day Cream SPF15 ~ This is a definite winner! Even my hubby has been using it, he is somewhat of a metrosexual when it comes to using products and looking after his appearance but I have no complaints, at least he is looking after his skin. What I love most about this product, is that although it is very moisturising, it is lightweight and does not leave your skin feeling greasy. It also has the added benefit of containing an SPF15, which is perfect for me as I have pigmentation and need to use sunblock to prevent the pigmentation from becoming darker.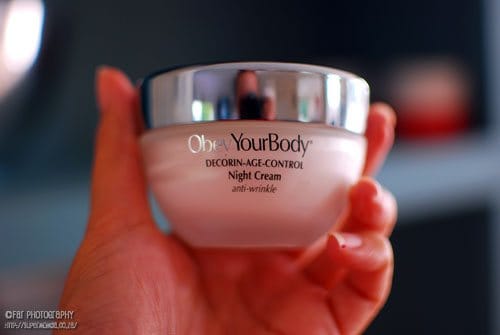 Decorin Age-Control Night Cream ~ I am all about trying to keep that youthful glow and feel that is very important to use a night cream! The younger you start the better but the most important thing is to find a night cream which suits your skin type. The Decorin Night Cream works overnight to nourish and firm stressed skin with the innovative collagen organizing tetrapeptide Decorinyl®. I found this cream especially beneficial after spending a few days up the West Coast, as my skin became incredibly dry after spending time in the salty sea water but after a few nights of using this cream it was soft and supple again.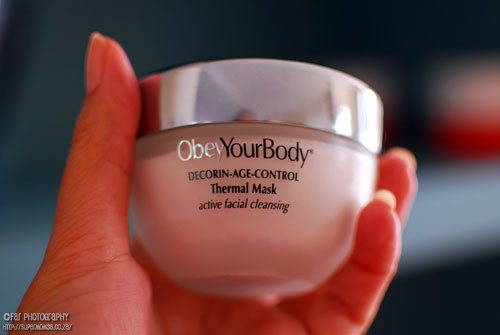 Decorin Age-Control Thermal Mask ~ This mask is quick and easy to use and you do not need to leave it on your skin for longer than 3-5 minutes. Do not be alarmed however, as you will feel a rather unusual heating sensation after application, which indicates that the mask is active. You then rinse off thoroughly with lukewarm water. The Decorin Thermal Mask is recommended for use once weekly and I have taken to using if I know I have an evening out, as gives your skin a wonderful glow.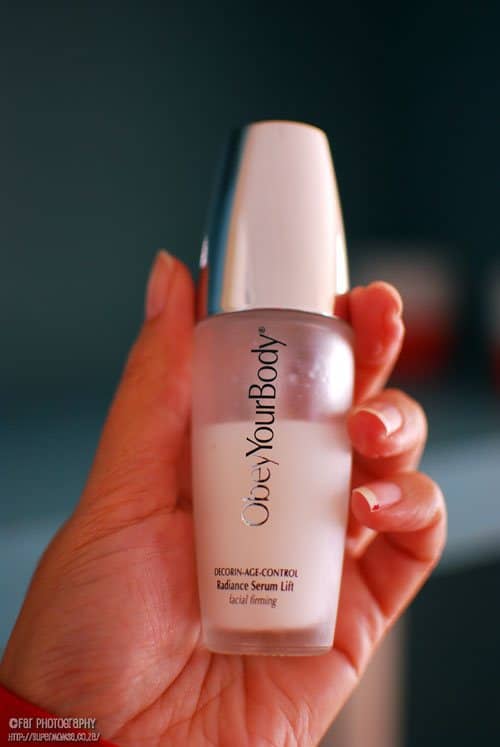 Decorin Age-Control Radiance Serum ~ This is probably my favourite product! I started using a serum in my daily routine well over a year ago and I can immediately feel the difference in my skin if I forget to apply it. I have tried quite a few but I must admit this is probably the best one I have tried thus far. I apply it to cleansed skin in the morning and evening, before my moisturiser. I find that it leaves my skin wonderfully silky and smooth!
The DECORIN Collection from ObeyYourBody® gives an immediate lift to tired and stressed skin. The range contains the innovative collagen organizing tetrapeptide Decorinyl®. The Decorin (DECO) range is enriched with powerful antioxidants and natural herbal complexes to help you create radiant, youthful and healthy looking skin. The products also provide long-term care that tightens, firms and prevents dry lines and wrinkles. ~ Obey Your Body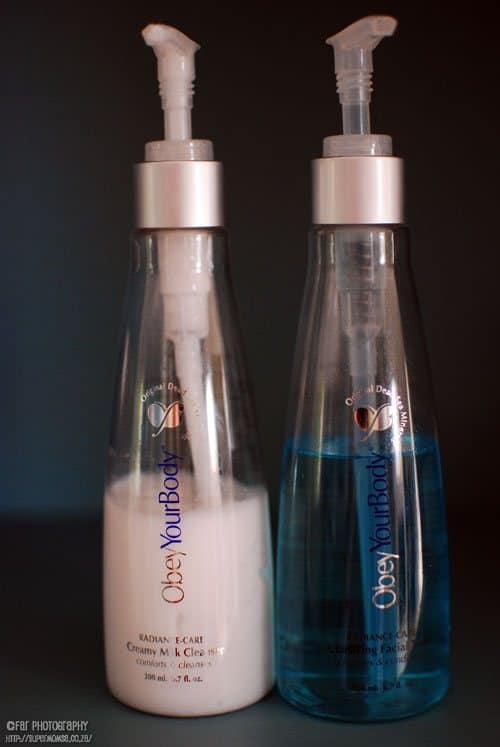 Radiance Care Creamy Milk Cleanser ~ I love using a creamy cleanser especially to remove my eye makeup and the Radiance Creamy Milk Cleanser is suitable for all skin types. It is also perfect for sensitive and problem skin, as it is very mild and gentle on the skin. It also has a wonderful fresh fragrance without being over perfumed.
Radiance Care Clarifying Facial Toner ~ I feel that a toner should also be a vital part of your daily beauty care but again it is important to find one that is suitable for your skin type. Some Toners can be very astringent and leave your skin feeling dry and taut. The Radiance Care Clarifying Facial Toner however is not one of those, much like the cleanser it is very gentle and helps to balance the skin's natural protective pH, leaving your skin feeling radiant and healthy.
My overall experience with all the products has been very positive and I have noticed a wonderful renewed firmness and glow to my skin! I am also hoping to review the Pigmentation Cream, from Obey Your Body, as this condition is a major concern of mine.
To find out more about Obey Your Body Products visit their website by clicking here. You can also follow Obey Your Body on Twitter and Facebook.
Disclaimer: Obey Your Body has sponsored the above products for review purposes.