How exciting Lush is opening in Cavendish Square next week!
If you are already a Lush fan then you will remember reading my post on the V&A launch a while back, if not then you definitely need to get there soon.

I am super excited about Lush opening in Cavendish Square because I love their products but the Waterfront is a bit too far for me, to get there as often as I would like. I have many favourite Lush products but my all time favourites are the Fresh Face Masks – heavenly and my "Shimmy Shimmy" massage bar 🙂 it smells amaze-balls and leaves my skin all sparkly!
This British High Street beauty retailer's approach to retail-cosmetics is somewhat "out-the-box" – they are a self-proclaimed cosmetics grocers rather than a traditional cosmetics company. Think hand-made, natural and fresh merchandise, butchers' blocks, pricing by weight, grease-proof paper wrapping and even best-by dates. At LUSH's "beauty delis", you will find soaps piled high on Provencal-style wooden tables, much like strange exotic cheeses, whilst a myriad of orbs (fizzing bath ballistics) are presented in-store like perfectly round apples.
All in all Lush is a sensation overload, with gorgeous fragrances and products that look good enough to eat!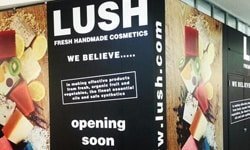 The new Lush Store in Cavendish Square, will be situated on the Lower Ground floor, near Entrepo and @Home Stores. The store will be open to the public from 1pm on Saturday 8th June 2013. To keep up to date with all the happenings at Lush you can follow them on Facebook or Twitter and I will also be posting about any upcoming brand news or events!