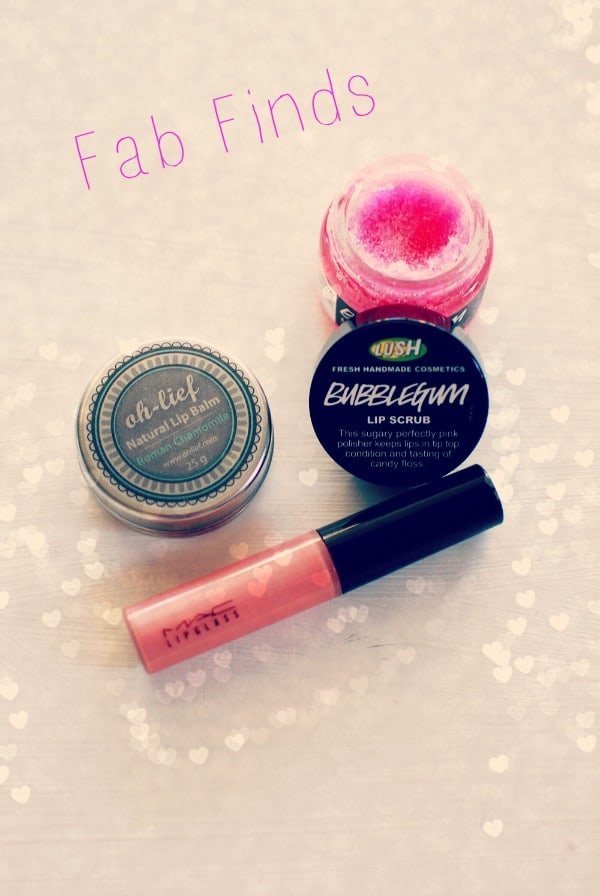 This weeks fab finds are all about soft luscious lips! Winter weather can play havoc with your skin and more particularly your lips. Lips can easily become dry and chapped, which is why it is important to take that extra care during the winter months and pamper them a bit more than usual 🙂
These are a few of the products I am trying out at the moment:
LUSH Bubblegum Lip Scrub is great for getting rid of dead skin cells and after you have scrubbed your lips, with this delicious smelling scrub you simply lick it off! Yes it is edible – awesome don't you think!
I have been looking for a Lip Balm to carry in my makeup bag and found this great one at Wellness Warehouse. It is by Oh-lief and I love the fact that it is completely natural. It is not at all sticky and can easily be worn under your lipstick or gloss.
My favourite find is definitely this MAC Lipglass, in Fresh Air, it is a lovely subtle pink – very pretty! You could wear it over pink lipstick or on it own for a more natural look. It contains Jojoba Oil to help soften and condition the lips.
For more Beauty Inspired posts please click here…