I was quite excited when I found out that this challenge, Creamy Capers, could be a dessert recipe! Although I must admit I am much more comfortable cooking savoury dishes but this is a cooking "challenge" after all. As we were allowed to use pears in our recipe and it had to include a custard-based element, I decided on Pear and Custard Tarts.

Pear and Amarula Custard Tarts
These, however, were not any old Pear and Custard Tarts, as our core ingredient this week was Amarula – yum! So Pear and Amarula Custard Tarts it would be – served with a decadent dark chocolate and Amarula sauce. Making your mouth water yet?
Ingredients
For the pastry:
100g blanched almonds, finely ground
225g butter
75g castor sugar
2 large eggs
400g flour sifted
For the poached pears:
4 cups water
1 Tbsp treacle
1 cup sugar
2 cinnamon sticks
4 pears
For the custard filling:
3 eggs
1/2 cup or 100g castor sugar
3 Tbsp plain flour
1/2 cup milk
2 Tbsp Amarula
For the dark chocolate sauce:
80g dark chocolate
3 Tbsp milk
2 Tbsp Amarula
Method:
The pastry
Chefs Note: I am using four 12cm tart tins you could use one large tin instead.
Preheat oven to 180 degrees. Finely grind your blanched almonds in a food processor and set aside.
Combine chopped butter and sugar in a food processor and blend, adding eggs one at a time while blending. Add the flour and ground almonds and blend to form a smooth dough. Turn out on to cling wrap, cover and refrigerate for a minimum of 1 hour.
Grease four 12cm tart tins and roll out your dough. Press into the tart tins and refrigerate for a further 20-30 minutes.
Blind bake the tart shells at 180 degrees for 10-15 minutes until just golden.
Poached Pears
Place water, treacle, sugar and cinnamon sticks in a pot and bring to the boil. Peel and quarter the pears and remove the core. Once your poaching liquid is boiling, reduce the heat and add the pears. Partially cover and poach for 10 minutes. Remove from the heat and allow the pears to cool in the liquid. Once cooled remove with a slotted spoon and slice the pears to create a fan effect. Set aside for later.
Custard filling
In a mixing bowl whisk the eggs, sugar and flour together. Slowly add the milk and Amarula and mix well. Pour the mixture into a jug for easier pouring into the tart shells.
To assemble:
Pour your custard filling into the blind-baked tart shells. Arrange the pears fanning out from the centre. Place tarts in the oven for 25-30 minutes or until the custard is set.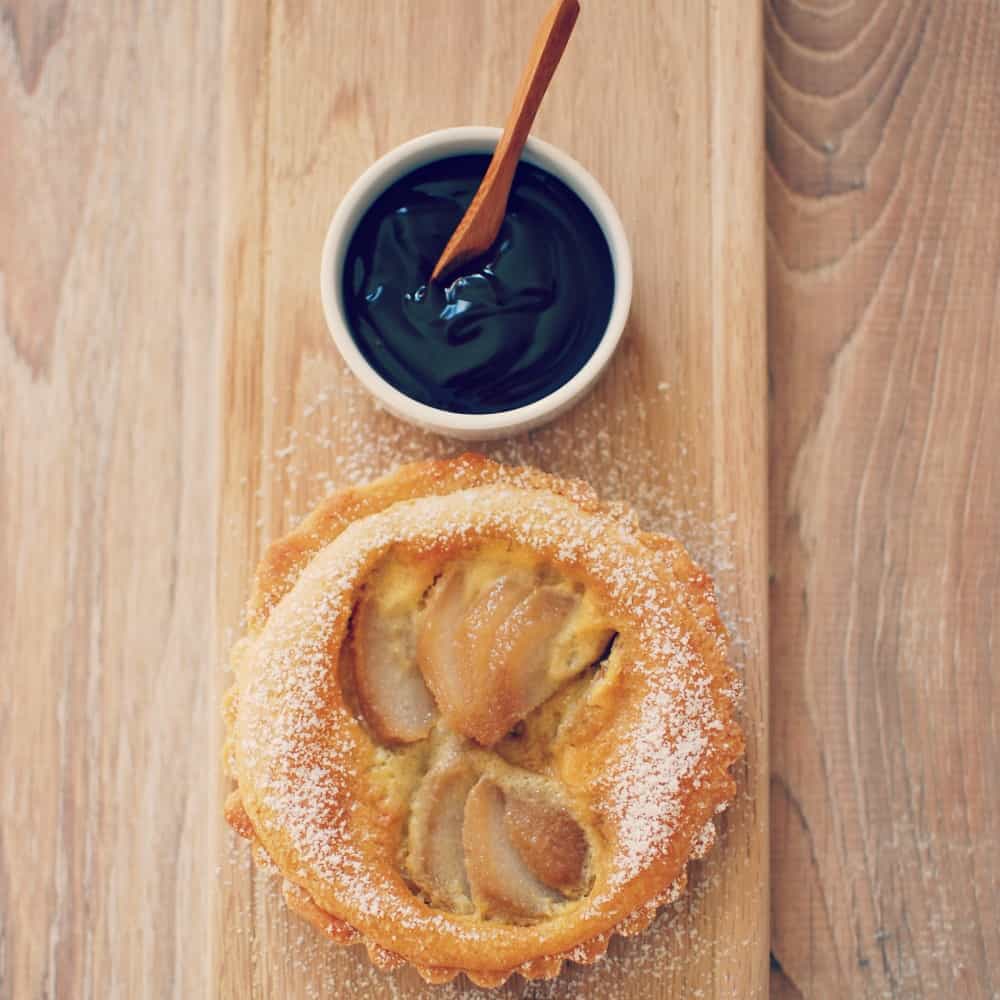 For the dark chocolate sauce:
Break the dark chocolate into a heatproof glass jug, add the milk and Amarula. Microwave on high for 1 minute. Whisk to combine. Heat for a further 30 seconds or until all the chocolate has melted. Whisk until you achieve a glossy chocolate sauce. Pour into a serving bowl.
Prep time: 1hr
Total time: 1hr45min
Serves: 4