I know everyone has there own set makeup routine and products which they love but I thought I would share some of my Everyday Makeup Essentials with you.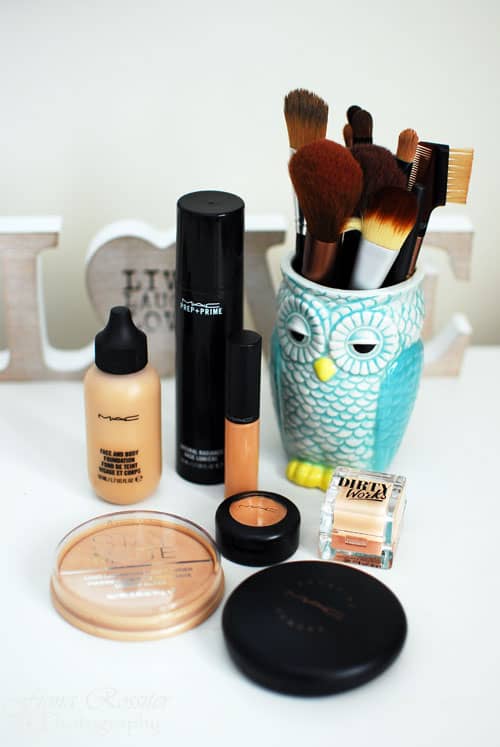 As some of you may know I have been struggling with pigmentation over the past few years! Unlike most women who get pigmentation during their pregnancies, mine only arrived after I had my kids. I used to be one of the lucky ones, who could get away without wearing any foundation at all! Well those days have passed and like most challenges in life you can either deal with it and accept it or let it ruin your life. So deal with it we must 🙂
After searching for foundations and concealers for a while now and buying so many products which do not work, I eventually enlisted the help of professional makeup artist Kirsten Murphy Rossiter(yes my sister-in-law – lucky me)! She helped me find the best products for my skin type and more importantly the correct colours for my skin-tone.
The most important thing for me is that I don't want to look like I have too much foundation on, that "caked on" effect, especially for everyday wear. I need medium buildable coverage, which looks as natural as possible! Having combination skin I also need to stay away from products which will leave me looking like an oil-slick by lunch time.
A vital part of any makeup routine is the "prep", making sure your skin is well hydrated before you apply any makeup products. After cleansing I apply a serum and my day cream of choice. Then I follow the following routine:
MAC Prep + Prime Natural Radiance ~ I was advised to use this primer, especially seen as I have pigmented skin, as it does not give your skin a grey appearance, which can happen with the illuminating primers. This product also forms a barrier on your skin and  protects it against any harsh chemicals your makeup products may contain. Once you have moisturised your skin, simply apply a small amount all over your face and neck before you apply your makeup. 

MAC Says: 

Prep + Prime Natural Radiance is a silky gel emulsion, rich in natural ingredients, that hydrates and primes to improve foundation or powder application, control oil and promote smooth texture. Vitamins E and C protect with antioxidants, while caffeine calms skin. Illuminating pearl powders reflect optic brightening. Well-suited for all skins but especially effective on deeper skin tones, the formula disappears upon application, resulting in a beautiful glow.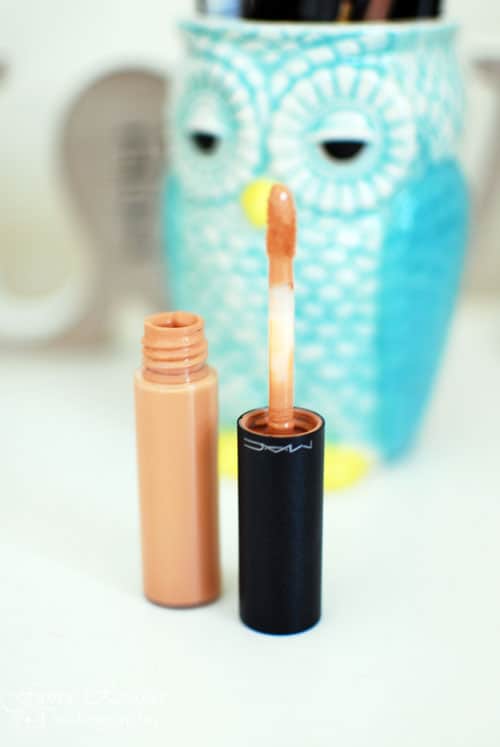 MAC Select Moisturecover Concealer ~ I actually have two concealers which I use everyday and both are MAC products. I use the Select Moisturecover specifically for under-eye coverage, as it is more fluid and does not tend to sit in the fine lines under your eye. Dot onto the skin and blend gently with your finger tips. A great tip is to apply an eye cream below your eyes before applying your concealer, which also helps to stop the concealer from sitting in any fine lines. 

MAC Says

: Select Moisturecover is a luxuriously blendable moisturizing concealer in a tube with built-in doe-foot applicator. Goes on exactly where you want it: blends in for a natural satin-smooth ultra-moisturized finish. Layers up for added coverage. Line-softening, skin-perfecting: The Pros' "select" for under-eyes and delicate skin. Retail Price: R210 (5ml)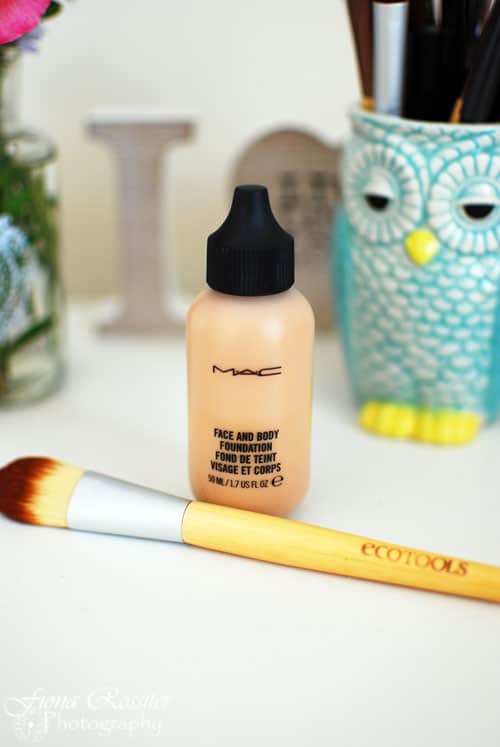 MAC Face and Body Foundation ~ I love this foundation! It feels so light on my skin but if I require more coverage, I can build it up from medium to full coverage. I apply with a flat foundation brush, just to the areas that need coverage first, working from my nose out towards my jawline. A useful tip when applying liquid foundation is to pour a bit onto the back of your hand, to allow the heat of your hand to make the foundation more fluid and a bonus is you tend to use less product this way. 

MAC Says:

 Face and Body is a fluid foundation that provides low-to-medium buildable coverage and a flawless, natural satin-shine finish. Skin conditioning, water-resistant and long-wearing. Retail Price: R310 (50ml)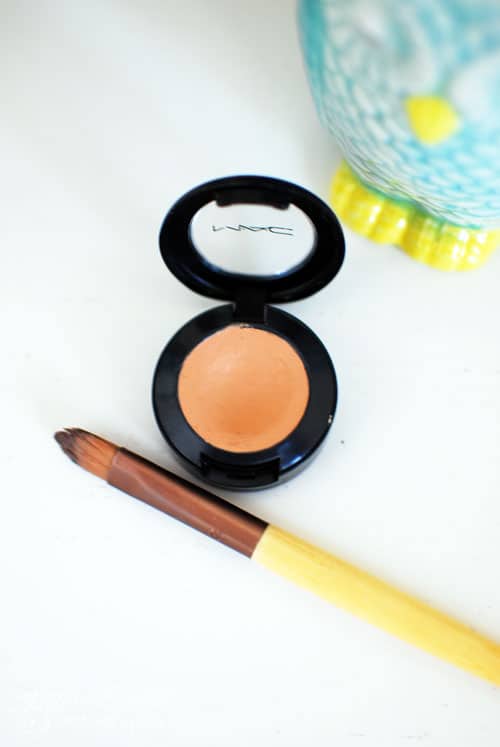 MAC Studio Finish Concealer ~ Once I have applied my foundation I touch up any dark spots or blemishes with the Studio Finish Concealer. I dot onto my skin with my finger and then blend with a concealer brush. This is a great concealer for covering any blemishes and tends to stay out once you have applied it. 

MAC says:

 This concealer has a lightweight, creamy texture and is discreetly opaque, it provides a smooth, long-wearing invisible coverage for all skin blemishes. It is also water-resistant, fragrance-free and non-acnegenic. This emollient-based, lightweight concealer is so concentrated that a tiny amount can provide opaque coverage of the skin's imperfections and discolourations. It effectively covers dark circles, blemishes, moles, tattoos and birthmarks. Enriched with antioxidants (derivatives of Vitamin A and Vitamin E), it also contains silica to help absorb the skin's oils. It also gives you broad spectrum SPF 35 protection. Retail Price: R195 (7g)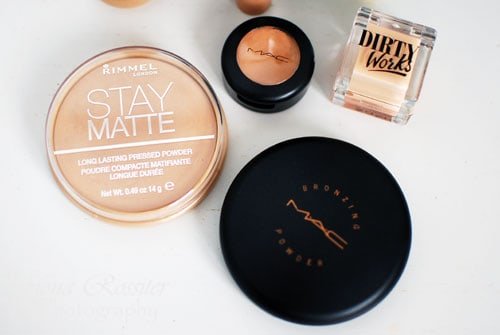 Dirty Works Bye Bye Dark Circles ~ This is a new product which I have just started using, so the jury is still out on its effectiveness! This under eye concealer is said to instantly camouflage dark circles (something I struggle with)  and imperfections. It is fragrance free and contains soothing Aloe Vera and Vitamin E to help moisturise and provide antioxidant protection. There are two colours, in the cute square compact, one more orange pigment and the other yellow. You can blend the colours to find your perfect shade or use individually to treat different imperfections . A tip for trying to conceal dark spots, such as pigmentation, is to use a product with an orange pigment. I have tried this concealer on my pigmentation and it does seem to be quite effective. Retail Price: I think it was in the R50-R60 vicinity – sorry through my slip away!
Rimmel Stay Matte Pressed Powder ~ I am not big on using powder but I do like to press some into the areas on my face which tend to become oily. A tip when applying powder is to not brush it across your skin but rather press it in, this stops you moving the foundation you have just applied. Using  a large powder brush, simply press into the areas that tend to become oily. 

Rimmel Says:

This mattifying powder gives you up to 5 hours natural shine control with natural minerals and helps minimise the appearance of pores. Retail Price: R99
MAC Bronzing Powder ~ Before I apply my blush I contour with the MAC Bronzing Powder. I like to give my cheek bones a bit of definition and my skin a healthy bronzed glow.

MAC Says:

 This lightly frosted, tinted powder gives skin a sheer, natural colour effects and highlights. Ideal for enhancing a skin tone or to accent or strengthen a tan. Skin-conditioning – and formulated to provide a smooth, even application on all skin types. Retail Price R260 (10g)
Stockists: Rimmel is available at Clicks and Dischem Stores and Dirty Works is available at Clicks stores. You can now shop MAC online.