Out of all the places I've stayed in South Africa, the small town of Hogsback is the place that simply stole my heart. It only took one day in Hogsback, staying at Away with the Fairies, for it to feel like I'd been on holiday there for a week. Here's how you can get that feeling too…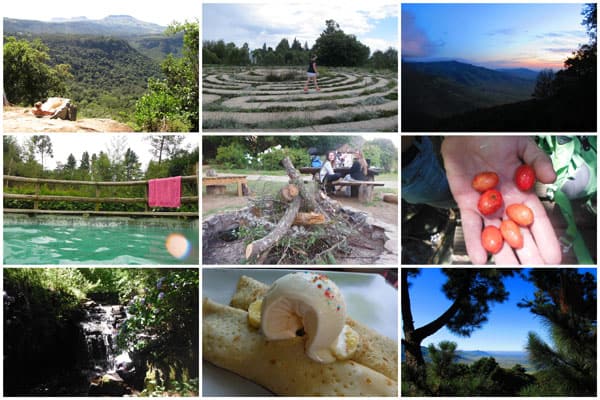 08:00 – Bath time
After a morning eye rub and a yawn it was bath time! Away with the Fairies has the most amazing view of the Hogsback Mountains and their very own viewpoint bath from where you can enjoy it.
09:00 Time for brekkie
Grab a healthy breakfast at the hostel. The giant bowl of muesli, yoghurt and fresh fruit is highly recommended. What better way to fuel your body for a day of adventure?
10:00 The treehouse
If you don't climb the 15 metre treehouse, you won't get the reward of the incredible view. The rough, yet sturdy, tree house will make you feel like a kid again, so give it a whirl. The ascent is like something out of a book – with every step up, you head higher into the delicate green vegetation that surrounds.
11:00 An enchanted hike
The Amatola Mountains are carpeted with thriving, dense forest and a hike through it is simply a nature lover's dream. Set off on a hike through the rare Afromontane forest which leads to the Madonna and Child waterfall. Along the way you'll pass Yellowwoods, wild plums, blackberries, butterflies of every colour and size, as well as rushing streams and mini waterfalls. The canopy of trees keeps you cool while trekking through this fresh swirl of green and brown.
15:00 Pancakes!
The hike's path leads you out of the forest and onto Hogsback's main street. Having worked off breakfast, it's time for a bite to eat and a water-refill. Pop into The Gallery, which is a small café and curio shop and Mmmm your way through two banana and caramel pancakes.
16:00 Time for a dip
Away with the Fairies has converted an old reservoir into a swimming pool. After your pancakes and some well-deserved time resting under a shady tree, a dive and a swim is most definitely in order.
17:00 Melt into the sheets
Time for a massage!
19:00 Din-dins
At about 7 pm a massive bonfire is lit in the outside fire pit and is the best place to enjoy one of the kitchen's homemade pizzas.
20:00 Sunset & fireflies
Gather a few newly acquired travel buddies and head down to the viewpoint with a bottle of wine to watch the sunset. After the sun has disappeared, wait a few minutes for the flashing bottoms of firefly-type bugs to appear. Magical!
21:00 Night cap
Head down to the hostel's Wizard's Sleeve Bar for a night cap before heading for bed. Refreshed, relaxed and de-stressed after only one day in Hogsback.
Thank you to our Travel Writer Dalene for this wonderful account of a day in Hogsback!
Hogsback is a magical world of mountains and forests. It is situated high up on the Amathole mountains of the Eastern Cape Province of South Africa, and is surrounded by centuries-old indigenous Afro-montane forests.
For more information on this area please visit the Hogsback Website.