As you know, I am an avid traveller, but I do not get to travel nearly as much as I would like! I have found the best way to curb my wanderlust, is to have a Travel Wishlist. Last year I shared an article on My Top Dream Destinations, I have already ticked Thailand off the list, which we visited last year and I am hoping to be able to explore Italy later this year! A destination not too from home I am dying to explore is Réunion Island.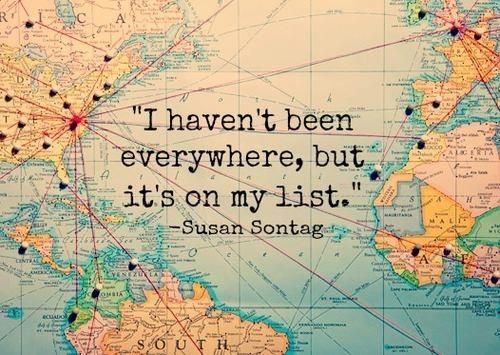 Réunion Island
The thing is, there are so many places I would still like to see, both locally and overseas. One of them being Réunion Island! Interest sparked, when I received an invitation, to an event hosted by Réunion Tourism.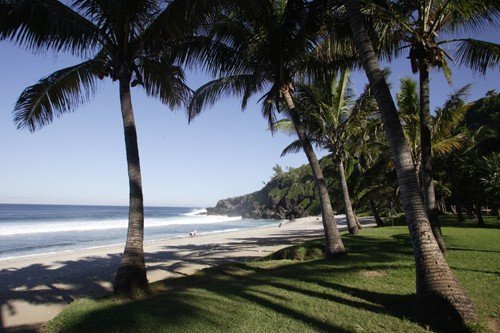 From lunar landscapes, to clear blue lagoons and lush tropical plant life, French-Indian Ocean Island Réunion is the ultimate traveller's paradise! Réunion Island is 200km West of Mauritius, in the warm Indian Ocean. It is not as popular as destinations, like Mauritius or Seychelles but equally as beautiful. On the map, Réunion is but a mere speck in the vast ocean, dwarfed by Madagascar, which is located 500 miles to the west. It is this very fact, which makes me even more keen to visit Réunion Island. It is very much off the beaten track and is not as commercialised, as other Island destinations!
From Asian cuisine to creole markets, from Buddhist traditions to Tamil, Islamic or Christian rituals; Réunion is a melting pot of cultures!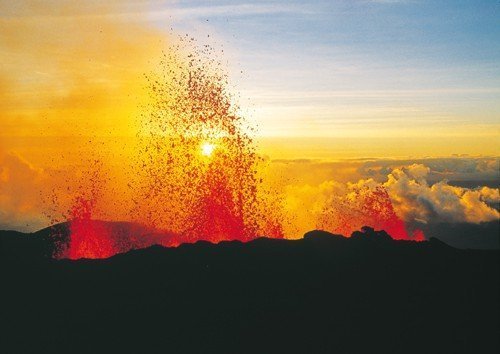 What is the Attraction?
With an active volcano on its south coast, 17 miles of warm, welcoming beaches in the west, and lots of mountains and forests in between, Réunion Island offers holiday opportunities ranging from relaxing to thrill-seeking! For me relaxing on a beautiful sandy beach, especially now that winter has hit Cape Town, would be heaven!
The climate in Réunion is tropical, but temperature moderates the more elevated you are. The weather is cool and dry from May to November, and hot and rainy from November to April.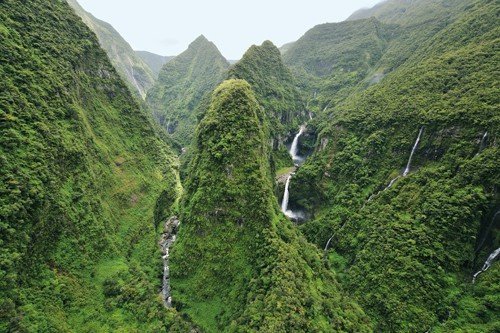 Apart from the unspoiled natural beauty, a massive drawcard for South African's is that you do not have to have a visa to visit Réunion Island! Another plus for me is that it is only a four-hour flight from Johannesburg. As much as I love travelling, I do not like flying!
Getting there
Air Austral, the French airline of the Indian Ocean, is the only airline to offer direct non-stop flights between Réunion and Johannesburg. Flights leave twice weekly, on Sundays and Thursdays. As I mentioned, the air trip is a mere four hours from OR Tambo airport, in Johannesburg's.
Where to stay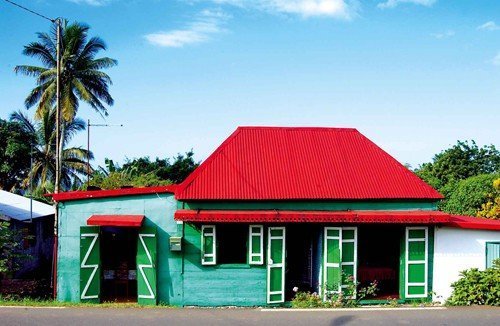 Réunion Island offers accommodation to satisfy all tastes. Ranging from hotels and guest houses to rental accommodation or campsites. You need to decide whether it is a more luxurious holiday you are after, or something more relaxed and in touch with nature. As well as catering for all accommodation needs, the area also offers accommodation to suit every budget.
What to eat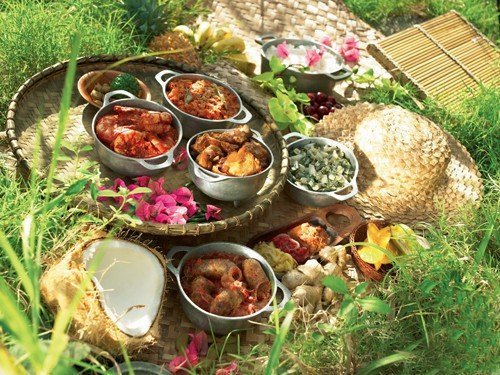 Réunion Island has a rich culinary tradition inspired by the many cultures represented on the Island. Food is one of my favourite parts of travelling – tasting traditional dishes, prepared by locals! You will get a chance to sample the very best of Réunionese Cuisine. Authentic fish dishes (marlin and swordfish either oven baked, steamed or grilled), tartare of tuna, fish carpaccios or sushi, are a must.
If you prefer fine-dining, you can choose from the wide selection of restaurants available on the Island. Alternatively, you can select a restaurant located in town or at a hotel complex and labelled Restaurateur de France, Restaurant de Tourisme or Qualité Tourisme Réunion. This is where you will find more modern and creative cuisine. You will be likely to find items such as the soft cake of crab and prawns with orange and pink grapefruit, flamed trout with vanilla sauce, or the traditional coconut chicken, on their menu.
How to get around
On the public transport front, the Yellow Buses (Cars Jaunes) will take you to most municipalities of the island. One itinerary follows the coastline while another takes you to the highlands (Les Hauts). Once you have boarded the bus, the best way to get the driver to stop is to clap your hands.
Another way to enjoy your travel on the island is to use the local taxis also known as "Z'éclairs". It is the best way to meet locals. Alternatively, hire a car, which will give you the independence to move freely around the island. There is no need for 4x4s, but at times you may encounter a dry flow of lava from the volcano, on the Route Nationale 2.
If you prefer driving in a comfortable, air-conditioned vehicle, choose from a large number of organised guided bus tours on the island.
What to do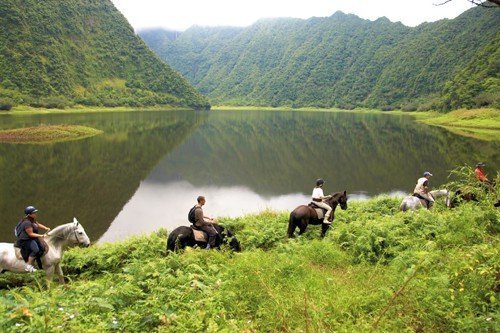 What can you do in Réunion? Besides for relaxing on a beach[this would suit me just fine}, there are all kinds of activities and attractions. The Island has become quite famous, thanks to its multitude of hiking trails but it offers many other attractive activities, which contribute to make Reunion Island an extraordinary destination.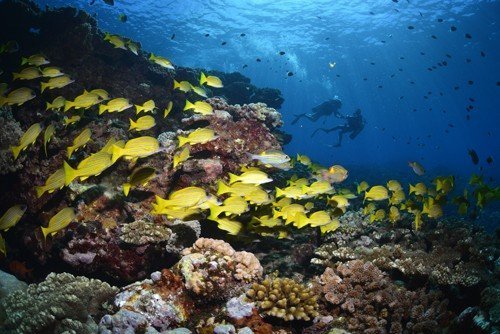 If you are a keen diver, then this would be a great way to explore the Islands exceptional underwater world. You can also fly over the island in a helicopter, a light aircraft or if you are a thrill seeker perhaps by paraglider! There are so many ways to explore and enjoy the beauty of the island.
Is Reunion Island Accommodation Child-Friendly ~
It is crucial if you are travelling with children, establishing whether both the accommodation and restaurants cater to their needs! You may remember the article I wrote My Tips for Traveling Internationally With Children, which can be tricky, so be prepared and do your research before you travel!
Réunion Island is safe and welcomes children. With no need for malaria medication or vaccinations. There are some hotels in Réunion, which are child-friendly and some offer free accommodation for children. Some hotels have kids clubs and provide specific programmes geared towards children.
Many families opt to rent a self-catering house, giving them more freedom and privacy. There are many good reliable nannies and even au pairs that can be pre-arranged, but they will mostly be French-speaking. Children will love the beaches and especially the gentle, safe waters of the lagoon areas. They can also play on boats and kayaks as well swim in the sea and play on the beach.

While accommodation in Réunion might not be on par with the likes of Mauritius and Seychelles, there is still plenty of child-friendly accommodation. For example, LUX* Ile de La Réunion resort offers "PLAY" for children between the ages of 3 and 12, which gives them an opportunity to explore the many wonders and delights of island living. Supervised by a highly trained team, children are exposed to the nature and culture of the island's incredible surrounds. There is also a range of high-energy sports and outdoor activities on offer. Not to forget art classes, treasure hunts, engaging and educational Teddy Tennis lessons. Making "PLAY" everything your kids could hope for on an island vacation.
When is it best to go?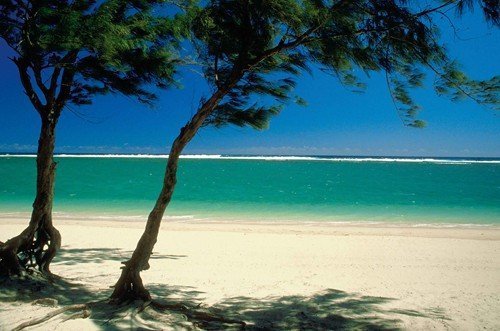 The island has Southern Hemisphere seasons and a tropical climate, tempered by the proximity of the Indian Ocean. The sun shines all year round, and each region has a microclimate. The coast of the island always enjoys a hot or mild temperature. During the hot and humid summer from November to April, temperatures average 30°C, although at altitude this can drop to ten degrees. This is the perfect time to indulge in diving or white water activities like canyoning.
The winter from May to October is the cool season. At altitude, the temperature cools significantly, while on the coast, particularly in the beach area (west), the water is still around 25 °C. It's worth noting that from June, and for four months after that, you can see the dance of humpback whales off the coast of the island.
Do you have a travel wishlist? I would love to know what is one it – leave a comment below!
Images:  Pinterest, Réunion Tourism, LUX Resorts
Disclosure Ranking:1