Col'Cacchio Pizzeria
There are some evenings, after a long day of running around, cooking is simply not an option! As a family, we try not to eat takeaways or ready meals, so the next best thing is eating out! One of my favourite places for a quick meal during the week is Col'Cacchio Pizzeria. I would probably say they are my favourite pizzeria. {my hubby's homemade pizza is still my favourite though 😉 – in the event that he is reading this}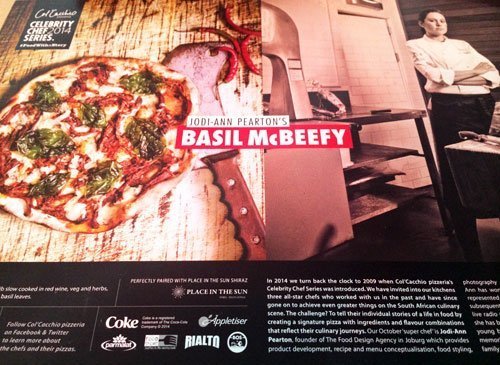 I was delighted when offered the opportunity to sample the latest Col'Cacchio Celebrity Chef Series pizza, Basil McBeefy!  The Col'Cacchio Celebrity Chef Series 2014 has entered its second month, with a throwback to 2010, when super chef and founder of The Food Design Agency in Johannesburg, Jodi-Ann Pearton, first took part in this gourmet charity challenge.
Jodi-Ann's Basil McBeefy pizza is an expression of her #FoodWithaStory culinary roots. She recalls fond memories of her father, Basil, preparing slow-braised beef short ribs for the family on weekends – "the most amazing comfort food and the spark that ignited my passion for food".
We decided on our local Col'Cacchio's in Westlake for dinner, our waiter was rather excited about the fact that I was going to try the Basil McBeefy pizza!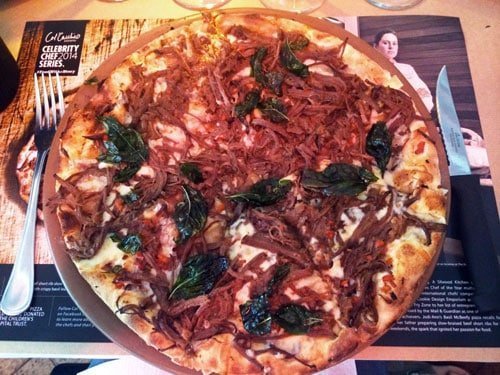 The Basil McBeefy pizza is my idea of soul food – with beef short rib slow cooked in red wine, veg and herbs, mozzarella, red chilli and crispy basil leaves. My pizza was loaded with beef, perfect for a meat lover like me! I loved the spiciness the red chilli added and the crispy basil was something a bit different but added great flavour and texture.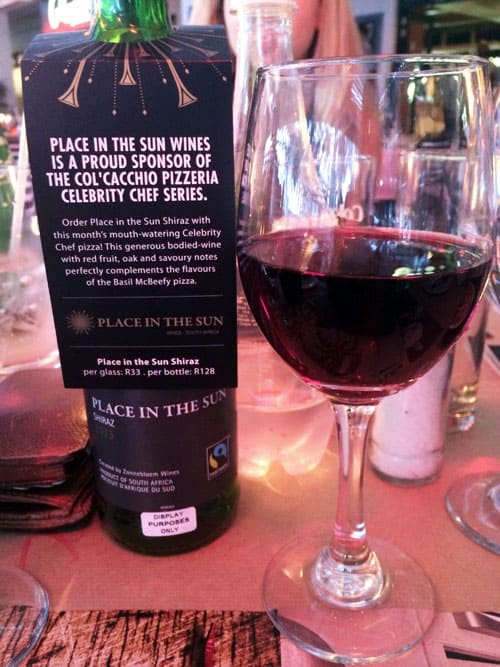 The Basil McBeefy pizza is perfectly paired with the Place In The Sun Shiraz, which is actually the wine I usually drink when we eat at Col'Cacchio!
I really enjoyed the Basil McBeefy pizza and even had a few slices leftover for lunch the following day 🙂
It is Friday peeps and who feels like cooking??? I know I don't! So why pop on over to your favourite Col'Cacchio Pizzeria and give the Basil McBeefy a try. If you are not a meat lover, then there is a huge variety of other yummy pizzas, pastas and salads to choose from!
The Basil McBeefy (R110) is available at all Col'Cacchio pizzeria stores across the country for the month of October. R5 from every pizza sold will be donated to the Children's Hospital Trust, to fund a paediatric rehabilitation programme, at St Joseph's for Chronically Ill Children.
Disclosure Ranking:4