I recently received a delicious hamper from Hartlief, containing a fantastic selection of their premium meat products. One of my favourite ways of serving cold meats, is on a mezze style platter, with a chilled glass of wine. That said, I thought I would try something a bit different, with the German Salami from the hamper.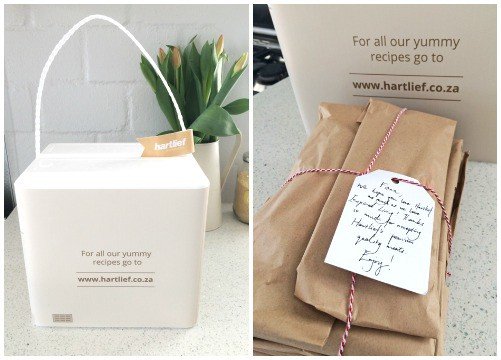 The Hartlief Kitchen Website has a great selection of recipes and platter ideas. The one that caught my eye was the Roasted Sweet Potato Salad with Feta and Hartlief Salami. I thought it would be the perfect salad for our weekend braai!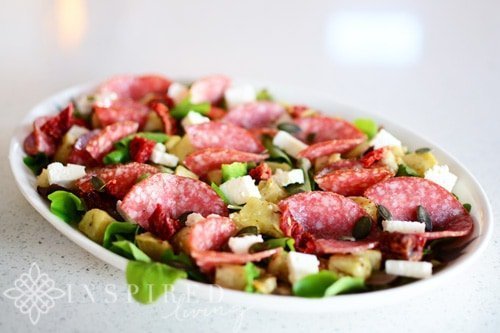 Roasted Sweet Potato Salad with Hartlief Salami

Ingredients:
Serves 6 people
400g Sweet potato, cubed

15ml Sugar (Replace with Xylitol if you are banting.)
Salt and freshly ground black pepper
25ml Dukkah
Olive oil
1 packet Washed salad leaves
1 packet Washed rocket
100g Hartlief Salami
12 Feta and herb balls or soft Danish feta
50g Pumpkin seeds
Pinch of Dukkah, to sprinkle over the finished salad
Olive oil Balsamic reduction(for recipe click here)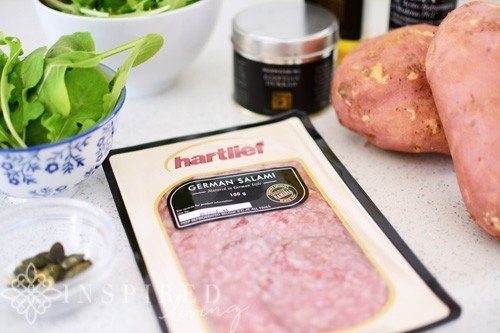 Method:
The recipe is straightforward and you could even roast your sweet potato ahead of time and assemble just before eating. Preheat the oven to 180°C. Peel the sweet potato and chop into cubes. The Hartlief recipe uses orange sweet potatoes, but I could not find any, so I substituted them with yellow sweet potatoes.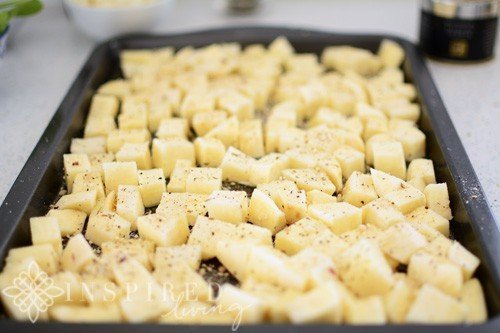 Place sweet potato cubes on a baking sheet and season with salt, pepper, sugar and the dukkah. Drizzle with olive oil; I used a lemon infused olive oil, for a bit of added zing. Mix well.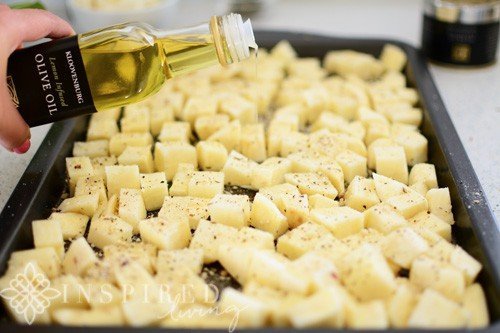 Roast the sweet potato until soft and caramelised, for approximately 30 minutes. Remove from the baking tray and chill thoroughly before assembling the salad.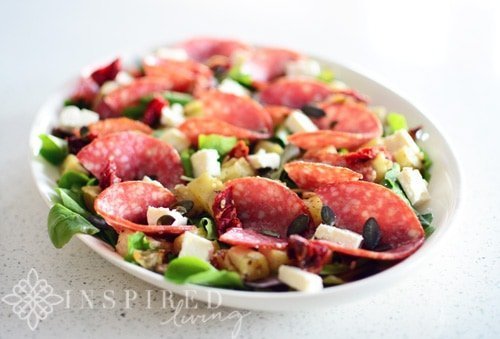 Assemble the salad with the salad leaves, rocket and sweet potato on a large, flat serving platter. Top with salami folded into quarters. Place the feta on the salad – you can use herbed feta balls, but I used plain danish feta. Sprinkle with pumpkins seeds and the dukkah. Drizzle with olive oil and balsamic reduction just before serving.
The salad was just delicious! I particularly loved the nutty flavour of the Dukkah on the sweet potato, as well as the delicate smokiness of the salami. It is a dish which can be eaten on its own, or as part of a salad selection at a braai. If you are looking for something to add to your braai table this weekend, why not give it a try!
If you do give it a try, please let me know how it turns out. Enjoy!
For info on these and other products, please visit the Hartlief Website.
Disclaimer: The original recipe appears on the Hartlief Kitchen Website
Disclosure Ranking:2