You may recall a recent travel feature I published about my trip to Piekenierskloof Mountain Resort, if not have a read. One of the activities which can be arranged at Piekenierskloof, is a Wine and Chocolate Pairing, with Org de Rac Wines. Instead of Org de Rac doing the pairing at the resort, we had the opportunity of visiting the estate.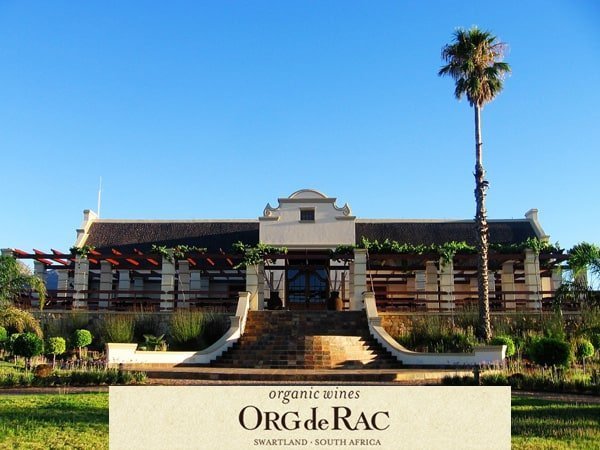 Org de Rac Organic Wine Estate is situated in the Swartland, on the N7 towards Piketberg. The wine estate is definitely what I would call a hidden gem! One can not help but fall in love with the fantastic views, beautiful surroundings and warm friendly staff!
Org de Rac symbolises creation, conservation and respect for the virgin soil which belongs to tomorrow.
The estate prides itself on living the organic dream and embracing a biodiverse philosophy – a constant striving for balance between nature, people and business.
Org de Rac Wine and Chocolate Pairing
After a hearty lunch we got down to the business of wine and chocolate pairing! Tough job but someone has to do it! The chocolate component of our tasting was from CocoFair. CocoaFair for those of you who do not know, is Africa's first bean to bar chocolate manufacturer – making it the perfect pairing with Org de Rac Organic Wines!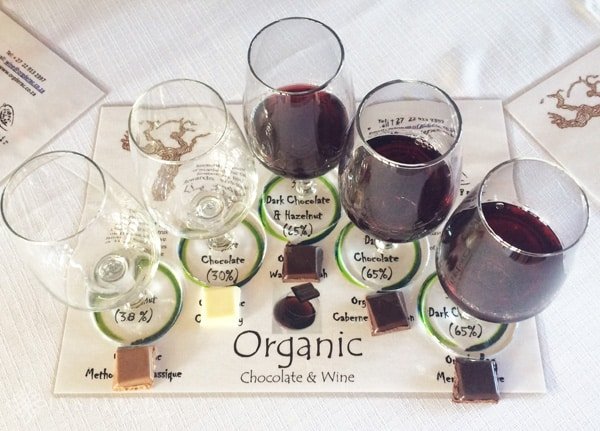 Wine and chocolate are a natural pairing or as I have been known to say – "a marriage made in heaven"! Both share similar components and have complex flavours and notes. When pairing wine and chocolate, the key is to pair a lighter chocolate, with a lighter wine and a dark chocolate, with a full-bodied wine.
We were first shown the proper technique for tasting both wine and chocolate. The first step is to discover the bouquet and flavour profile of the wine, by giving it a good sniff. Then sip the wine and swirl it in your mouth, noting the flavour components. Once you have done this take a small bite of the chocolate and allow it to melt on your tongue. Now take another sip of the wine. If the chocolate and wine are paired successfully the chocolate should enhance the flavour of the wine and vice versa.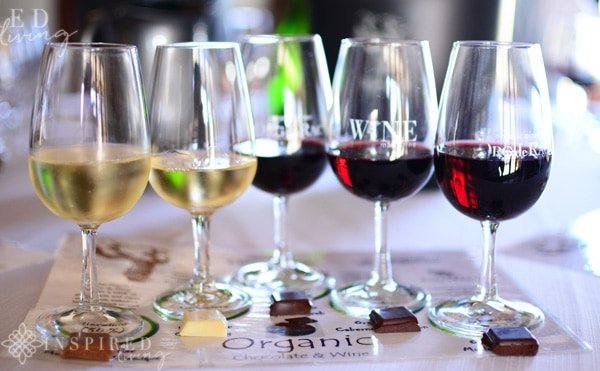 Our pairings were as follows:
Org de Rac Cuvee Laverne MCC with 38% Milk Hazelnut Chocolate
Org de Rac Chardonnay with 30% White Chocolate
Org de Rac Die Waghuis Syrah with 65% Dark Hazelnut Chocolate
Org de Rac Cabernet Sauvignon with 65% Dark Chocolate
Org de Rac Merlot with 65% Sea Salt Dark Chocolate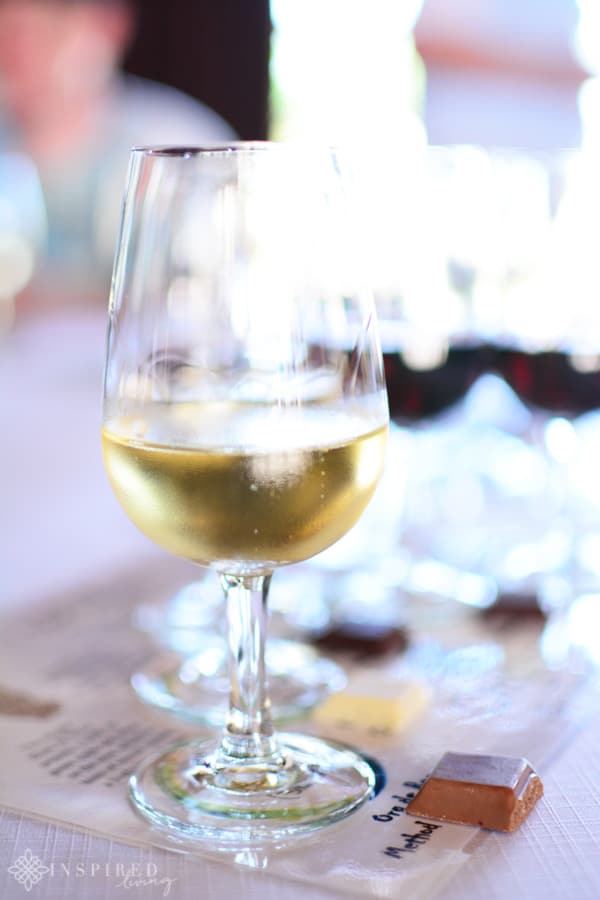 My two favourite pairings, were the Org de Rac Cuvee Laverne MCC, with the 38% Milk Hazelnut Chocolate and the Org de Rac Die Waghuis Syrah, with the 65% Dark Hazelnut Chocolate.
I was quite surprised about how much I like the MCC paired with the milk hazelnut chocolate. Dark chocolate is usually my favourite, as I find milk chocolate too sweet. The natural acidity of the MCC however, balanced the sweet nuttiness of the chocolate beautifully.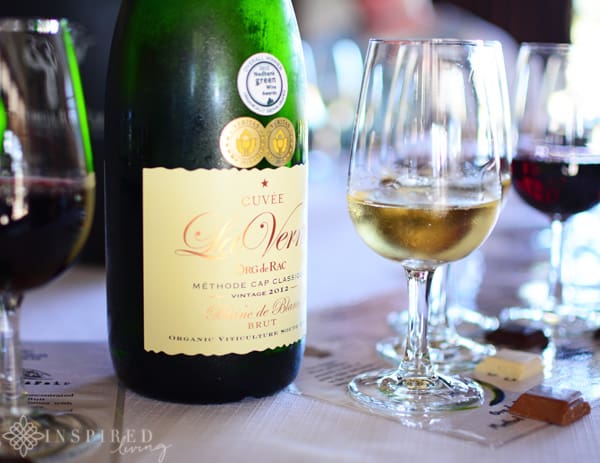 Die Waghuis was my favourite red wine of the day. I absolutely loved it paired with the dark hazelnut chocolate. The hints of dark chocolate in the wine and the lingering spicy finish, made it the perfect partner for the flavour intensity of the dark chocolate!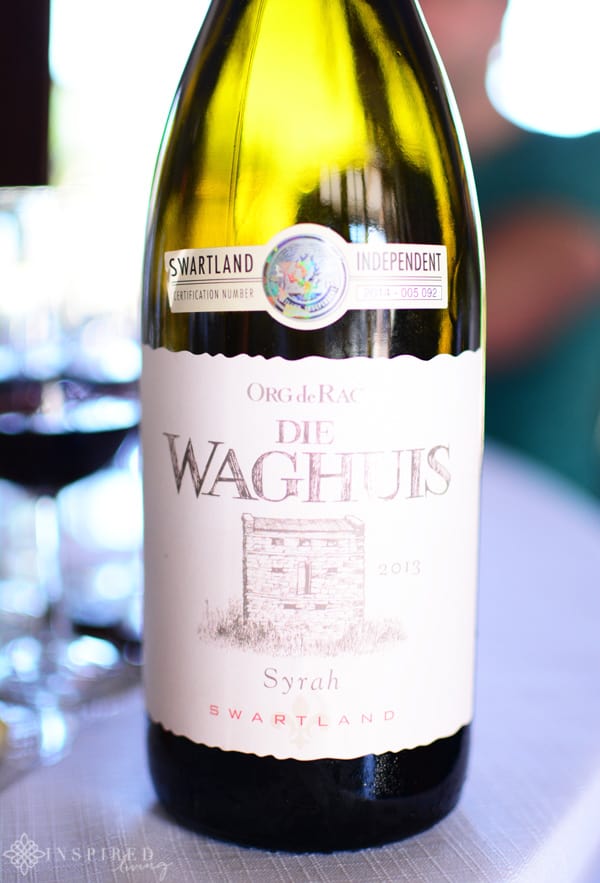 I learnt so much more about wine tasting in general, as well as food and wine pairing at Org de Rac and I also discovered a new wine estate!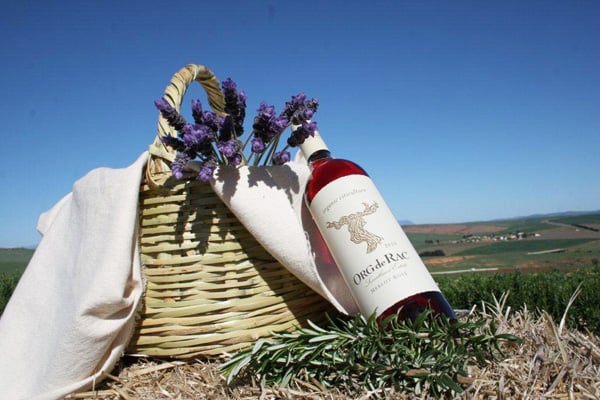 As well as wine tasting the estate offers picnic baskets. You are welcome to bring a blanket along or be seated under the umbrellas on the benches. Please note that picnics need to be booked 48 hours in advance.
Opening times and Details:
Mon – Fri 9h00 – 17h00
Saturdays 9h00 – 13h00
Tasting: Org de Rac range is free of charge – Methode Cap Classique 2011, Chardonnay Unwooded 2013, Chardonnay Lightly wooded 2013, Merlot 2013, Shiraz 2012, Cabernet Sauvignon 2013
A Cheese Platter for 2 is R200 and a Picnic Basket for 4 is R350. For the little ones a Kiddies hamper is R50. Please visit the Org de Rac Website for more details on picnic menu and wine tasting.
Contact & Location:
Tel: + 27 22 913 2397 or + 27 22 913 3923 or email. Location: N7 between Moorreesburg and Piketberg. GPS: 32° 57′ 43.6″ S, 18° 45′ 0.2″ E