I recently took up the challenge, of taking a few bottles of Tangled Tree wine on a trip with me! As you know I love travelling and it just so happens so does Tangled Tree! The wine arrived just in the nick of time before we set out on a road trip to De Hoop.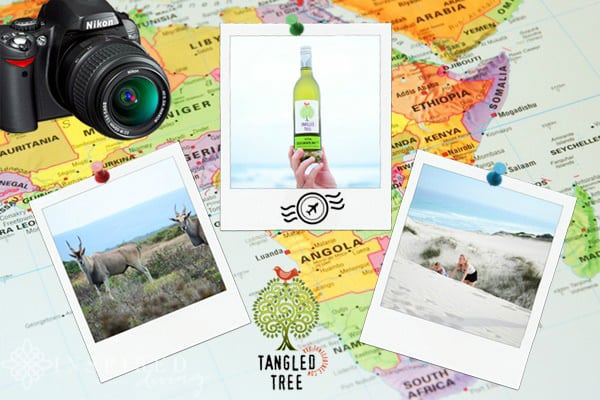 Tangled Tree Loves Travelling
If trees could speak, what stories they could tell! This is certainly true of the botanical collection to be found in the tranquil garden at Van Loveren. Their tales would weave the chapters of a unique South African heritage – enticing chronicles of a family, of change and growth.
The Story of Tangled Tree
One such tale is of the Karee Tree planted on the Van Loveren Estate in the 1940's. Jean Retief had ordered a hardy Rhus lancea sapling from a nursery in far-off Natal. When it finally arrived by train at the tiny Klaasvoogds railway station, some local farmers recognised the tiny specimen as a Karee, a fairly common tree. Jean however, disagreed and insisted the newcomer was what she'd ordered. To settle the dispute, her husband Hennie fetched a branch from a Karee growing by the river and planted it beside Jean's Rhus lancea. The two turned out to be identical.
Over the years the pair has grown entwined and become a symbol of enduring love, reflecting the life Jean and Hennie spent side by side on the farm.
These trees and their symbolism provided the inspiration for the Tangled Tree range of wines. The wines represent the commitment of the farmers and winemakers of Van Loveren to conservation, and the Retief family's deep respect for nature.
The Tangled Tree Philosophy
Tangled Tree wines are Van Loveren Family Vineyards' tribute to their close relationship with nature. In keeping with this philosophy, the wine packaging was created to be as environmentally friendly as possible.
The fully recyclable, unbreakable PET bottle generates 50% less greenhouse emissions during the manufacturing process. It also enables wine lovers, to enjoy a glass of wine where glass bottles are perhaps not allowed. The bottle is also light and does not take up lots of space! The manufacturing process of these bottles has a significantly lighter carbon footprint (up to 75% less) than glass bottles.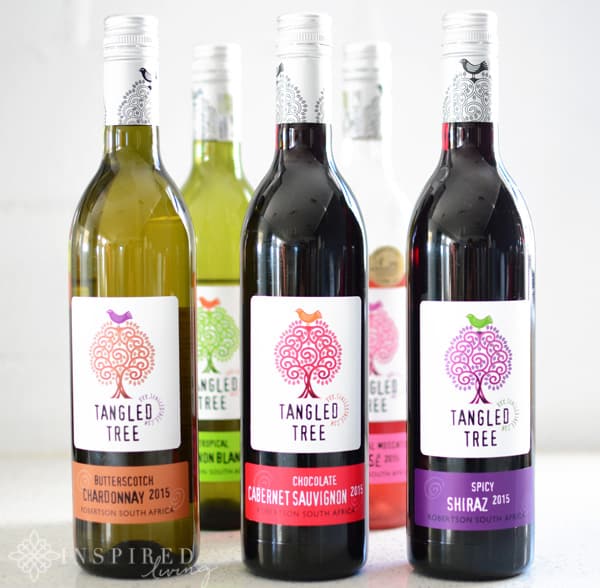 The Wine
Choose from 5 easy drinking wines, with expressive flavours to sooth any mood or occasion:
Tangled Tree Tropical Sauvignon Blanc with its abundant aromas of tropical fruit such as guava, melon and gooseberry with a crisp, fresh finish
Tangled Tree Butterscotch Chardonnay has expressive aromas of Butterscotch, Crème Brulee and delicate Citrus (my personal favourite)
Tangled Tree Moscato Rosé with upfront Muscat and Rose Petal flavours and an aromatic nose
Tangled Tree Chocolate Cabernet Sauvignon oozes coffee and Mocha flavours, layered with Cassis and Blackberry notes
Tangled Tree Spicy Shiraz boasting a spicy nuance with rich and powerful Red Berry essence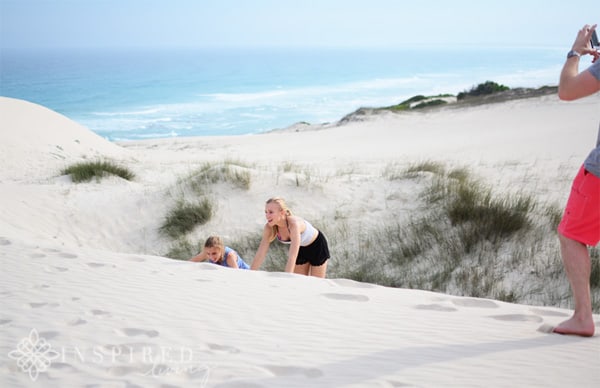 Travel
As I mentioned the challenge set by Tangled Tree, was to take their wine on an adventure and prove just how travel friendly it is! The wine arrived the day before we were due to set out on our road trip to De Hoop – perfect timing. I chose to take the Tangled Tree Tropical Sauvignon Blanc and the Tangled Tree Moscato Rosé, along on our journey.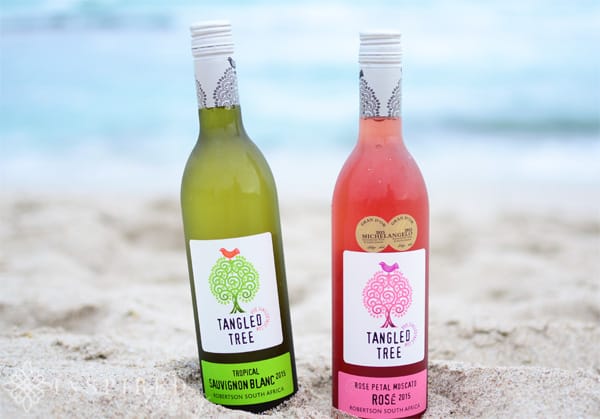 De Hoop Nature Reserve is situated in the Western Province of South Africa. De Hoop lies approximately three hours from Cape Town in the Overberg region, near Cape Agulhas, the southern tip of Africa. The reserve is 34 000 hectares and a favourite for hikers, cyclists, and bird and whale watchers. Of the 3 hour journey to get there, the last +/- 50km of dust road, seems to go on forever but it is well worth the effort! My thought was if these wine bottles could survive the trip on a bumpy dust road, they could survive almost anything!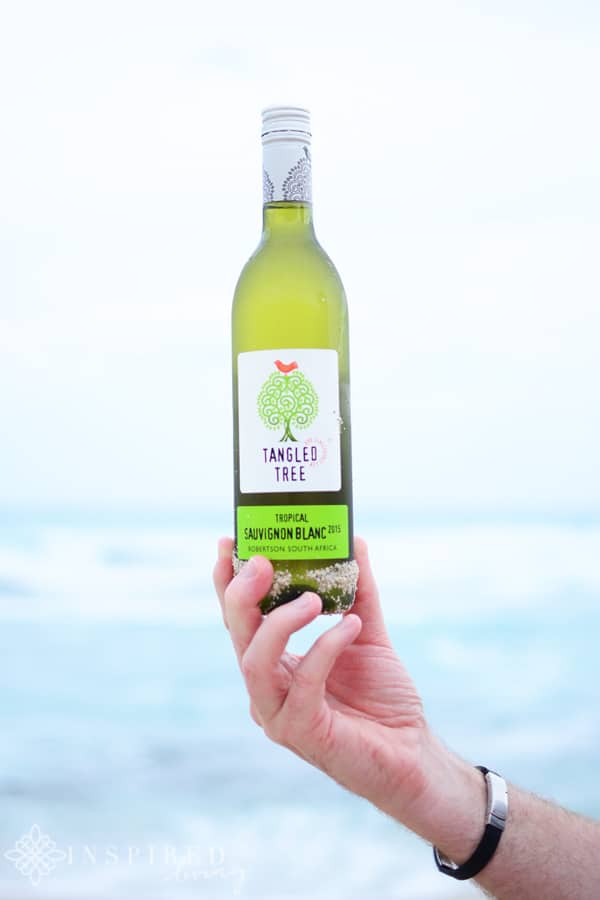 The majestic stretch of coast at Koppie Allen, is really something you have to experience! Pristine white sand dunes, give way to the most breathtaking view across the crystal blue water. If you are lucky and go at the right time of year, the dunes of Koppie Alleen make the best whale watching vantage point!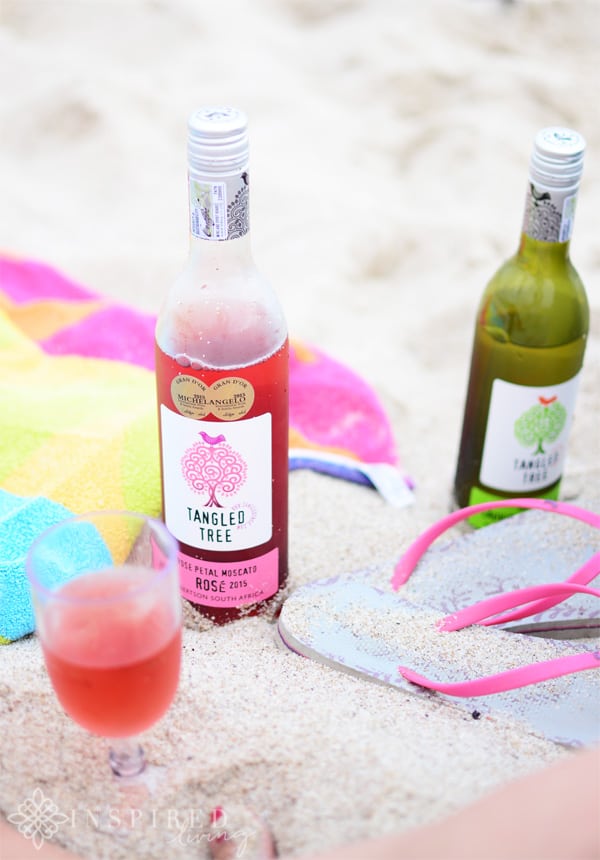 After a lovely lunch at the Fig Tree restaurant on the De Hoop Reserve, we decided to take a drive to Koppie Alleen for a bit of dune climbing and beach time. We packed a cooler bag with drinks and snacks and set off. The Tangled Tree wine bottles are super light and made carrying a loaded cooler bag super easy! After some fun on the dunes we settled down on the beach at Koppie Alleen to enjoy the view. Needless to say the wine had successfully survived our road trip and went down a treat, while watching the sun go down!
Please keep a look out for a Tangled Tree Loves Travelling competition which will be happening soon! You can stand a chance of winning a mixed case of wine!
Note: The wine was supplied to Inspired Living free of charge but this article is not sponsored. All creative content and photographs are property of Inspired Living.