Gone are the days when a hamburger, is merely a beef patty on a bun! Gourmet burgers have replaced the sad, somewhat tired grey patties, served on a soggy bun, with equally soggy salad items. The more inventive you can be with your burger creation the better, which is why I loved the sound of the Hellmann's Chorizo and Maple glazed Bacon Burger.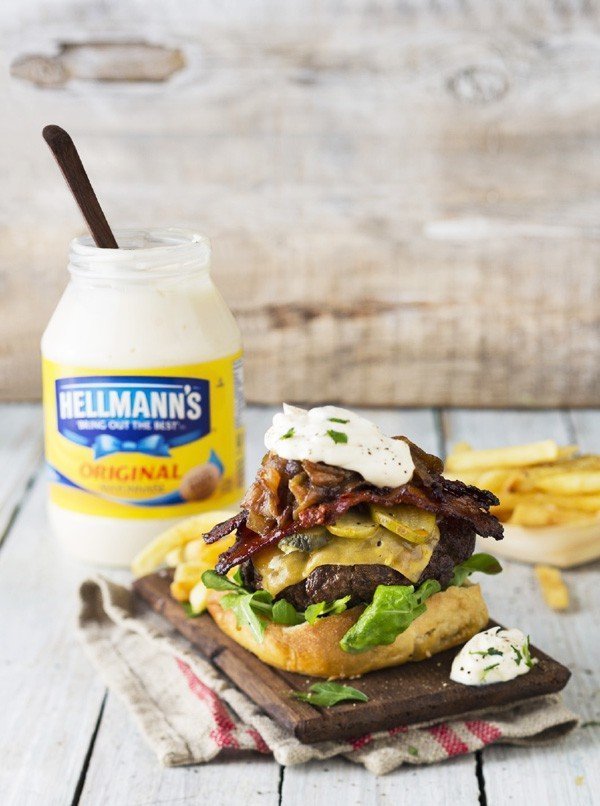 Hellmann's Chorizo & Maple glazed Bacon Burger
Hellmann's recently launched their #Rockyourburger campaign, a wonderfully festive celebration, of the "World's No. 1 Mayonnaise", as well as all things burger focused! In my very humble opinion, no burger is complete without a mayonnaise component, and Hellmann's mayo has been a favourite of mine, for as long as I can remember!
There is also nothing better than a homemade burger patty, which may seem like quite a bit of effort but it is well worth it. I hope you think this burger recipe, is as sexy as I do.
Ingredients:
4 slices chipotle or smoked bacon
5ml (1 tsp.) maple syrup
For the patties:
800g chuck steak, cut into cubes
10ml (2 tsp.) garlic, crushed
10ml (2 tsp.) salt
60g chorizo, roughly chopped
10ml (2 tsp.) smoked paprika
1 onion, sliced thickly
30g butter
To assemble:
4 gherkins, thinly sliced
handful rocket
4 slices mature cheddar cheese
125ml (1/2 cup) Hellmann's Mayonnaise
4 sesame seed buns
Method:
Preheat the oven to 180°C. Cut the chuck into small cubes, removing all the bones and excess fat. Place in a food processor with the chorizo, garlic, smoked paprika and salt and pulse until roughly minced. Do not overwork. Shape into 4 x 200g patties, keep in the fridge.
For the bacon, place on a baking tray and brush with maple syrup on both sides and cook in the oven, until golden and crisp. For the caramelised onion, in a medium sized pan add the butter, and fry the onions until golden and caramelised, set aside. In a medium sized pan, add olive oil and fry the patties until cooked, to your liking.
To assemble the burger, cut the buns in half, and place the rocket leaves on the base of the bun. Add the patty, followed by a slice of cheese, gherkins, bacon and caramelised onions. Finish with a generous dollop of Hellmann's Mayonnaise, finally all that is left to do is devour your delicious creation.
Follow Hellmann's on Facebook or Twitter following #RockYourBurger.
Image and recipe source: ©Hellmann's
Disclaimer: This post is sponsored by Hellmann's. All opinions, content and images are property of Inspired Living or Fiona Rossiter, unless otherwise stated. To see more read the full PR & Disclosure Policy below.