You may recall a writeup I posted recently about The Suites at Jordan Wine, which was part of my Stellenbosch Bucket List. Today I am sharing our relaxed, dining experience at The Bakery at Jordan Wine.

The Bakery at Jordan Wine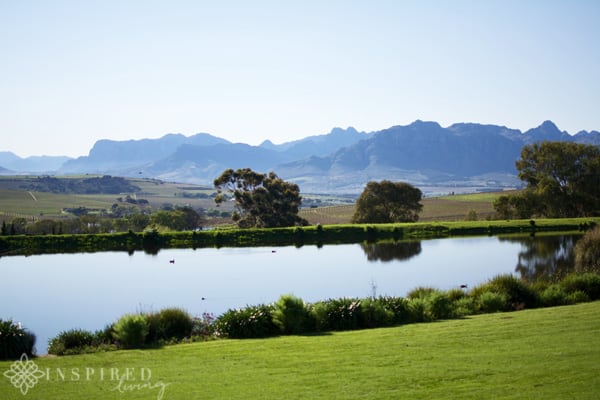 Jordan Wine Estate is located in the beautiful Stellenbosch Wine Valley and is owned by Gary and Kathy Jordan. We spent some time there recently as part of my #DoStellies experience. Although both Grant and I have enjoyed their world-class wines on many occasions, it was our first time exploring the farm. With views like the one above, what's not to love?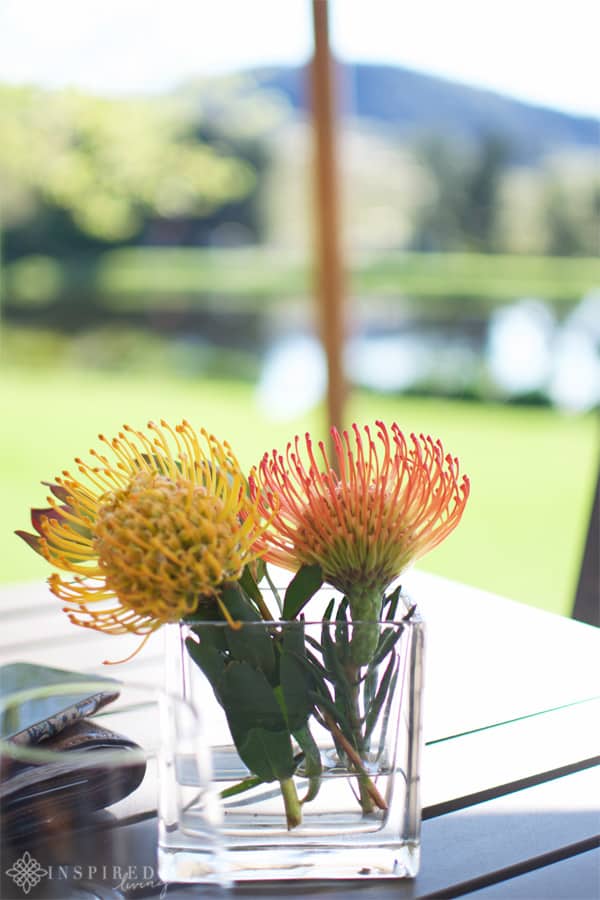 As part of our Stellenbosch experience, we were invited to The Bakery for breakfast, as well as lunch. Having not eaten there before, we were keen to find out what everyone has been raving about.
At The Bakery the emphasis is on relaxed dining, which was perfect after a fantastic weekend of food and wine. The menu changes frequently but a constant feature throughout the year is the selection of platters to share. They also sell freshly baked bread, pastries, jams, preserves, cheese and charcuterie, as well as free range eggs.
Breakfast Menu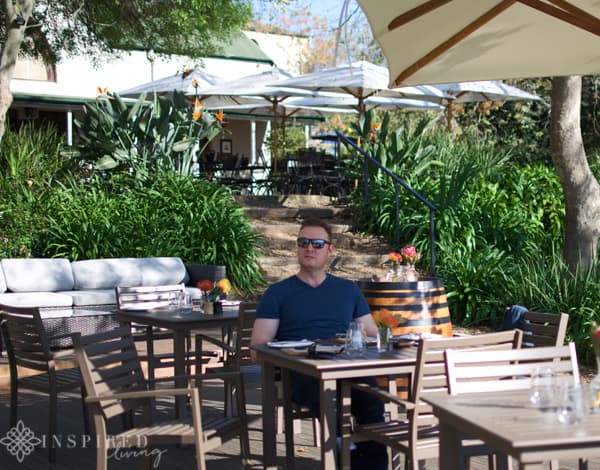 After an early morning run, both of us were ravenous and looking forward to breakfast. It was a beautiful sunny day, so we opted for a table on the deck, under the trees. It is one of the most beautiful settings – you cannot help but relax!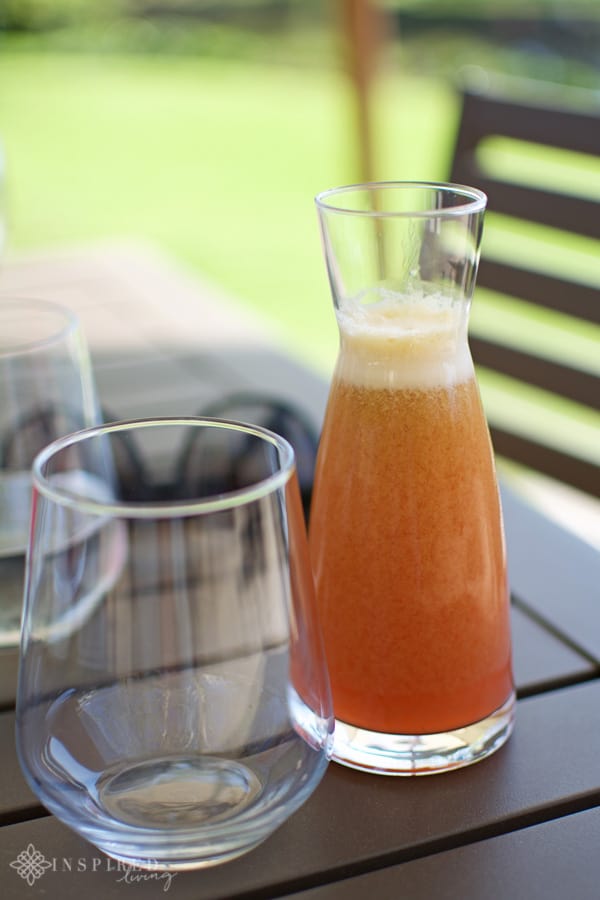 We started off our meal with a much need cappuccino, and our waiter also recommended their freshly pressed juice, which was awesome. For breakfast, Grant decided on Scrambled Egg, with smoked trout and brioche. I opted for the English Breakfast with pork sausage, bacon, tomato, homemade baked beans and scrambled eggs.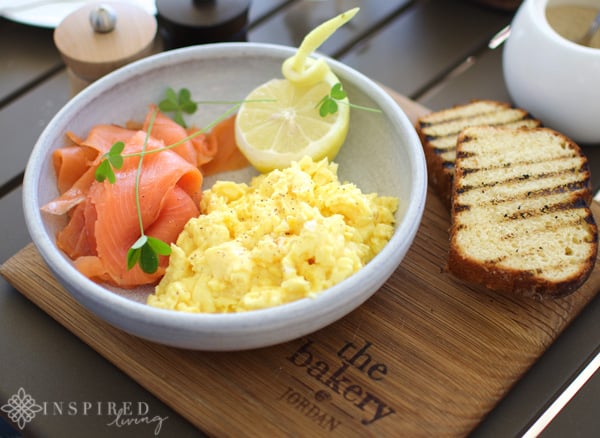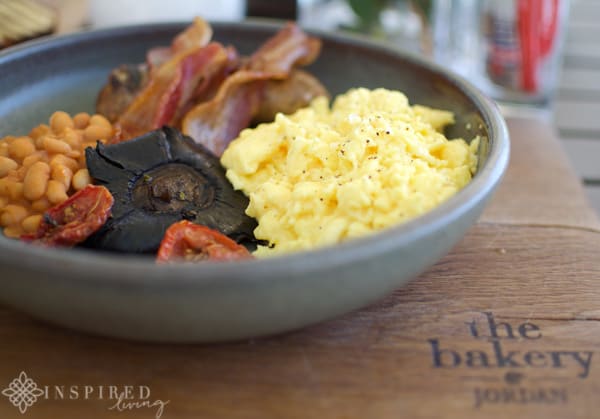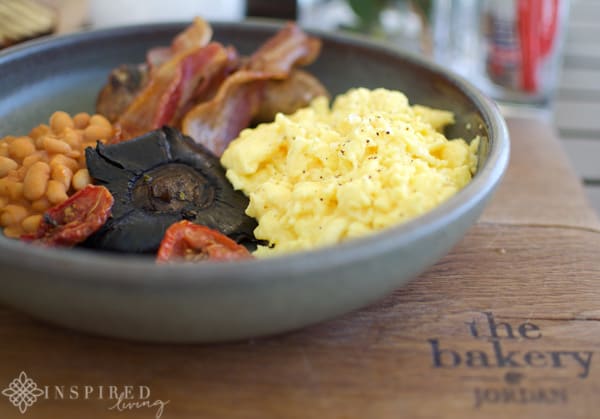 Other menu options include a Health Breakfast, with homemade granola, double Greek yoghurt and a berry compote, or the traditional Eggs Benedict, with Neil Jewell's herb, smoked pork loin, two poached eggs, hollandaise sauce and sourdough bread.
Lunch Menu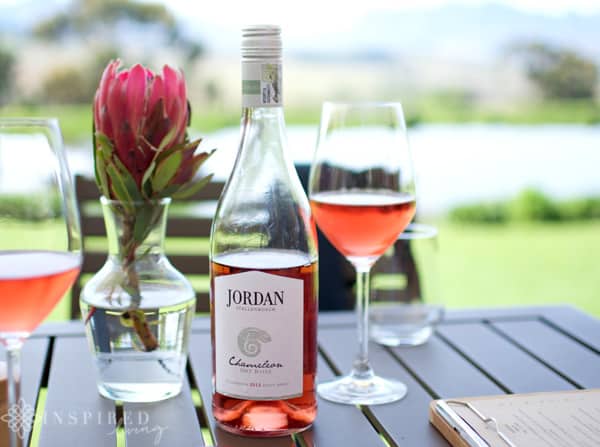 Having spent the rest of the morning on a Wine Tasting Safari, we were ready to sit back and have a leisurely meal, soaking up the beautiful view. Once we had decided what we were eating, it was time to choose a wine to accompany our meal. If I am eating red meat, I would usually opt for a red wine, but as it was rather hot, we decided on the 2015 Jordan Chameleon Dry Rose instead.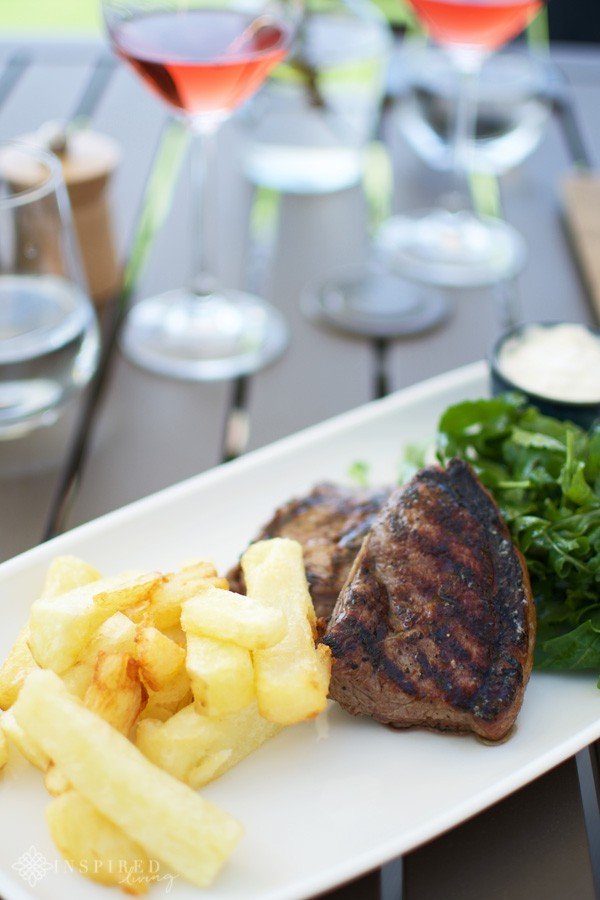 The Grilled Beef Rump Steak, with rocket and the most AMAZING triple cook chips, sounded too delicious to pass up. Grant decided on the Prospecter Burger, which sounded wonderful. An aged beef patty, brioche bun, shiraz onions, bacon, Boerenkaas, as well as the triple cooked chips – who could resist!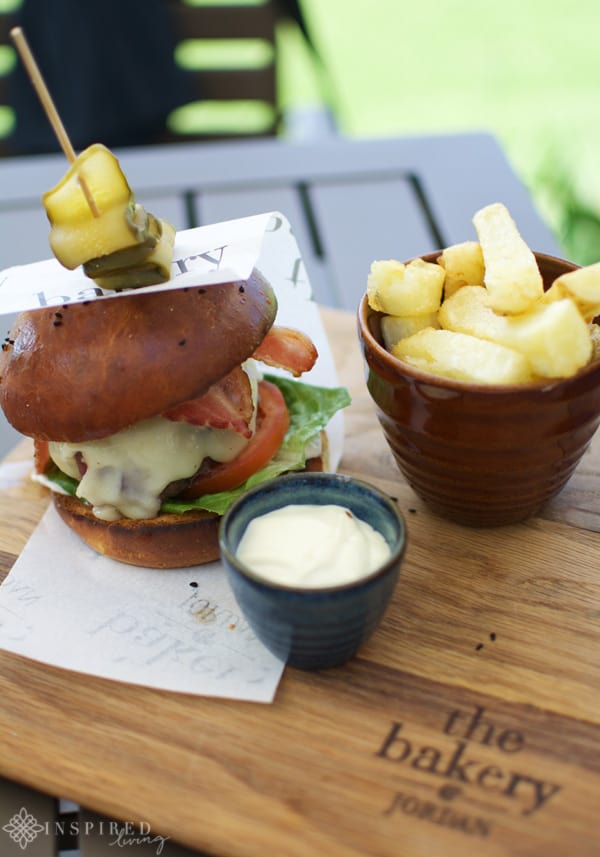 I also loved the sound of the Crusted Pan-fried Line Fish, with wilted spinach and artichoke sauce – next time! For vegetarians, there was a Vegetable Bake, with a selection of vegetables, as well as halloumi, chunky hummus and tomato sauce.
Conclusion
We loved our time spent at The Bakery, and I have since recommended it to quite a few of my friends. It is the perfect dining option if you are looking for a Winelands' restaurant in a beautiful location, serving delicious food and wine, offering fantastic service and the most relaxing atmosphere!
Visit Stellenbosch Bucket List
Please check back soon for more of my #VisitStellenbosch experiences and get started planning your Stellenbosch Winelands itinerary now! If you have any questions about this or any of my other experiences, please leave a comment below, and I will get back to you.
Contact Details and Location
Contact: via telephone +27 (0)21 881 3048 or email. Location: Stellenbosch Kloof Rd, Stellenbosch, 7604
Cape Town, South Africa.
Disclaimer: We enjoyed complimentary breakfast and lunch at The Bakery at Jordan Wine, as guests of Jordan Wine Estate and Stellenbosch Wine Routes. This is not a sponsored or paid post. All opinions, content and images are the property of ©Inspired Living and Fiona Rossiter unless otherwise stated. To see more, read the full PR & Disclosure Policy below.