I was recently sent a few products from the Aloe Unique Age Defying Skin Care range to try. Aloe Unique skin care products contain the powerful active ingredients of the Aloe Ferox plant.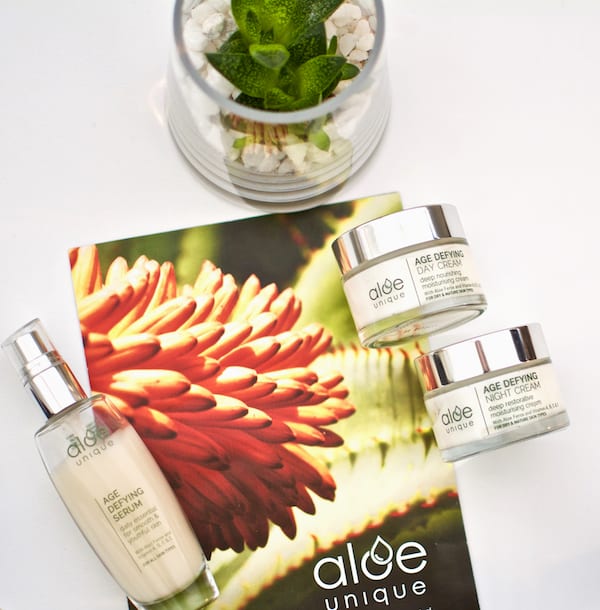 Aloe Unique Age Defying Skin Care
The locally run family business boasts over 20 years experience in the Aloe industry, and they are the first company in South Africa to combine vitamins with ecologically-harvested Aloe Ferox plant ingredients. They have created a high-quality, paraben and alcohol-free formula, packaged in recyclable containers.
The Benefits of using Aloe Unique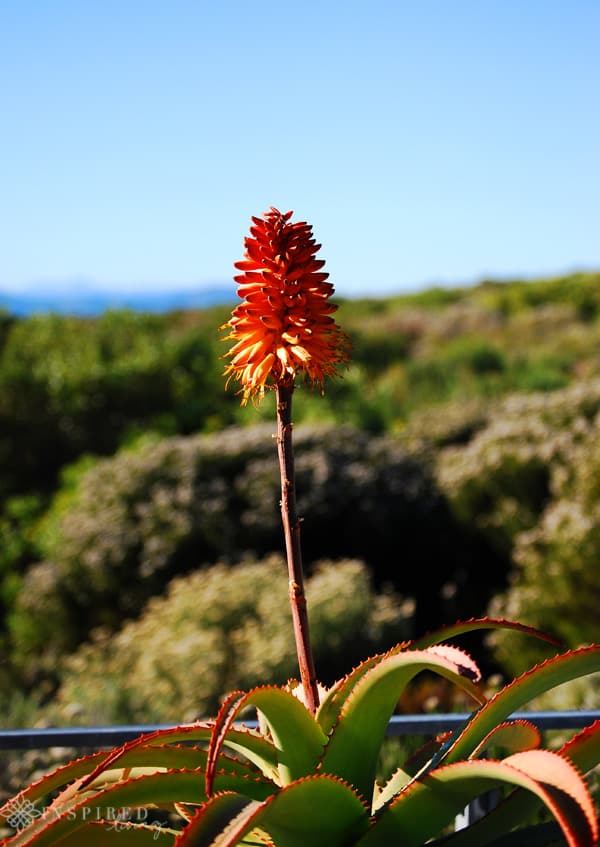 Aloe Unique uses Aloe Ferox, which contains almost twice as many amino acids as Aloe Vera. Aloe Ferox is also indigenous to South Africa, and because the plant grows wild, no pesticides or chemicals are used.
Products promise to increase skin elasticity, decrease the appearance of lines and wrinkles, as well as improving skin hydration. In addition to reducing skin sensitivity and inflammation, the Aloe Unique range will also soothe irritations. Aloe Unique products are alcohol-free and have a mild perfume, which makes them ideal for sensitive skin.
Age Defying Range
Over the past few months, I have been struggling with extremely dehydrated skin, as well as dry patches on my chin area. I think this is primarily due to me running longer distances, which is dehydrating my skin. As well as dehydration, my skin tends to become inflamed after exercise. I was excited to see if the Aloe Unique products would alleviate my skin conditions.
The products I received from the Aloe Unique Age Defying Skin Care Range, are the Age Defying Serum, Day Cream, and Night Cream.
AGE DEFYING SERUM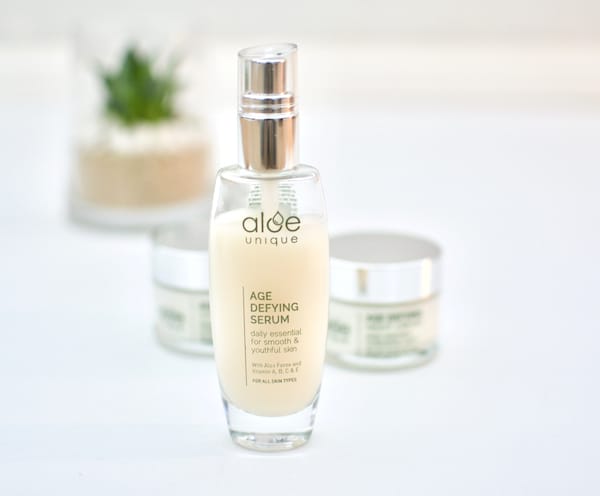 This potent, highly concentrated serum helps stimulate the skin's age-defying powers, by providing a daily dose of nutrients and anti-oxidants. Together these elements help prevent and reverse the appearance of wrinkles, fine lines, and hyperpigmentation. The serum contains high levels of Aloe Ferox Leaf Extract, Vitamin A, Vitamin C and Borage Oil.
I have always believed that a serum should be a part of your daily skincare routine, but I must admit I have been a bit lackadaisical recently. I have been using the serum twice daily for about 2 weeks and have noticed a significant change in both the texture and tone of my skin. After the serum, I apply either the Day or Night Cream. RRP 50ml R256.00.
AGE DEFYING DAY CREAM
The Aloe Ferox-based formula, packed with anti-oxidants and Vitamins E and C, help increase collagen production and elasticity, as well as protecting your skin against free radical damage.
The Aloe Unique Age Defying Day Cream has a luxurious texture, which delivers the much-needed hydration my skin requires. Although the formulation is creamy, it does not leave my skin feeling greasy but rather plump and amazingly smooth. RRP 50ml R135.00
AGE DEFYING NIGHT CREAM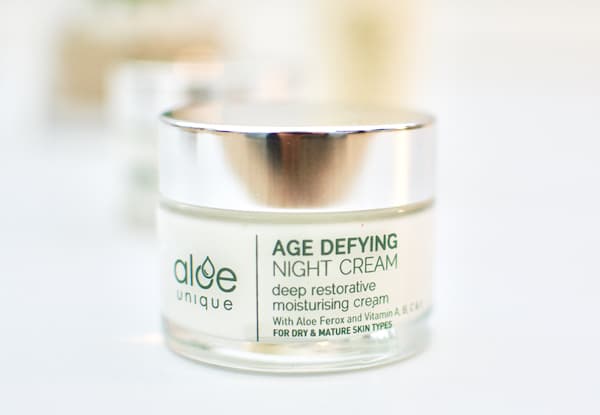 The emollient-rich Aloe Ferox-based Night Cream formulation helps jumpstart collagen production overnight for a younger, glowing and even-toned appearance.
As with the Day Cream, the Ultra-nourishing Night Cream gives my skin a powerful hydration boost. It helps replenish the moisture my skin loses during the day and leaves it feeling nourished and supple. RRP 50ml R155.00
My Verdict
My first impressions of the Aloe Unique range has been superb, and I have noticed a definite change in my skin. It is not as sensitive and inflamed after exercise. It feels supple and smooth, and the dry patches have disappeared. My T-Zone oiliness is not as pronounced as it was, which is great. I also love the fresh, subtle fragrance of the products.
As well as the Age Defying range I was sent a few additional products which I will write about in a later post.
Contact Details & Location
Contact via telephone +27 21 785 4483 or visit the Aloe Unique Website. Location Cape Town, South Africa
Disclosure
I received complimentary Aloe Unique products for review purposes but all opinions are my own.