A highlight during my recent trip to Oudtshoorn was our visit to the Five Shy Meerkats Conservation Project. I loved every minute of this unique and fascinating experience, well except for the 5 am wakeup-call, as we had to be there by sunrise!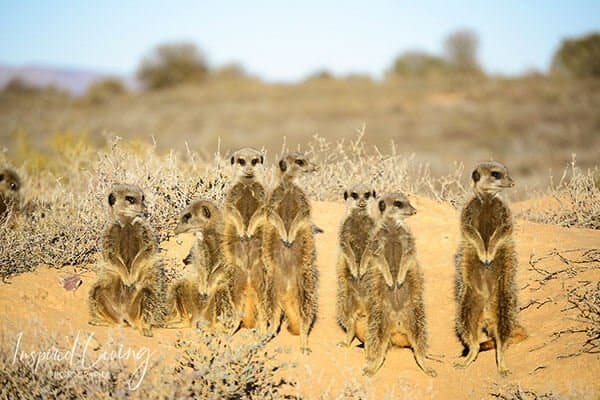 Five Shy Meerkats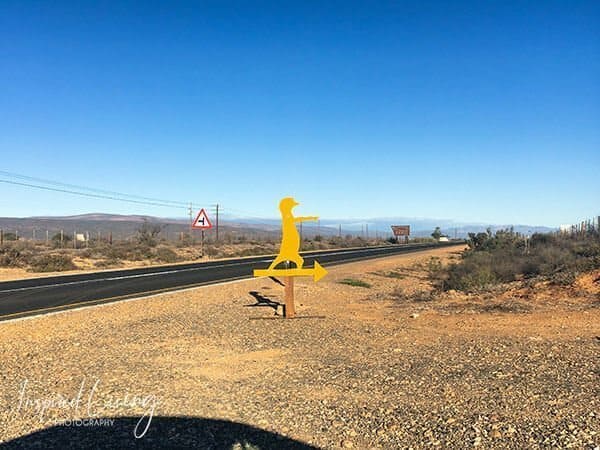 Five Shy Meerkats conservation site, located in Oudtshoorn, is in the northern part of the Garden Route. The property belongs to De Zeekoe Guest Lodge, which is also a member of Cape Country Routes.
Devey Glinister and his son JD, head up the team at Five Shy Meerkats and have been researching these cute creatures since 2008. The information they have gathered is based on findings and data from approximatley eight groups of meerkats that they have worked with, in the area.
What is a Meerkat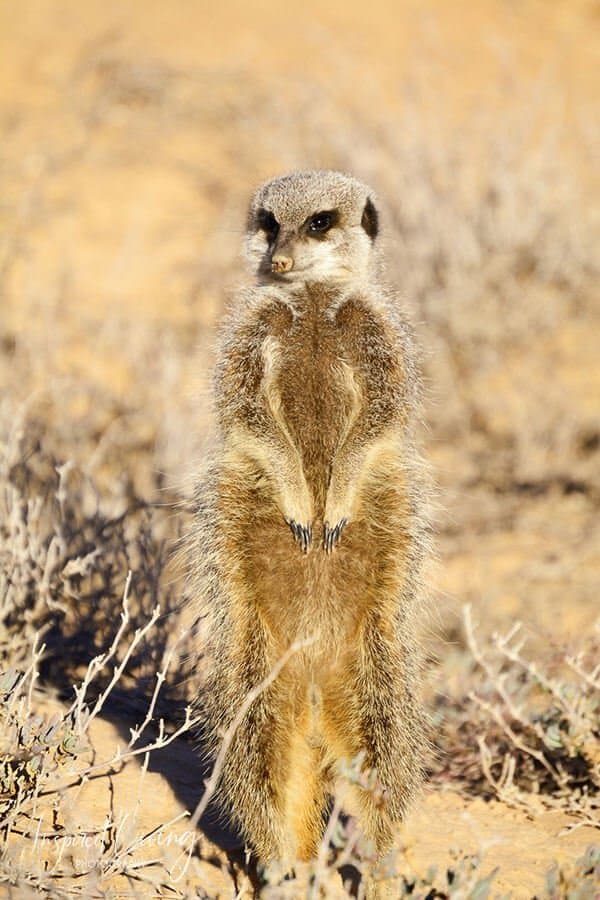 Meerkats are part of the "shy five", which include Bat-eared Fox, Aardvark, Porcupine and Aardwolf. Meerkats are the only members of the group who are diurnal, i.e. active during the day. They earn their spot in the group due to their need for a large personal bubble – the space can be between 200m-300m for a "wild family", which is completely removed from human contact.
You can find meerkats in the semi-desert and desert-like areas in Southern Africa. These insectivores live in gangs of up to 20 members but on average 7 – 12 members. The mob is lead by a dominant female and her mate, who can breed up to 3 times per year.
Our Meerkat Adventure
We set off for our Meerkat Adventure from Wildehondekloof Luxury Lodge bright and early in the morning. Well, truthfully not "bright" at all, just super early! Tours are at sunrise, and they last for between 2 to 3 hours.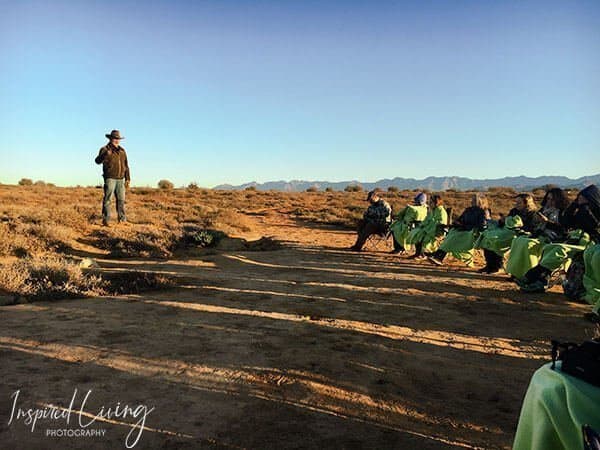 Upon arrival, guests can enjoy a cup of hot tea or coffee. Before setting off to the Meerkat burrows, you are issued with a lightweight folding chair, as well as a warm blanket.
Once seated at the den, our guide, Devey, shared a bit more about the Meerkat programme. Devey also explained what we could expect from our adventure.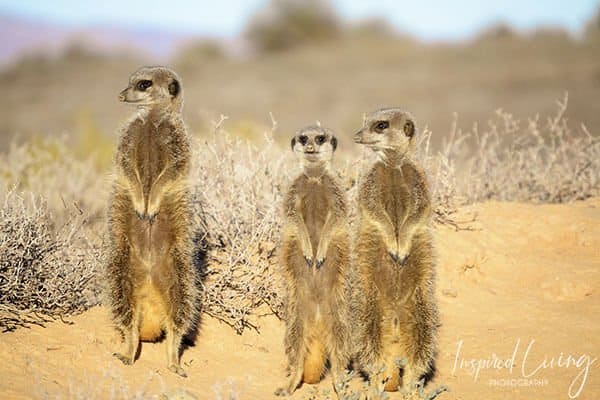 Then it is a waiting game – until these little guys decide it is time to sun themselves. During our visit, we were fortunate because they appeared very quickly. It was an incredible sight watching them pop their heads out and lineup facing the sun.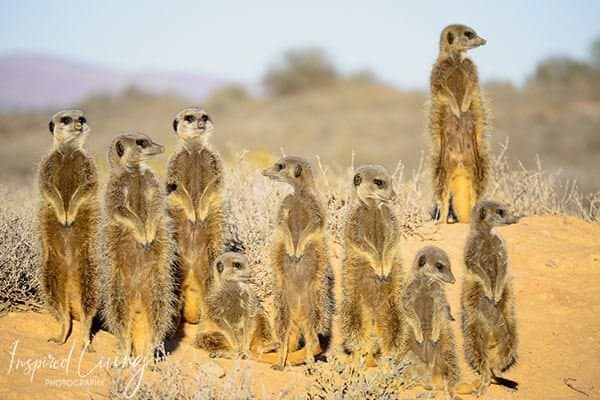 Things To Remember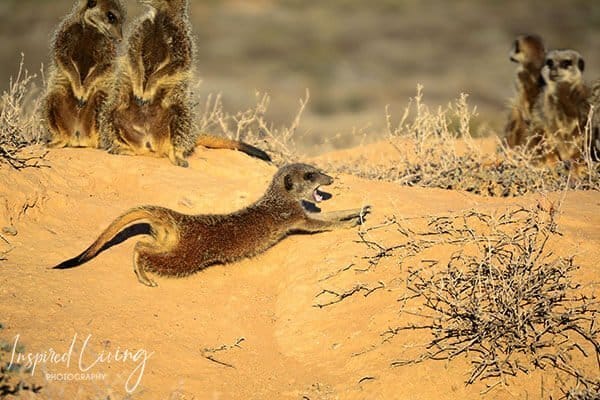 Booking in advance is essential, and it is also advisable to call the day before to confirm the start time. There are no tours when it rains.
Dress in warm, comfortable clothing – during winter I highly recommend a heavy jacket, two pairs of socks, gloves and a beanie! It was freezing!
Do not forget your camera. You will not want to miss capturing this fantastic experience.
Children under the age of 10 are not permitted on the tours – most younger children tend to have a shorter attention span and can easily get bored.
Details and Location
Only Online Bookings made via the Five Shy Meerkats website will be accepted. Guests staying at De Zeekoe Guest Lodge enjoy an exclusive discount on the Meerkat tours. Call +27(0)84 772 9678 the day before to confirm your booking. Location: Oudtshoorn, South Africa, Longitude: 22.092415 and Latitude: -33.6027757.
Images
©2010 – 2019 Inspired Living and Fiona Rossiter. Please do not use any images featured on this website, without written consent from the copyright holder and owner.
If you have enjoyed this feature, please share it by hitting the buttons below⇓.
Disclosure
Cape Country Routes sponsored our Five Shy Meerkats tour. Inspired Living and Fiona Rossiter have no material connection to the brands, products, or services mentioned in this post. All opinions, content, as well as images, are the property of Inspired Living or Fiona Rossiter unless otherwise stated. Read the full PR & Disclosure Policy below for more details.
Summary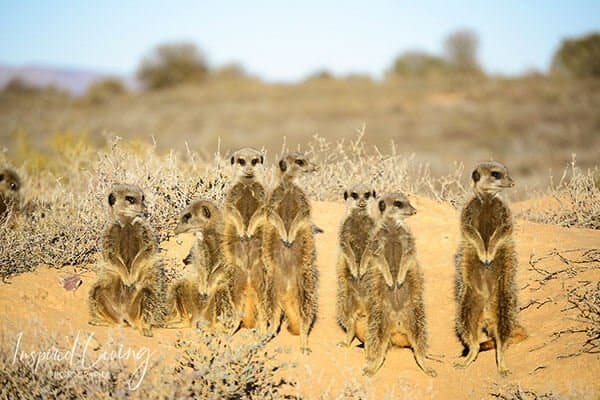 Article Name
Five Shy Meerkats Oudtshoorn
Description
A highlight during my recent trip to Oudtshoorn was our visit to the Five Shy Meerkats Conservation Project. Five Shy Meerkats is part of Cape Country Routes. I loved every minute of this unique and fascinating experience.
Fiona Rossiter
Inspired Living SA
Publisher Logo