You may have heard the recent buzz around the newly launched Dermalogica Clear Start range. The Clear Start range has been specifically developed to treat younger, breakout-prone skin.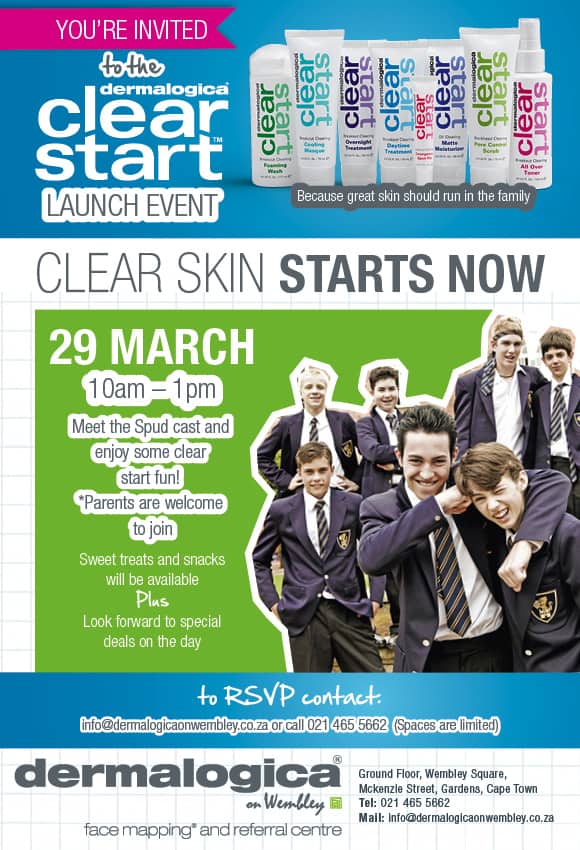 Next week, on the 29th March, Dermalogica will be hosting the official Clear Start consumer launch in Cape Town. Not only can you find out more about these awesome products but you will also get to meet the cast of the movie Spud!!! As you can imagine spaces are limited, which is why I am super excited to let you know about a little competition we are running!
Two teens and their moms can win a two tickets, to attend the launch, as well as Clear Start kit for the teens and an Age Smart gift for the mom's!!!
To enter: Moms or Teens, please leave a comment below letting me know who you will be bringing as your +1, to the launch with you. Please also share this competition on social media and leave a comment to tell me where you have shared:
Facebook – Win with #DermalogicaSA Clear Start on @InspiredLifeSA http://wp.me/p3Xvxu-67W
Twitter – Win with @dermalogicasa #ClearStart on @Inspired_lifeSA http://wp.me/p3Xvxu-67W
*Terms & Conditions:
Entries are open from 20th March 2014 until the 27th March 2014.
Enter as per the instructions above.
Please remember to leave a comment below telling me who you will be taking with you to the Clear Start Event!
To ensure that your entry in processed correctly (please use a valid email address). Your details will only be used to validate your entry and inform you, if you are selected as a winner.
Prizes may not be exchanged for cash.
This competition is open to South African residents only. Please note that Dermalogica on Wembley is based in Cape Town, so the winner will need to be in Cape Town to claim their prize. This prize does not include any travel costs, if the winner is not from Cape Town, they will have to travel at the own expense.