My favourite place in my home is definitely the kitchen – "the heart of the Home". As a family, we all love cooking, and my girls often help out in the kitchen, unless they have too much homework to do, that is. We try and eat together most nights, which is a great way to spend quality family time together.What is your favourite room in your home?
 Image Source: Pinterest
 Image Source: Pinterest
What is your favourite room in your home?
To me, the perfect kitchen must be both functional and pretty; it is always top of the list when considering renovations, of our home. As you can see from these pictures, which make up my kitchen wish list, I love white. It must be the purist in me because it is also my favourite colour to wear.
I also love the warmth that wood can bring to a kitchen and I love using natural materials where possible and if it is cost-effective. My dream kitchen would be a mix of white and wood, with a bit of stone for some added texture. A monochromatic colour scheme can also be visually appealing. Style wise I prefer a mix of classic and country style, as opposed to very modern design.
The most important appliance in my kitchen is the range, or cooker, which at present is in need of an upgrade. I find that a combination of gas and electric works best for me. Following which the importance of worktop/counter space paramount, especially if you are a messy cook – not that I am! Storage space is next on the list and you need to make sure your storage is functional. Although open shelves look great, they are not always the best solution; I think that they get too dusty. Perhaps just having a few open shelves to display one or two of your favourite items on or a few beautiful cookbooks, is the happy medium.
 Image Source: Pinterest
 Image Source: Pinterest
The final item on my kitchen wish list is a dining table in the kitchen, preferably wood – yes I "love" wood. We might have to move house, to have enough room for all my requirements!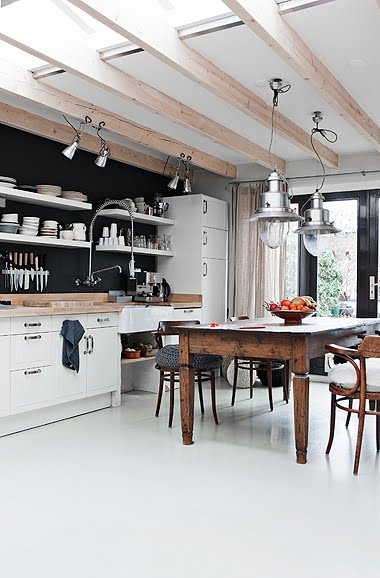 Image Source: Pinterest
So watch this space – hopefully my wishes will come true!