Fish Cakes are one of my favourite starters when dining out, especially in summer! Yes, I know it is winter but after the stunning weather in Cape Town this weekend, I was inspired! Pilchards may not be everybody's first choice for making fish cakes but they are packed with vital nutrients like Omega 3 fatty acids as well as vitamin D, Calcium and B12!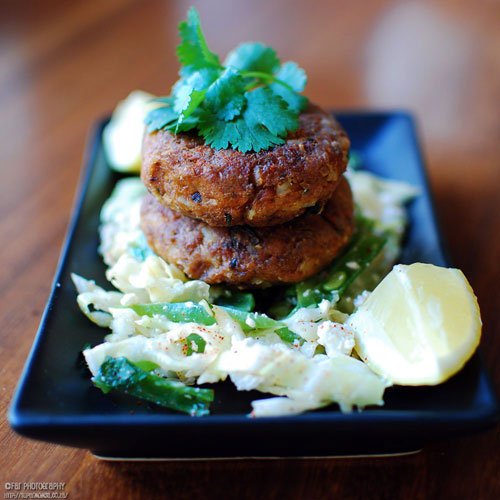 I would consider this recipe to be more of an entrée or starter than a main meal but it would also be perfect as a light lunch. I have used brown rice to bind the fish cakes, which is a perfect way to use leftover rice. The cabbage and green bean salad is delish and works really well with the fish cakes. It is also a great addition to any summer salad repertoire.
For the brown rice:
1 cup PnP brown rice
8 cups water
1 tsp sea salt
For the fishcakes:
1 can (400g) Lucky Star Pilchards in Tomato Sauce
1 tsp ground cumin seeds
1/2 tsp chilli powder
50ml chopped coriander
Juice of half a lemon
1 cup cooked brown rice
2 Tbsp plain flour
2 Tbsp canola oil
For the green bean, cabbage and feta salad:
Half a medium cabbage, thinly sliced
200g green beans, thinly sliced
Juice of half a lemon
2 Tbsp chopped coriander
1/4 tsp cayenne pepper
Olive oil
Salt and pepper to taste
Olive oil
For the brown rice:
Chef's note: The brown rice is used as a binding agent for the fish cakes. It is best to cook it ahead of time to allow the rice to cool first before adding it to your fish cake mixture or alternatively use leftover rice.
Rinse the rice under cold water for approximately 30 seconds. Bring the water and salt to a boil in a pot with a tight-fitting lid. Add rice to the boiling water, stir and partially cover. Cook over medium to high heat for 30 minutes. Drain the rice and quickly return to the pot and cover. Set aside, off the heat, allowing the rice to steam for 20 minutes.
For the fishcakes:
Drain some of the tomato sauce from the can of pilchards, to avoid the mixture from becoming too wet. Place pilchards into a mixing bowl and mash with a fork. Stir in the spices, coriander and lemon juice.
Pour in 1 cup of cooked brown rice and mix well. Add 1 tablespoon of plain flour (you could substitute this with potato or rice flour) and mix. If the mixture is still too wet add an additional tablespoon of flour.
Once the mixture has reached the correct consistency, mould into approximately 6cm fishcakes. Dust with flour before pan-frying.
Heat 2 tablespoons canola oil in a non-stick frying pan and fry the fishcakes over medium heat until golden brown. Drain on a piece of kitchen paper to remove any excess oil.
For the green bean, cabbage and feta salad:
Thinly slice your cabbage and green beans. Place into a medium-sized salad bowl. Add the juice of half a lemon, the coriander and cayenne pepper, and drizzle with olive oil. Mix well. Season with salt and pepper to taste.
Just before serving crumble in half a round of feta cheese and toss the salad.
Serve the fishcakes on a bed of your salad, with lemon wedges and extra coriander leaves for garnish.
Prep time: 30min
Total time: 1hr
Serves: 4