I was so delighted to be invited to attend a Chef's Menu Tasting, at the Protea Hotel Fire & Ice in Cape Town! Who could say no to the chance to sample the hotel's hot new menu? Plus I have never been to the hotel before, so it was a double treat! I accompanied fellow blogger and friend Heather from Femme Lifestyle.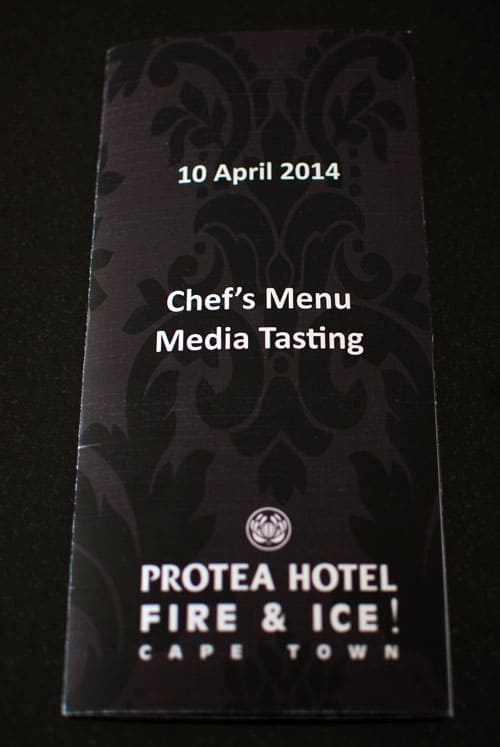 The Protea Hotel Fire & Ice is particularly well known for their extensive Gourmet Burger and Milkshake menu. I was looking forward to finding out about the new menu additions.
We've kept our core burger concept, as it's a winner which creates a great deal of talkability with our guests, but we've refined it and added a scrumptious selection of new toppings and sauces." ~ Nicholas Barenblatt Protea Hotels Group Marketing Manager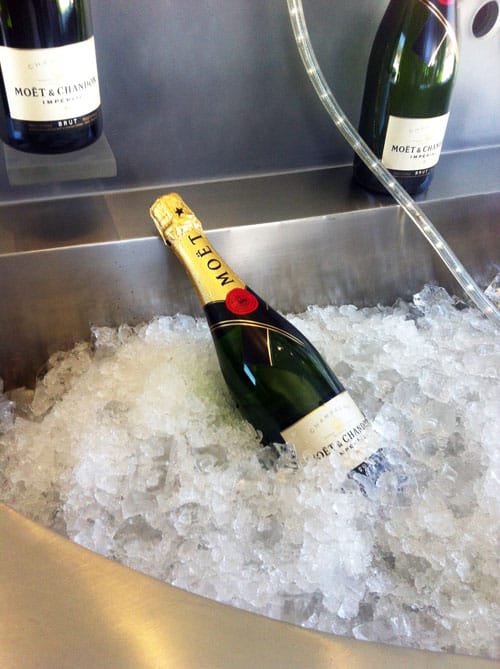 When we arrived at the hotel, we were greeted with a gorgeous glass of chilled bubbly, which we enjoyed outside, on the rather quirky deck. Let me tell you this was pure bliss, as it was a scorcher of a day!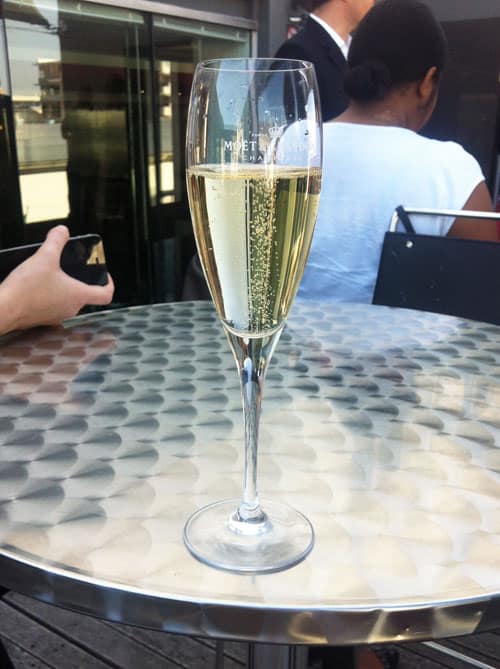 After a few introductions, we got down to the business of tasting! We were forewarned that we would not go hungry 🙂 which was an understatement!
Starter Menu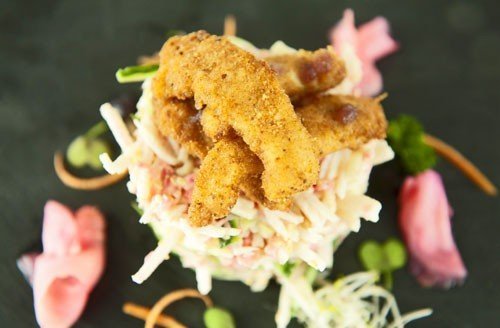 First off was the hotel's new starter offering – the Habanero Hooker, a fish skewer coated in a crunchy crust with a Bulgarian apple shot – and a fresh salad called Crusty Crab, a roasted sesame seed crabstick salad with deep fried calamari and sour pink onion dressing. The Crusty Crab, which you can see above was my favourite starter. I loved the contrast in texture between the soft, delicate crab and the crunch of the deep fried calamari! Be warned the Habanero Hooker is HOT but the Bulgarian apple shot helps cool everything down.
Also on our starter tasting plate was Mushroom Cloud – roasted Portobello mushrooms soaked in hot balsamic rosemary jam, filled with creamy blue cheese reduction and biltong slivers, Duck and Dive – Shanghai mixed spice duck breast Carpaccio on a bed of rocket, grilled coconut mango and wasabi oil drops.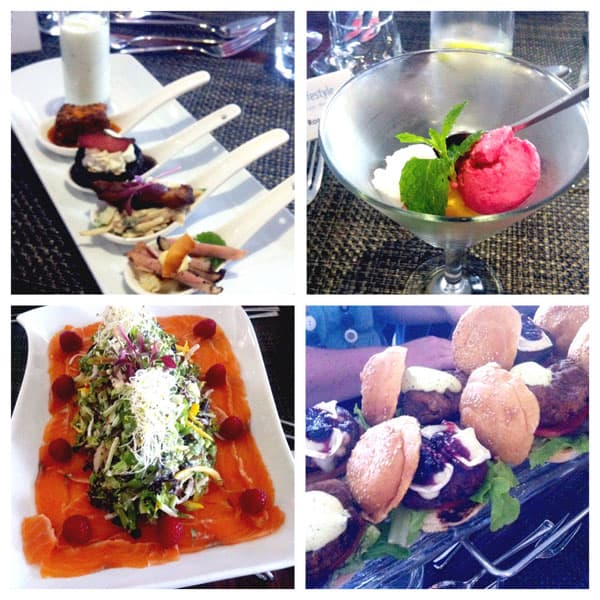 Slider Selection
As well as their regular burger offering, the menu now boasts a new burger Slider Selection. Guests can now experience the burgers in bite-sized portions. We got to taste a selection of the new sliders, which included a Boerewors Burger with tomato smoor and mustard onion rings, a Crumbed Chicken Burger topped with ranch sauce and a Lamb Burger topped with brie and bush berry glaze. My favourite was the Lamb Burger!
Shoowee by this stage I started to doubt whether I would be able to squeeze one more morsel in but once the mains tasting selection arrived, all resistance crumbled!
Main Menu
The mains tasting plate consisted of four dishes. Just Pig Out was a mustard seed pork fillet stuffed with feta, smoked mozzarella and peppadew™ with sweet mashed potato. La la Lamb was a French Trimmed lamb cutlet with parmesan crust and mint yoghurt. Bo-Kaap, a vegetarian option, was a fruity baked brown lentil bobotie with rich Cape Malay spices. Lastly, What's Your Beef Bro, was a tender beef fillet with sweet Indonesian glaze and pumpkin fritters.
My favourite main dish was the What's Your Beef Bro, tender beef fillet, complimented beautifully by the sweet Indonesian glaze and delicious pumpkin fritters! I must admit I was rather surprised at how much I love the Bo-Kaap vegetarian bobotie! I am not a bobotie fan or a lover of lentils, but it was a truly stunning dish – quite fiery hot but delicious!
Dessert Menu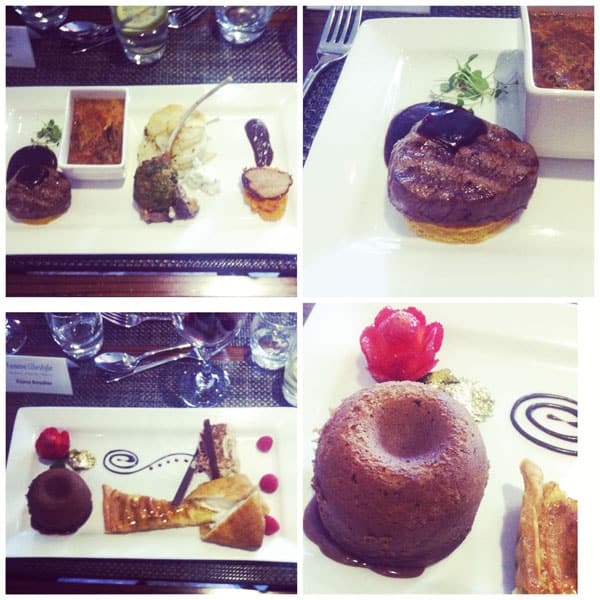 At this stage, I think a stretcher was looking like a good option, but there was still more to come!
For those who are going all out and haven't eaten too much, like me, there are decadent new desserts on offer. On our dessert tasting plate we got to sample The Godfather – a beautiful creation of infused Lindt, brandy and coffee mascarpone, set in layers of tennis biscuit and cocoa, the sweetly named (and sweet-tasting) American Pie, a frangipani apple tart with deep fried ice cream coconut pancakes and Organ Failure – a warm fondant filled with organic chocolate. I do not have a sweet tooth and very rarely have dessert but I did my best to taste everything 😉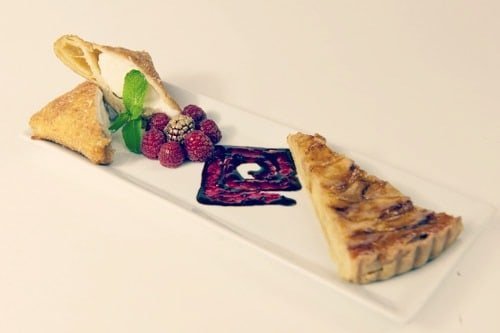 My favourite dessert would have to be the American Pie – I love apple pie and the addition of the deep-fried ice cream, in coconut pancakes, was just heavenly.
Thank you to the Protea Fire & Ice for a decadent dining experience and the fantastic culinary gift box! Everything will be put to good use!
If you have not been yet, then you must put this at the top of your list and try out their new dishes!
The Protea Hotel Fire & Ice is located at Cnr New Church Street and Bree Street, Cape Town 8001, to make an inquiry or booking contact reservations on 021 488 2555 or email [email protected]
Image Source: ©FAR Photography, Protea Hotel Fire & Ice
Disclosure Ranking: 4