In keeping with the current rosé wine theme on my Instagram feed, I thought I would share a delicious fruit-forward offering from Delheim. In the midst of the freezing cold weather, the delicate salmon coloured hue of the 2019 Delheim Pinotage Rosé has one longing for the warmth of summer.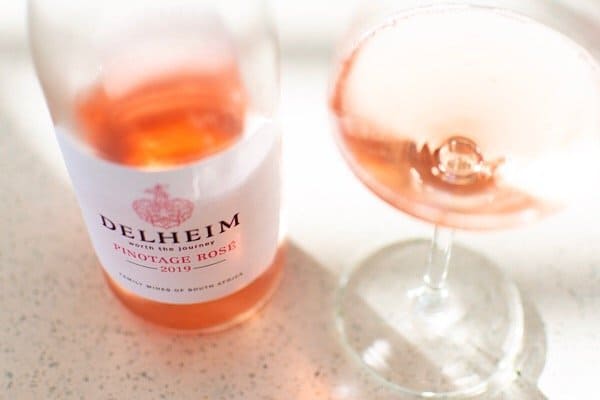 Delheim 2019 Pinotage Rosé
I love the fact that the Delheim Rose is produced from Pinotage grapes, a uniquely South African varietal. The Pinotage grapes used for the rosé were harvested from selected vineyards perfect for the style of wine. 2019 was one of the coldest harvest seasons, resulting in ideal conditions for rosé grapes. The wine has a natural acidity, with a good balance of fruit.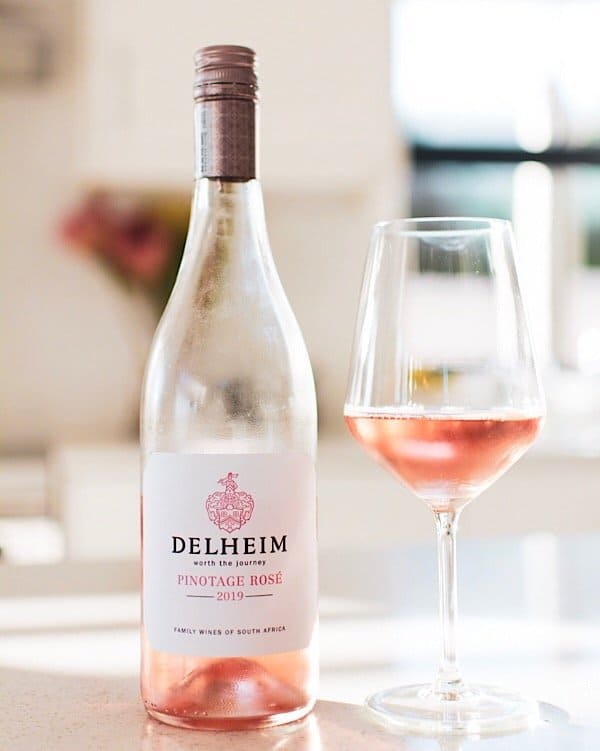 The nose is fresh with pomegranate and cranberry, and a hint of perfume. You can expect a fruit-driven palate, bursting with red berries, giving the wine a wonderful freshness.
Food and Wine
Traditionally I would pair this style of fruity, yet dry rosé wine with seafood or a summer salad. However, if you would like to change it up a bit different, why not pair it with a Thai Coconut Milk Noodle Soup – Khao Soi. Another foodie plus is that the Delheim Pinotage Rosé is also a vegan-friendly wine.
Thai Coconut Milk Noodle Soup Khao Soi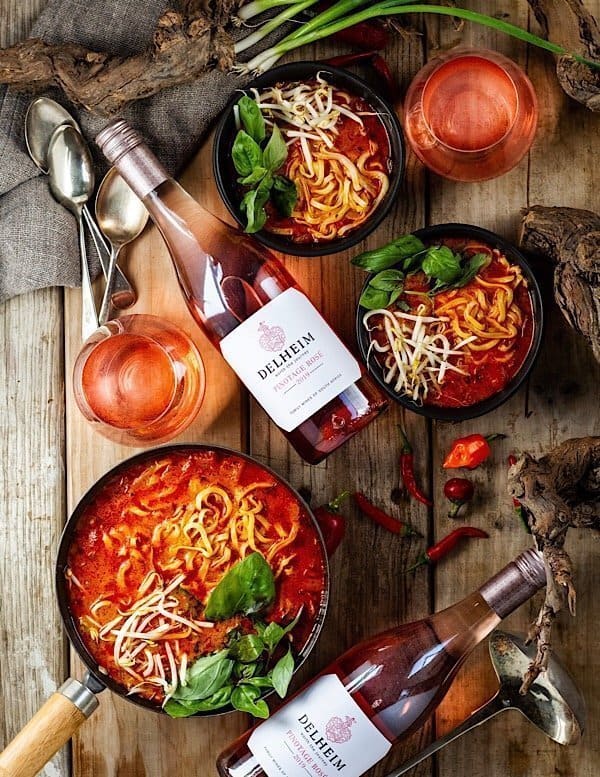 Khao Soi is from Northern Thailand. The noodle soup combines wonderful favours and textures, for a taste sensation. Another plus is it only takes 15 minutes to make!
Ingredients
200g Roka Pad Thai Noodles
2 tablespoons coconut oil or olive oil
1 onion finely chopped
A thumb-size piece of ginger – grated
3 garlic cloves – chopped
1 red pepper – diced
1-3 tablespoons Thai red curry paste (the more you use, the spicier it gets)
1 can coconut milk
500ml chicken stock
1 teaspoon turmeric
4 tablespoons soy sauce
3 tablespoons brown sugar
300g chicken fillets grilled and cubed
Fresh coriander or basil
Bean sprouts
Lime
Method
Prepare Noodles by following the instructions on the packet. Heat oil over medium heat, in a medium-sized pot. Next add the onion, red pepper, garlic, ginger, as well as the red Thai curry paste and turmeric. Sauté for approximately 4 minutes, until fragrant and golden.
Then add the stock, sugar, soy sauce, and coconut milk and bring it back up to heat. Add the diced chicken and simmer for 5 minutes.
Lastly, add the noodles and serve with fresh herbs, bean sprouts and a squeeze of lime, and enjoy with a glass of Delheim 2019 Pinotage Rosé.
Images
©2010 – 2019 Inspired Living and Fiona Rossiter. Please do not use any images featured on this website, without written consent from the copyright holder and owner.
If you have enjoyed this food and wine feature please share it by hitting the buttons below⇓.
Disclosure
I received a complimentary bottle of wine. Inspired Living and Fiona Rossiter have no material connection to the brands, products, or services mentioned in this post. All opinions, content, and images are the property of Inspired Living or Fiona Rossiter unless otherwise stated. To see more, read the full PR & Disclosure Policy below.