Something both Grant and I love about living in the Cape is that there are so many exciting and different destinations, such as Stellenbosch, just over an hours drive from the city. We often opt for self-catering accommodation when we travel, making it easier to come and go as we please. The Den Apartments, in Stellenbosch, is an ideal base for exploring this historical Winelands town.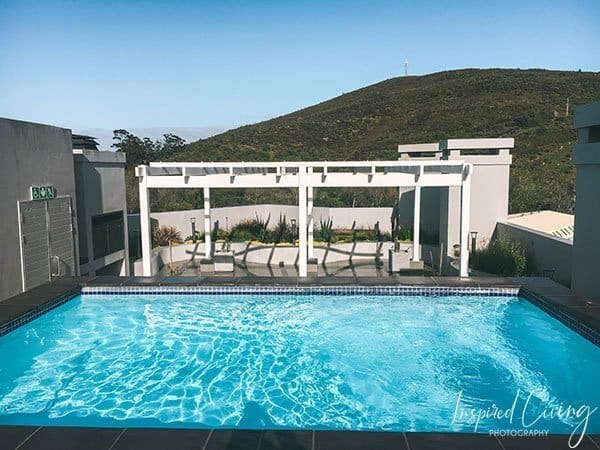 Stellenbosch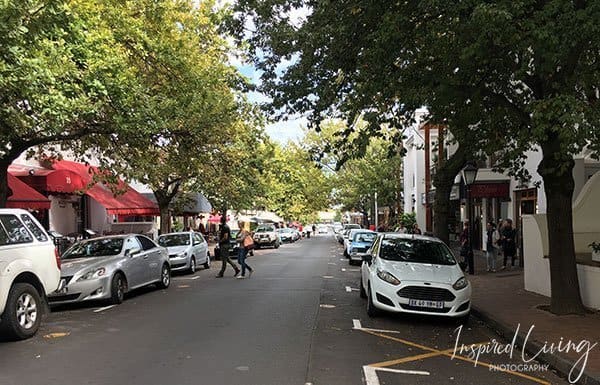 Stellenbosch or "Eikestad" is the second oldest European settlement in the Province, after Cape Town. As well as representing more than 200 wine and grape producers, the town is also home to Stellenbosch University. The area also offers a host of accommodation options from boutique hotels to self-catering apartments.
The Den Apartments
The Den Apartments Stellenbosch is an excellent option for affordable luxury accommodation in Stellenbosch. It also happens to be the latest additions to the Cape Summer Villas portfolio. With existing properties such as Sky Villa Boutique Hotel, Oubaai Villa and Spanish Farm Guest Lodge, in their portfolio you know you cannot go wrong.
Ideally located within walking distance of the university town, The Den self-catering apartments are perfect for a stay of two or more nights. The property is close to many of Stellenbosch's top restaurants. In addition, it is a short drive to many of the areas well-known wine estates.
On the second day of our stay, we decided to explore the town on foot. We discovered Java Bistro in the heart of Stellenbosch. Java is a trendy eatery, with contemporary decor and a vibey atmosphere. On the menu, you will find everything from French Toast to Slow Roast Pork Belly, as well as vegetarian and vegan meals. Not to forget a great selection of cocktails and local wines.
Accommodation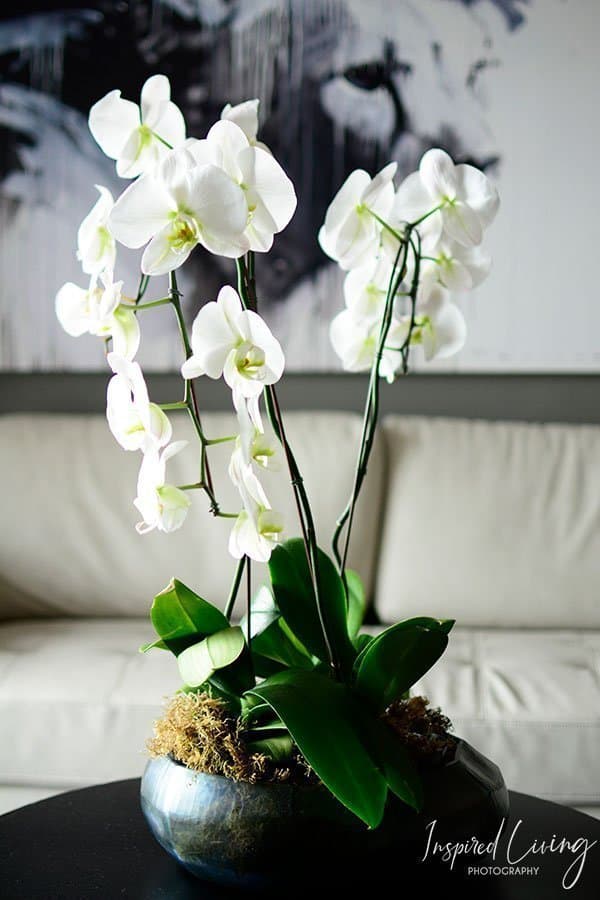 There are 18 self-catering apartments, each decorated with careful attention to detail. The decor colour palette is serene and calm, giving the interiors a modern-contemporary feel. Space has been cleverly maximized, without compromising comfort or aesthetic appeal.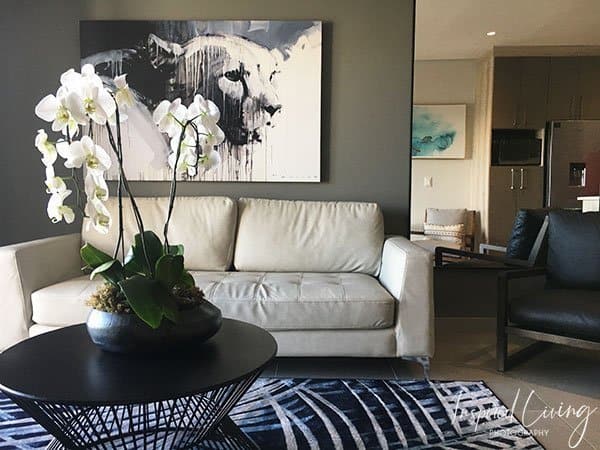 The Fifteen studio apartments feature a bathroom with a shower, open plan bedroom, living room and kitchenette. Beds are comfortable and boast pure percale linen, ensuring a good nights rest.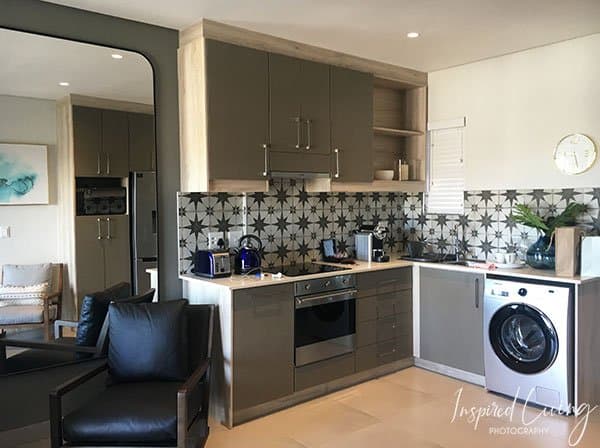 Kitchenettes are fully equipped with a washing machine, fridge-freezer, stove and oven, Smeg appliances, as well as a Nespresso Coffee Machine.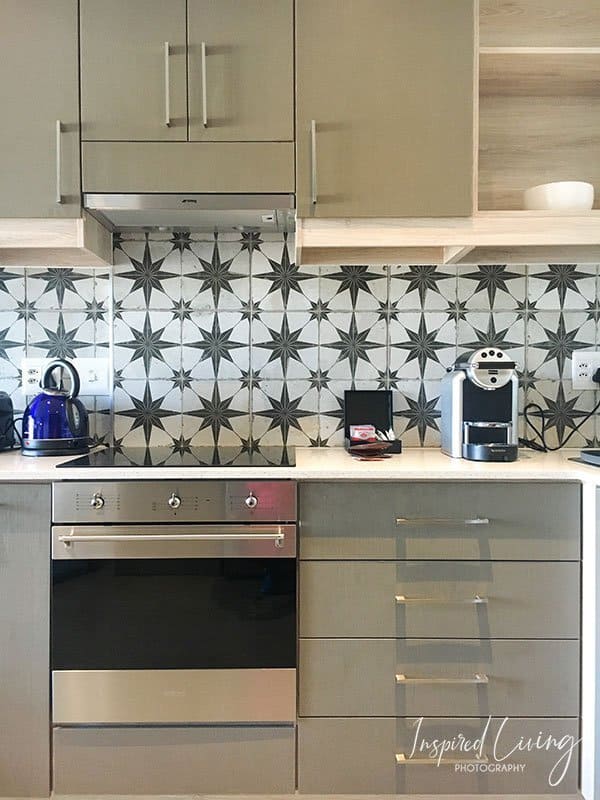 For couples or families, there are three, two-bedroom units featuring a bathroom with a shower, an open plan Living Room, as well as a Kitchenette. Bedroom one has a double bed, and Bedroom Two has two single beds.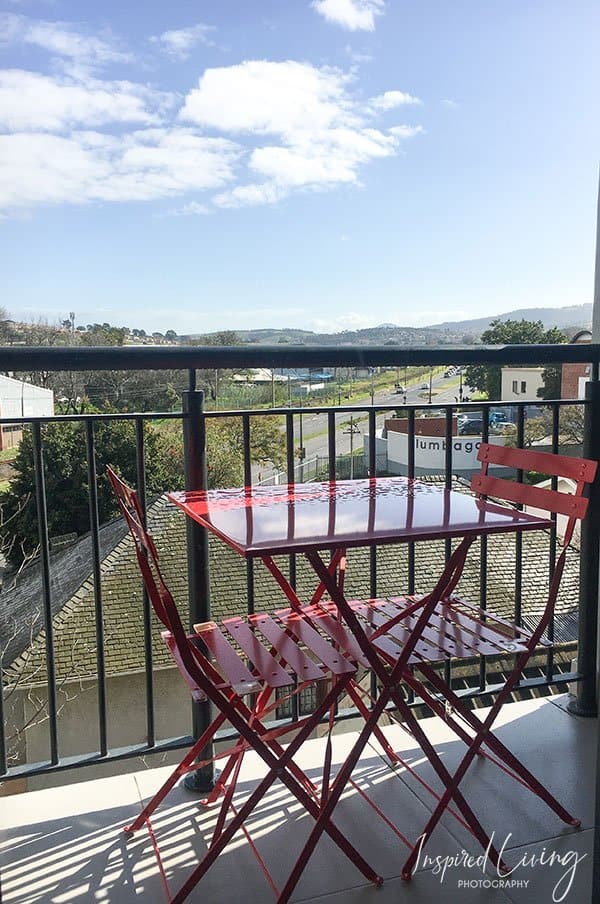 The apartments all have a private patio, with outdoor seating and a built-in braai. The open-plan lounge area has a flat-screen TV, with DSTV and Netflix.
The Rooftop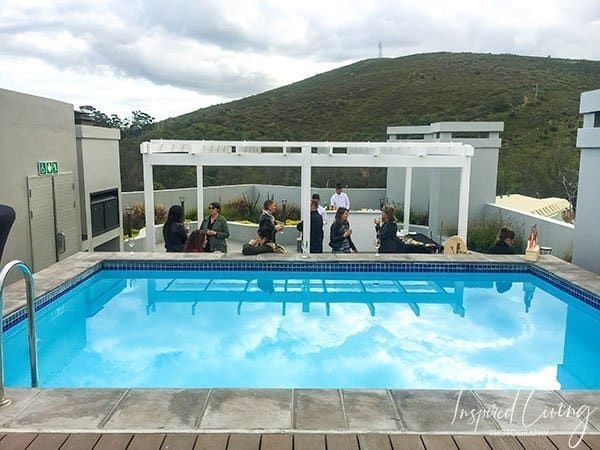 One of my favourite spaces in the complex is the rooftop, which has a swimming pool, as well as a bright and colourful garden.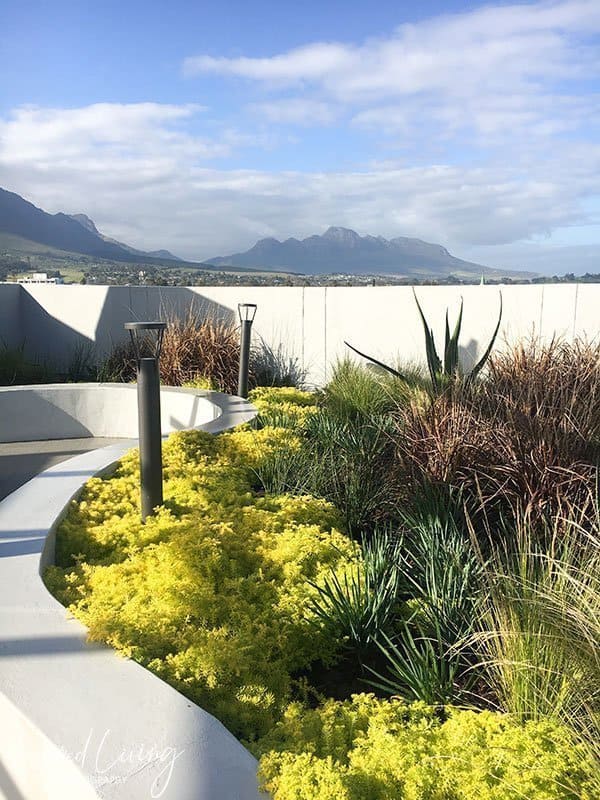 Our stay at The Den included a launch party on the roof. We enjoyed an evening of sundowners and canapés, followed by dinner.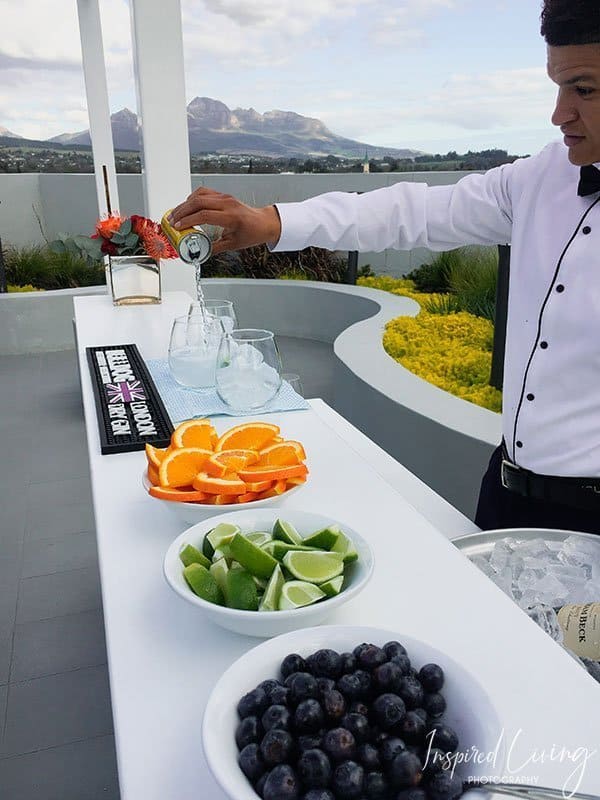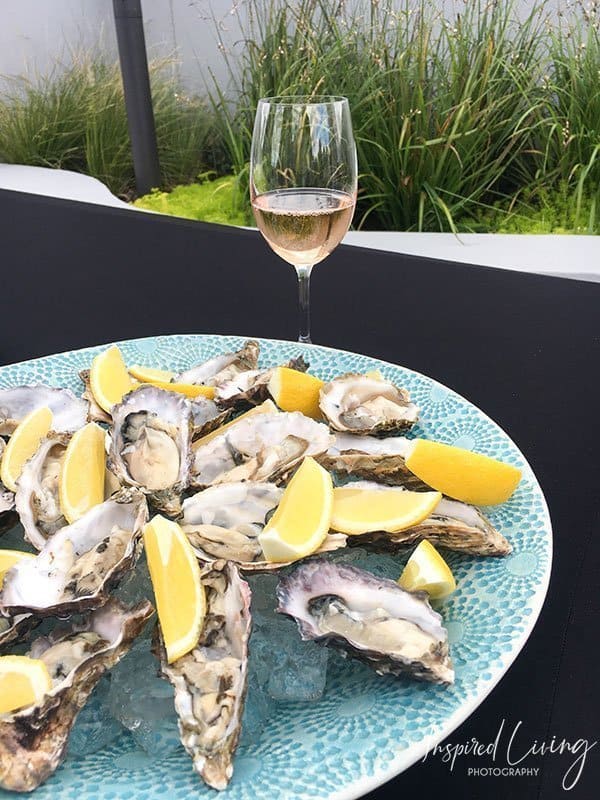 Our delicious meal was cooked by Rich Rorich, the new head chef of sister property Sky Villa. Mouthwatering dishes included fragrant mussels, followed by a lamb curry, which was the perfect marriage of spice and chill heat. Each dish was paired with excellent local wine from Waterford Wine Estate.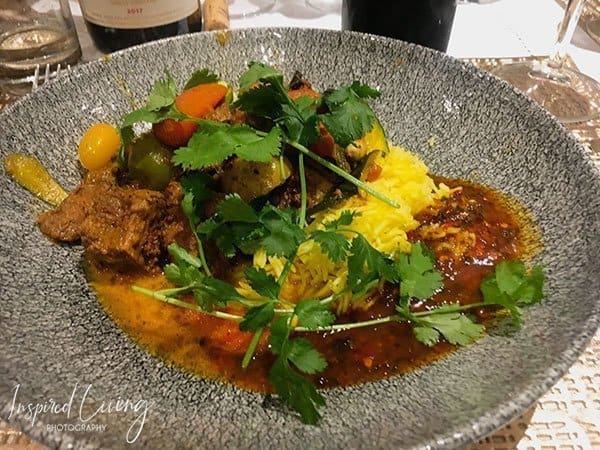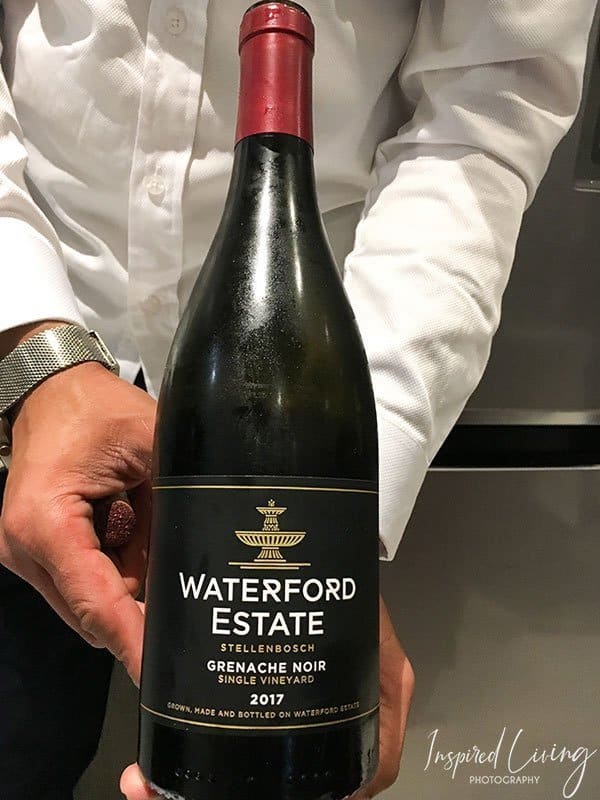 Facilities
As I mentioned, there is a rooftop pool and garden, where you can unwind after a long day exploring the Winelands. The Den also offers high-speed Fibre internet, a serviced lift, private parking, closed-circuit cameras, biometrics and 24-hour security. It really is perfect if you are looking for lockup-and-go, self-catering accommodation in this beautiful Winelands town!
Explore Stellenbosch
Using The Den apartments as your base is perfect for exploring more of what Stellenbosch has to offer. Naturally, the wine route is a must if you are visiting this picturesque Winelands Town. There is also the Village Museum, as well as a selection of galleries to explore.
Another popular attraction is the markets in Stellenbosch, which includes the Slow Market, Root 44 Market, as well as Blaauwklippen Market. They offer a variety of artisanal food stalls, wines, crafts, children's activities, as well as live entertainment. Stellenbsoch also boasts an array of dining experience from coffee shops, to bistro-style eateries, as well as fine-dining options.
The Den Apartments Contact Details
For more details and bookings at The Den Apartments contact via telephone +27 66 297 4358 or email [email protected] or [email protected].

Images
©2010 – 2019 Inspired Living and Fiona Rossiter. Please do not use any images featured on this website, without written consent from the copyright holder and owner.
If you have enjoyed this feature, please share it by hitting the buttons below⇓.
Disclosure
Cape Summer Villas sponsored our accommodation, as well as meals and drinks at the launch party. Inspired Living and Fiona Rossiter have no material connection to the brands, products, or services mentioned in this post. All opinions, content, as well as images, are the property of Inspired Living or Fiona Rossiter unless otherwise stated. Read the full PR & Disclosure Policy below for more details.
Summary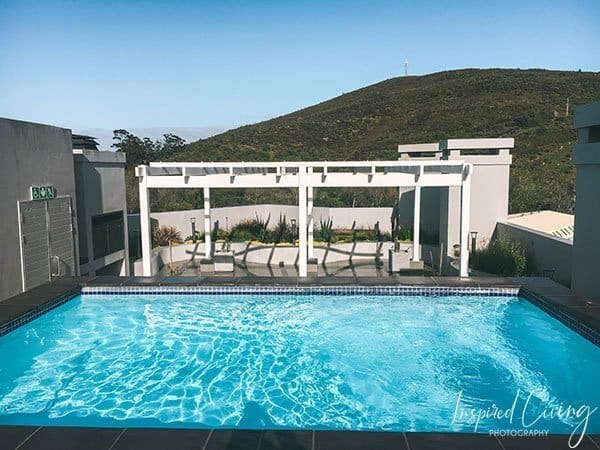 Article Name
The Den Apartments Stellenbosch
Description
The Den Apartments Stellenbosch is an excellent option for affordable luxury accommodation in Stellenbosch. It also happens to be the latest additions to the Cape Summer Villas portfolio.
Fiona Rossiter
Inspired Living SA
Publisher Logo