Winter has hit the Cape in earnest, which means adding even more layers to your outfit! One of my favourite fashion accessories and a great way to keep warm is a scarf.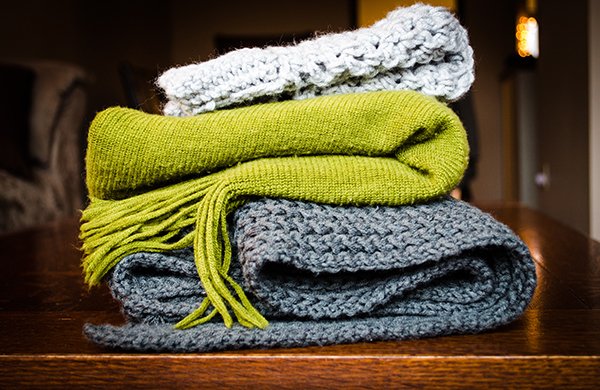 5 Styles of Scarves You Need In Your Wardrobe
I love scarves, almost as much as shoes and bags! Walking into a fashion store or shopping online, I regularly find myself perusing their collection of scarves, whether I need one or not!
One thing I love about scarves is that they are not only a winter accessory – they are also a great way to add a touch of pizazz to an outfit. A scarf is also the ideal way to add a small amount of pattern or colour to your look, especially if you are afraid of making too much of a fashion statement. I have such an eclectic collection myself, from florals and pastels to geometric brights, as well as neutral shades!
These are 5 styles of scarves you need in your wardrobe:
Cotton Scarf:
The cotton scarf is by far the most common and widely worn type of scarf. In essence, it is more of a fashion accessory and less about keeping you warm. Moreover, it is also a great way to take an outfit from boring to stylish.
Traditional Scarf:
This type of scarf, typically made from cashmere, wool or other warmer fabrics, has the main objective of keeping you warm. It is your best friend in winter and is perfect for layering.
Blanket Scarf:
A blanket scarf is something I have only added to my wardrobe more recently but has become my go-to in winter! Again the blanket scarf is generally made of warm, thick fabric. Not only are they trendy – they are also great for travelling in winter, as they can literally double up as a small blanket.
The Snood:
A snood is tubular and similar to an infinity scarf, a looped scarf that sits around the neck. However, a snood sits a bit higher on the neck and can double as a hood. I have a few woollen snoods, which I love wearing in winter. They are so easy to wear and do a great job of keeping you warm and snug!
Neck Scarf:
A neck scarf is generally more of a fashion statement. Depending on the type of fabric and pattern, it can either give your "look" a sense of elegance or add a bit of fun to a casual outfit.
A fashion tip to remember:
I recommend keeping a scarf in your bag or car; not only will it help take your look from ordinary to fabulous, but will also come in very handy if the weather changes suddenly!
In Closing
I hope that you have enjoyed my Scarf Fashion Edit and that it has given you some inspiration for your winter accessories! Let me know in the comments which are your favourites.
Images
©2010 – 2021 Inspired Living SA and Fiona Rossiter. Photo featured: by Kelly Sikkema on Unsplash. Please do not use any images featured on this website without written consent from the copyright holder and owner.
Disclosure & Disclaimer
This post was created in collaboration with Superbalist. All information and prices are deemed accurate at the time of publication.