One of our favourites and a true classic, Nederburg Baronne, is celebrating 50 years! Below is a wonderful recipe for Red Wine Braised Short Ribs, created by Chef Nti to commemorate this momentous occasion. Plus, I am giving away 12 bottles of Nederburg Baronne on my Instagram page!
The Perfect Red Wine Braised Short Ribs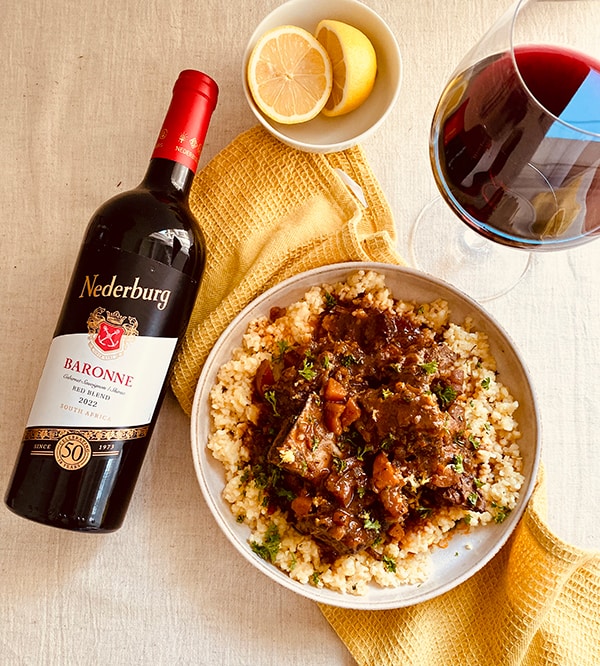 Nederburg Baronne has been a beloved addition to our dinner parties and special occasions since its maiden vintage in 1973, bringing friends and family together.
Conceived by winemaking supremo Günter Brözel, this now-famous Cabernet Sauvignon/Shiraz blend perfectly combines the robust, full-bodied flavours of Cabernet (aka the King of Reds) with Shiraz's bold, spicy, and aromatic notes. The Baronne is Cabernet-driven, but Shiraz plays a significant role.
While there are no hard and fast rules when pairing this wine with food, I could not think of a better dish than Chef Nti's Mzanzi Red Wine Braised Short Ribs, served with Lerotse Maize Rice Risotto! The wine-braised beef is fall-apart tender, and the maize rice perfectly complements the rich gravy. Is your mouth watering yet? The full recipes are below.
Naturally, it would be remiss of me not to share this time of celebration with you, my loyal, wine-loving friends! How would you like to win 12 bottles of 2022 Nederburg Baronne? All you need to do is head over to my Instagram page and enter, and you could be the lucky winner!
Red Wine Braised Short Ribs
Ingredients:
2kg bone-in, beef short ribs
2 tbsp salt
3 tbsp black pepper
2 tbsp oil
1 medium-sized onion, finely chopped
3 celery sticks, finely chopped
2 medium-sized carrots, finely chopped
4 garlic cloves, thinly sliced
2 tbsp tomato paste
2 cups Nederburg Baronne 2022
2 bay leaves
2 sprigs fresh thyme
2 cups beef stock
Finely chopped flatleaf parsley, for serving
Method:
Preheat the oven to 180°C. Season the short ribs with salt and pepper. Heat the oil in a large ovenproof pot over medium-high heat. Cook the short ribs in batches until they are all browned, 2 to 3 minutes per side. Transfer the ribs to a plate. Remove excess fat from the pot and reduce the heat to medium. Add the onion, celery, and carrots, stirring constantly – approximately 5 minutes. Next, add the garlic and cook until fragrant, about one more minute. Add the tomato paste, stirring to combine. Pour in the wine to deglaze and stir to incorporate. Bring to a simmer and allow the liquid to reduce slightly, then return the ribs to the pan with any collected juices. Lastly, add the bay leaves, thyme and stock. Increase the heat and bring to a boil; cover the pot and transfer it to the preheated oven. Cook for approximately 2 hours until the ribs are tender and falling off the bone. Discard the bay leaves and thyme stems. Transfer the meat to a serving platter using tongs and tent it with foil to keep it warm.
Lerotse Maize Rice Risotto
Ingredients:
1 cup lerotse purée (or pumpkin purée as substitute)
2 tbsp olive oil
2 tbsp butter, about 30g
½ onion, finely diced
1 celery stick, very finely diced
400g maize rice, cooked (but undercooked by 10 minutes)
120ml Nederburg white wine, such as Heritage Heroes The Anchor Man Chenin Blanc 2021
500ml chicken stock, hot
50g Parmesan cheese, finely grated
3 tbsp crème fraîche
Micro cress to serve
2 tbsp white sugar
1 lemon, zested and juiced
Method:
Heat oil and butter in a round casserole and add onion and celery with a bit of salt. Fry for 5 minutes until translucent. Add the maize rice and stir well, ensuring every grain is coated in oil. Fry to toast and cook the maize rice for another 3 minutes. Pour in the wine and let it bubble until it reduces. Add the stock one ladle at a time, stirring constantly. Take care to keep the risotto dry. Adding the stock only once the last ladleful has been absorbed. Once the rice is almost cooked, stir through the pureé, and cook for 5 minutes, stirring regularly. Lastly, stir through the Parmesan, crème fraîche, lemon zest and juice, and season to taste.
To serve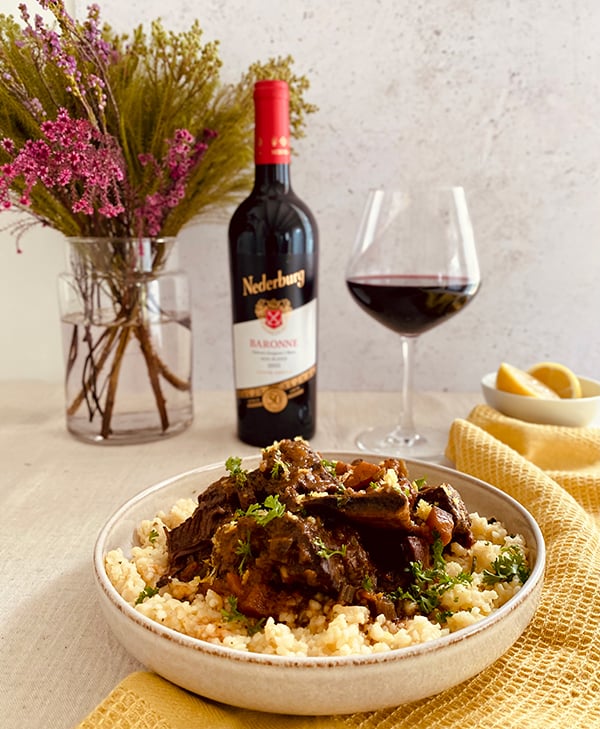 Serve the red wine braised short ribs with the lerotse risotto and garnish with flatleaf parsley. Enjoy with a few glasses of Nederburg Baronne! 
If you have enjoyed this food and wine pairing, please check out my other delicious recipes.
Images
©2010 – 2023 Inspired Living SA and Fiona Rossiter. Please do not use any images featured on this website without written consent from the copyright holder and owner.
Disclosure & Disclaimer
This post is written in collaboration with Nederburg Wine. All information and prices are deemed accurate at the time of publication.