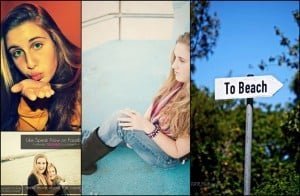 Today we get to take a peek inside the life of Ellie Coburn; Ellie is the creator of the blog The Ellie Life.
Tell Us About Yourself:
I am Ellie Coburn and I come from Coronado, California. I am passionate about the word love. A bit ridiculous I know but it is my honest belief that there is much to go around. I am passionate about family and friends and creating. Mostly though I am passionate about getting inspired.
I have a dream that every young women thinks highly of herself. I believe that all young women are beautiful, talented, and bold. It is my honest prayer that they will thrive on believing in themselves. I dream of a place where all young women have a voice – and use it!
I am strong when it comes to giving and sharing advice. I do not like goodbyes. Not till tomorrow or till next year. Mostly I'd rather you not leave at all.
What Motivates & Inspires You?
My mentors, family members, and an incredible support group motivate me to do what I love to do. I love Blogging to young women, about young women and for young women. I am often told that I attract more than just young souls and when asked how, I often answer that "my words reflect the words of the people I surround myself with" many of them older than my fifteen years.
Casey Wiegand who blogs over at The Wiegand Family Blog has been a constant in my life since I began this incredible journey. Answering all my questions and concerns and most of all she has made the commitment to stand by me.  It is absolutely wonderful to have her heart right there when I need anything.
What Is Most Important To You?
My baby sister. She my absolute number one fan in all that I do. She wants to be just like me and it is the most wonderful feeling in the world. Often times when she is sound asleep in bed I'll sit up and stare at her, thinking about all the beautiful places she will go. This makes me feel absolutely blessed!
What Keeps You Busy?
I have been blogging since September of 2011, I also attend one of the most competitive art high school's in California. It is sheer joy. But I am a busy bee.
What Do You Do For Fun?
I am a West Coast girl and  spend about half my life with the pacific ocean's sand between my toes. After school and weekends are spent on the beach or enjoying the sweet outdoors of my incredible community. I am spoiled when it comes to my hometown!
I love art. All things art! Especially graphic design and anything that can bring a whole room together. I believe that art could be a person's greatest endeavour.
What Are Your Success or Failures?
I am successful when it comes to my blog. Not as successful when it comes to my long time dream of being a photographer. I am successful when it comes to sticking to my goal to spread love. Somewhere I feel that I fail is understanding and seeing eye to eye with those who do not live a life of love. This has been an incredible struggle for me.
Has there been something that has determined your life's path?
I'm fifteen. My story is only just beginning. But I have been challenged by the grace of God. Meeting his every expectation. Mirroring his love. Has been hard. There are decisions that must be made and choices that must be attained that must reflect your love for God. As a sophomore in high school it has been a struggle. But His beautiful heart is near.
Two years ago my father passed away of a heart attack. He was a stay at home daddy to me and the baby sis. One day he was here, the next he was with God. My life has changed forever. This event created my soft heart. It has taught me to let love in order to let His love for me shine through from somewhere very far away.
What exciting adventures do you have planned for the future?
I have founded * Speak Now, a soon to be non-profit organization. Our The Mission:"Speak Now gives a voice to young women who have been silenced in the fear of being outspoken". The Ellie Life has branched its wings to send love to these lovely young women we speak of above. Spreading it's wings, The Ellie Life speaks to them on love, life, coping, heartache, drama, & dreams. Mostly though, to give them a voice.
If you could do something different with your life what would it be?
I would accept more and judge less!  
I am blessed with the life that I live. Truly blessed and grateful that for much of my life I will not have to worry about change. I am content here in this sweet place.
Thanks Ellie for sharing your life with us, we wish you every success in all you future endeavours!
*If you would like to find out more & support this wonderful cause, visit them on Facebook – give a little, to gain a lot!
Also in this interview series, read – Cape Town's Premier Birth Photographer.
Image Source: Ellie Coburn & Pinterest