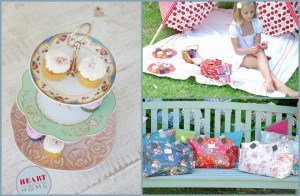 This week my Real Women – Real Life feature focuses on Kathryn and Vanessa Rheeder, from Heart and Home. Vanessa gives us a bit of insight into the lives, of two local Cape Town mom's running an online business.
Tell Us A Bit About Heart and Home?
Heart and Home is an online gift shop that was launched on the 9th of February this year. I (Vanessa) was working as a finance manager in the corporate field and wanted to do something a little more creative and flexible as I am a mother of 2 boys, Josh and James. Kathryn is going to be a mom in September and our online gift shop provides us with the flexibility, of having a business while still allowing us to spend time with our children.
We both share the love of products that are unique, charming and reasonably priced. Our goal was to source products that aren't readily available in South Africa, to ensure that we offer something different to our customers. We also want to support local suppliers so we have included some local products, which fit our signature brand and style.
Tell Me About The People Behind Heart and Home?
Kathryn and I both live in Melkbosstrand, Cape Town and are sisters-in-law, business partners and long-time school friends. As mentioned above, I am a mom of 2 boys and Kathryn is expecting her little boy in September.  Kathryn is consulting full-time at the moment and I used to work as a financial manager for a listed company.
We found a great deal of inspiration from overseas websites when we were designing and developing our brand and website. We love products from the UK, Scandinavia and South Africa of course. We also love visiting food and craft markets in South Africa.
What Are Your Favourite Products & Why?
We stock both local and imported products. We especially love the local, handmade babushka dolls, owls and tepee tents which you can find in our handmade section.
We have only been trading for a month so our bestsellers change all the time but at the moment, the jumbo shoppers are our bestsellers. They come in 4 designs and are made from recycled plastic bottles so they are eco-friendly too, which makes them a practical and unique gift.
What Would You Say Your Personal Décor Style Is?
My personal style is more contemporary with a touch of classic, while Kathryn's is more classic with a touch of vintage chic.
What Advice Can You Give to Women Starting Their Own Business?
My advice to women, especially mom's, starting up their own business is to ensure they have a proper support system in place and a separate office to work in. My eldest son gets dropped at crèche in the mornings and my nanny looks after James. I work upstairs in my office and I'm available to spend the afternoons with the boys.
[quote style="1″]Ask God for a creative idea – He knows you the best and always gives you something original and helps you along the way![/quote]
Make sure you spend time on research, draw up a formal business plan with financial forecasts. It's important to know where you are going.  Ensure that you implement the proper systems for your business. Use reputable service providers for website design, development and hosting. Use good quality images and descriptions for your products as your customer relies heavily on this.
What Was The Biggest Challenge Setting Up Your Business?
The biggest challenges I faced was not earning a salary for the last 12 months and learning to have patience as it takes time to set up the website and to make it profitable. Kathryn is still working full-time so she has had to juggle the business and her full-time job!
Where Do You See Heart & Home in 5 Years?
We would like to increase our product base in the near future. We have to manage our cash flow so we will only introduce new products as and when we can. We have a 3 year financial forecast which we hope to meet. Our vision is to be one of the leading online gift shops in South Africa.
Thank you to Vanessa from Heart and Home for sharing a few of your business and life insights with us. I wish you every success with your business and hope you achieve your goal of becoming one of SA's leading online gift shops!
Heart and Home are offering a 15% discount off your initial purchase when you sign up for their newsletter, check their website here for more details. If you like their Facebook page before the 31st of March 2012 and you could win a R350 Heart and Home gift voucher.
Images: Photography by Leigh-Ann Cooke of Love Life Photography