Today on Real Women – Real Life we get to meet Iva Grbesic, a rather stylish-mom of four who lives in Toronto, Canada. I recently happened upon her blog called One Chic Mom, a treasure trove of all things style and fashion and today Iva shares a few of her style and life insights with us – on Real Women – Real Life.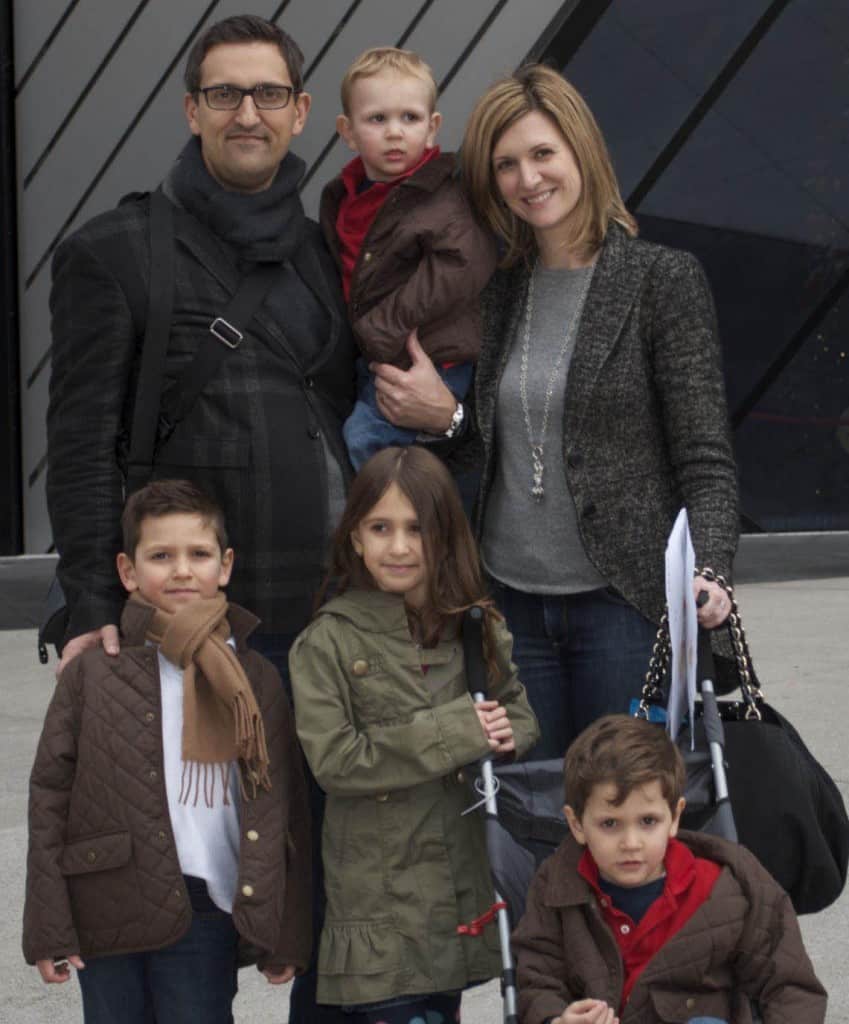 Real Women Real Life
Tell me a bit about yourself?
I live in the city of Toronto with my four children, 1 girl and 3 boys (the oldest is seven and the youngest is two) and my husband. I would like to go back to work when my youngest is in school but I just don't know what I want to do. I did promise myself that when my youngest went to school, I would take a year off to enjoy going grocery shopping alone! It would be amazing just to be able to lock the bathroom door and shower in peace or leave a pen on a counter without worrying about toddler graffiti art on my ottoman.
What Makes You Tick?
As a mother your dreams and passion are about your children (their happiness and success) and family is the most important thing. I do feel however that there is still a small part of you that let's some things be just about you. For me, I would love for my blog to be successful and give women the confidence to wear red pants with a leopard print heels. That's what motivates me.
My weaknesses are so easy to point out, I can't bake, there are times when I buy too much food and it ends up in the garbage, I am not very productive under a time crunch and I wish I was more an A-type  about my house and its tidiness. Oh I almost forgot, I need to stop swearing when I am driving…my kids are picking up on my bad language.
My husband pointed out one of my strengths after a funeral visitation; he told me I have this uncanny ability of making difficult situations easier for those involved – having a real conversation with the widow or putting a smile on other family members. He also pointed out how I can talk to friends about their divorces or even discuss cancer with others. I'm proud of that strength.
I'm also proud of the fact that I can make this high-pitched guttural sound, which I break out into every time I am dancing Croatian folklore.
When Did You Start Blogging?
I am new to blogging, just started in January 2012. I blog about fashion and how moms should dress their bodies with new trends and basic favourites. There are lots of great blogs for the twenty something group (I am a follower of a few) but nothing for us. I hope to fill that void.
Pregnancy does a number on our bodies and our style needs to evolve with our new bodies. Don't fight the change, take a breath and figure out how to work with it. I promise the results will make you feel great.
What Style Advice Can You Give to Women?
There are so many pieces of advice I have when it comes to style, however, the most important piece is enjoy yourself, we have no choice but to wear clothing, so look pretty and have fun. There is this guilt when we have children that we can't/shouldn't have time to ourselves. I say screw that – take a shower, curl your hair, put on some make-up and dress your body because you love it.
When you are dressing your body here are some tips:
FIT FIT FIT FIT – it matters the most as we age. Girls in their teens and twenties can get away with ill-fitting clothes, women who are over thirty (plus add a kid or more) can't. Go to any magazine or internet site and look at celebrities in this age bracket and tell me what you notice…that's alright I can wait…told you so
Get fitted for a proper bra, the bra should lift the girls to their proper position and give then shape. For big chested women you will see you do have a waist. My small busted friends it enhances your shape.
Dress Age Appropriate – yes I know we all feel 20 or even 25 but you shouldn't dress like them. A 20-year-old dressed in low-cut this and short that will always do it better. Just look at Pamela Anderson.
BURN THE MOM JEANS – Purchase a dark denim, boot cut pair of jeans. Trust me, do it now
Buy some good shoes – Plastic shoes are a disaster on your feet. I am a big believer in less quantity and more quality
What Are Your 5 Favourite Items of Clothing & Why?
Blazers – they just dress up an outfit and make it special, who doesn't like to feel special?
Jeans – the right pair make your butt look amazing and make you feel even better
Dresses – I love to wear dresses, whether casual or formal, jeans can get boring and I love being a woman, and in my mind that is associated with dresses
Nude Heels – Nude heels go with any colour, it's really simple dressing and I need simple
ANYTHING LULULEMON – I have never gone wrong with this company, they make the best yoga/sports gear that I have ever worn before, during and after pregnancy. I work out in it and travel in it, if you ever get on a plane headed for a tropical destination in Canada at least half the Canadian women will be dressed in Lululemon. Every butt in the world is loved by Lululemon.
How Important is it To Dress Your Body-shape?
You should NEVER fight your body shape, embrace it and wear clothes that highlight your best features. That's when we look our best.
What Would You Say Your Personal Style Is?
My personal style is classic with a bit of trend. I love my lines to be clean and easy, I am the queen of easy dressing. Classic pieces last and can even evolve as your own style does.
If I love a trend and it fits my personal style I will try to wear it. Right now I am loving peplum…just looking for the right piece.
Thanks so much Iva, I really enjoyed interviewing you on Real Women – Real Life and I really love some of your style ideas and I am sure my readers will too! Maybe I need to investigate this whole  Lululemon craze, it is possibly a brand we need in South Africa too!