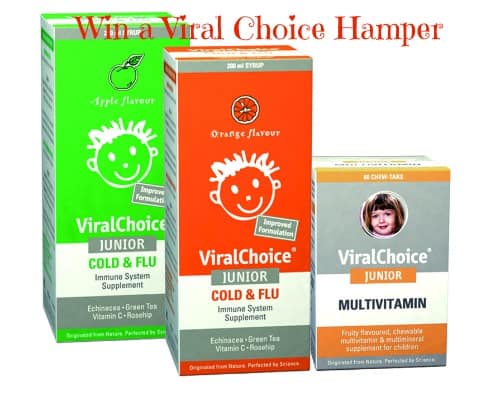 I am excited to announce that we are giving away 2 R500 Viral Choice Hampers to help boost your child's immune system, especially before the start of winter and cold and flu season. Follow the simple steps on the Rafflecopter form below to enter.

a Rafflecopter giveaway

This Giveaway will run from 19th March 2013, until the 27th March 2013. The winner/s will then be selected via the Rafflecopter form and announced on my blog and on Facebook. The winners will also be notified via email.
Please complete all the necessary steps on the Rafflecopter form, to ensure that your entry in processed correctly (please use a valid email address). Your details will only be used to validate your entry and inform you, if you are selected as a winner.
Conditions of entry: Anyone may enter this giveaway but please be advised that the various companies sponsoring prizes on Super Mom Blog, are based in South Africa and therefore prizes will only be shipped within South Africa. The prizes may not be exchanged for cash.