Packing for travel is not my strong suit, but as they say, practice makes perfect. I always tend to over pack, but I am also the person everyone turns to when they have forgotten something. One of the things I concentrate on when packing for any trip is ensuring that I have all the necessary gadgets with me. Hence the inspiration for my list of Best Travel Gadgets 2017 for Road Trips.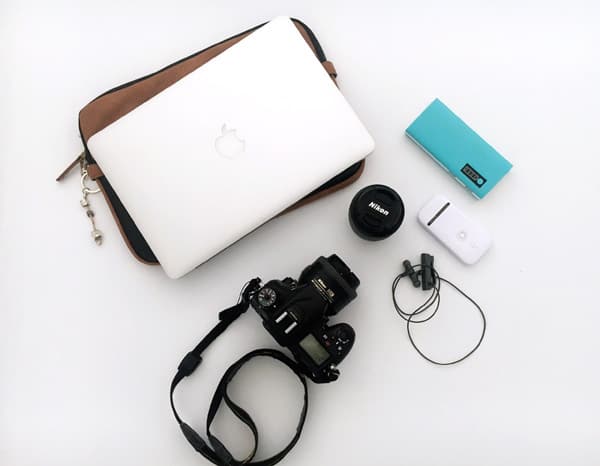 Travel Gadgets 2017
Below I have listed the items I reach for most often when on a road trip. The list may vary slightly according to where I am travelling and the type of activities I am engaged in, but I consider these my go-to gadgets.
Smartphone
My iPhone 6S is probably my most used gadget day-to-day and even more so when I am travelling. From communication, taking photos, connecting on social media, to navigating from destination to destination, it is a powerful little tool!
Mobile Power Bank
Rand for Rand this is probably the best money I have ever spent on a gadget! I bought mine from IToys for R699, which I think is excellent value for money, as I use it all the time. It has two USB ports and is suitable for charging all smartphones and tablets.
DSLR Camera
On most trips, I tend to take many of my photographs with my iPhone, but I do love my Nikon DSLR. Naturally, it is heavier and more cumbersome than a smartphone but getting the perfect shot, makes having it with me, worthwhile. I shoot most of my images with a 35mm prime lens, but I will usually take a zoom lens along just in case. Currently, I am shopping around for a wide angle zoom lens to replace the one I have.
Bluetooth Earphones
I love listening to music or podcasts when I travel, but this can be tricky if you are in a group, which is why I always pack my Wireless Earbuds. Earphones are also a good way to drown out noise if you need some sleep.
3 G Dongle
Having a 3G Dongle can be extremely useful, especially if the WIFI connection is bad and you need to work on your laptop or tablet. I have also found a dongle especially handy when travelling with kids so that they can download games or books.
Laptop/ IPad/ Tablet
Packing a Laptop is probably last on my list as not every trip warrants me taking one along, especially if I know I am going to be too busy to work. Having a laptop does come in handy if I need to download photographs or send emails. Most often my phone or Ipad is sufficient, particularly if I am only away for a night or two. Ipads and tablets are great for checking up on emails, watching Netflix or reading an e-book.
These are my Best Travel Gadgets 2017. What are your must-have travel gadgets and accessories?
Disclosure
This post does not contain sponsored or paid content. Please note that all information provided above was deemed correct at time of publishing but is subject to change at the brand's discretion.