As you know, I love entertaining, and more especially creating decorative table settings. When I received two metallic spray paint samples, the first thing that popped into my mind was table decor. If you are looking for fun, inspired table decor ideas then my DIY Metallic Spraypaint Table Decor project is just the thing for you.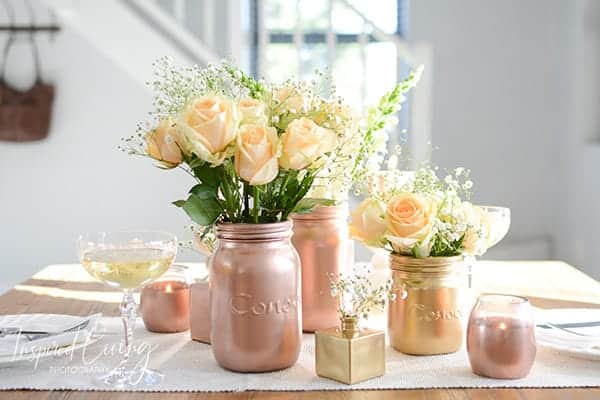 DIY Metallic Spray Paint
For this Table Decor project, I decided to upcycle products that I already own, which meant no extra cost incurred. The two paints which I received were a Rust-oleum Metallic Gold and Spray Mate Metallic Rose Gold.
My idea was to create a romantic table setting using the two gold shades, to paint glass jars and use them as vases or candle holders. I decided to use Consol jars, as well as a few other glass containers.
Method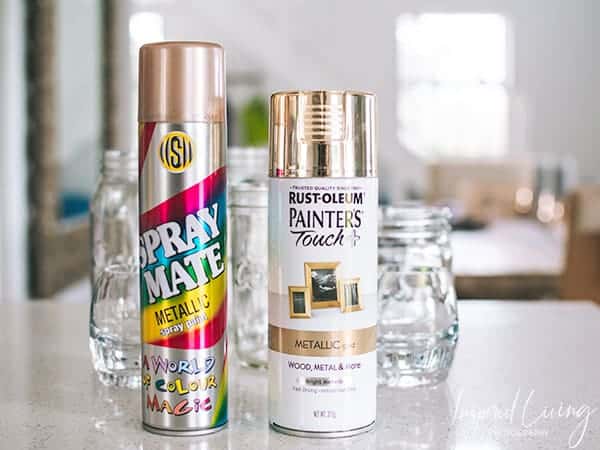 I must first state that this is the first time that used spray paint for a project like this, so essentially I was a complete novice. Secondly, it is not as easy as it looks, especially if you are a perfectionist like me. So READ THE INSTRUCTIONS CAREFULLY!
But I digress because it was a fun project and now I want to "spraypaint" everything in sight. So let's get started.
Step 1. Ensure the items you are spraying are clean, grease-free and dry, to avoid the paint streaking.
Step 2. Set up a work station outside or in a well-ventilated area, and lay out all the items you want to paint.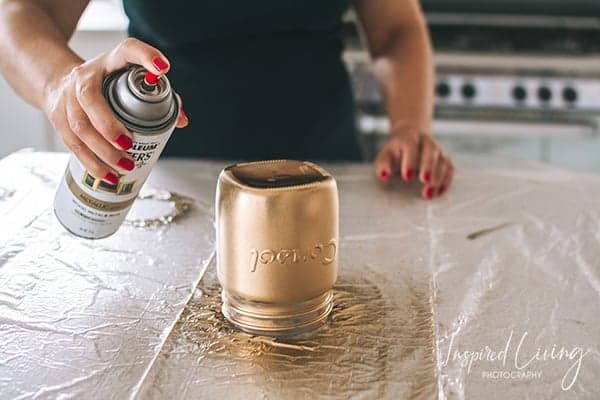 Step 3. As I mentioned earlier read the instructions on the can carefully! The most important thing to remember is to shake the cans well before starting to spray. Once you have done this begin spraying holding the can at least 20-30 cm from the item.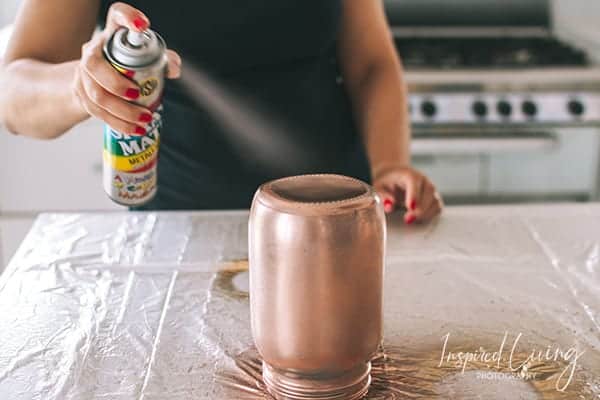 Step 4. Allow to dry and repeat step 3 until you are happy with the outcome. I recommend two to three coats when using metallic spray paint.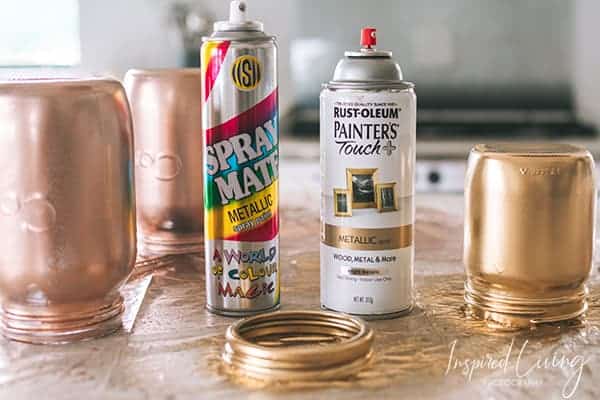 Top Tip: Do not handle the freshly painted items immediately as you will leave fingerprints, from the natural oils in your skin.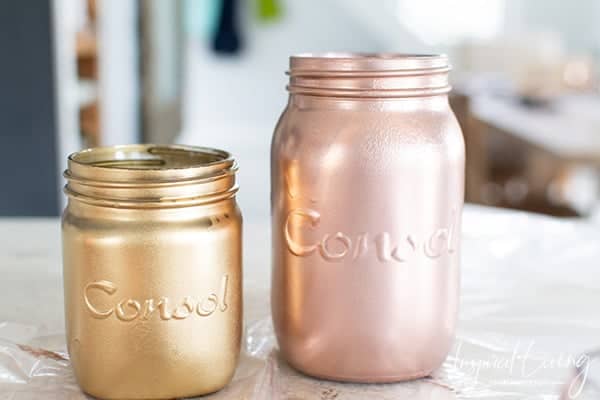 Result
Out of the two products, I found the Rust-oleum Spray Paint easier to work with, as well as the finish smoother and even.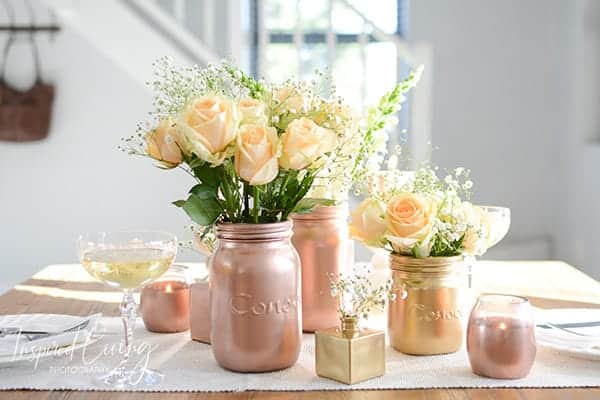 I was delighted with the overall result, especially as a first-time attempt and the table setting looked so romantic. I think that this type of effect is perfect for a wedding or even a birthday brunch.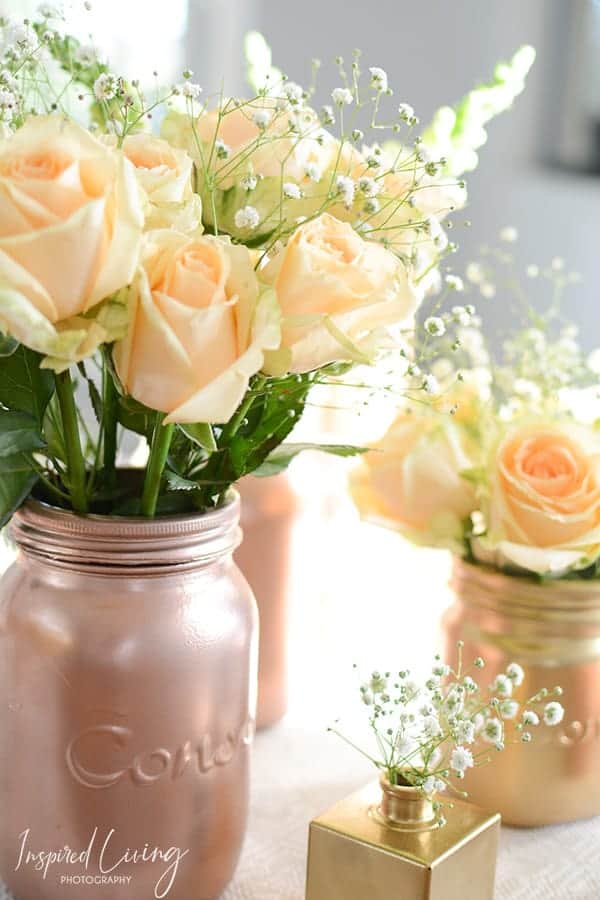 The sprayed consol jars can also be used storage for makeup brushes or as a stationery holder for your desk.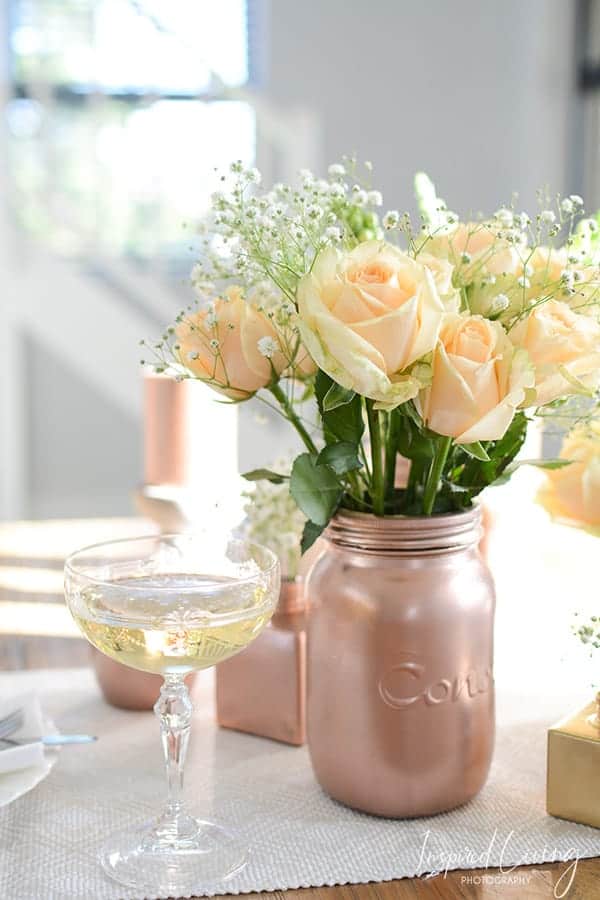 What do you think of the finished products? If you would like to see more DIY posts like this one, please let me know in the comment section below.
Images: ©2010 – 2019 Inspired Living and Fiona Rossiter. Please do not use any images featured on this website without written consent from the copyright holder and owner.
Disclosure
I received two cans of spray paint to use for this tutorial. All information provided, including prices, are deemed correct at time of publishing. Please note that all opinions, content, as well as, images are the property of Inspired Living and Fiona Rossiter unless, otherwise stated. To see more, read the full PR & Disclosure Policy below.
If you have enjoyed this post, please share it by hitting the buttons below⇓.