Repetitive weekday meals can get so dull, which is why I like to try new recipes a few times a month. I found this recipe in one of my favourite cookbooks, Jamie's 30 Minute Meals, but have adapted it to suit our taste. With the result, my Satay Chicken Skewers with Spicy Noodles now makes a regular appearance on our menu plan and is a family favourite.
Satay Chicken Skewers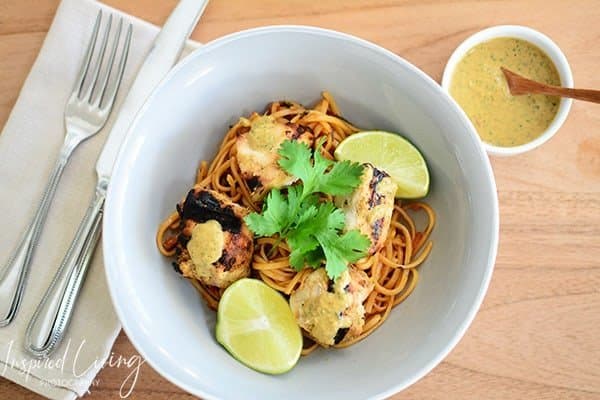 I will not lie, this is not a one-pot wonder and does require some preparation time, but it is well worth it! My tip is to whip up a batch of satay sauce ahead of time, as that is the most work required.
Satay Chicken Skewers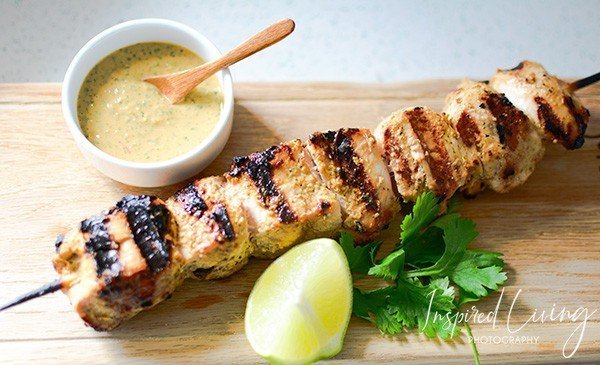 Ingredients
4 x Large wooden skewers
6 x Skinless deboned chicken breasts
Small bunch of fresh coriander
1 Fresh red chilli
1 Clove of garlic
Small piece of ginger
3 Tbsp peanut butter – I used smooth but you can use crunchy
1 Tbsp Soy Sauce
2 x Limes
1 Tbsp Honey for drizzling
Olive Oil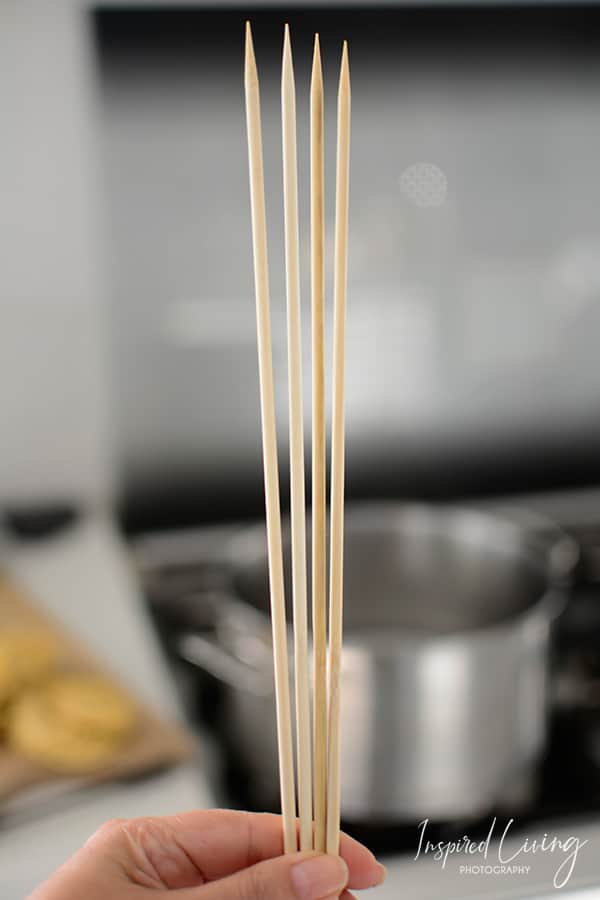 Before getting started, soak the wooden skewers in cold water to avoid them burning. If you are using an oven, turn the grill on to the maximum temperature. We have been using our gas Weber to cook the chicken skewers, you can also grill them on a normal Weber or a braai.
Method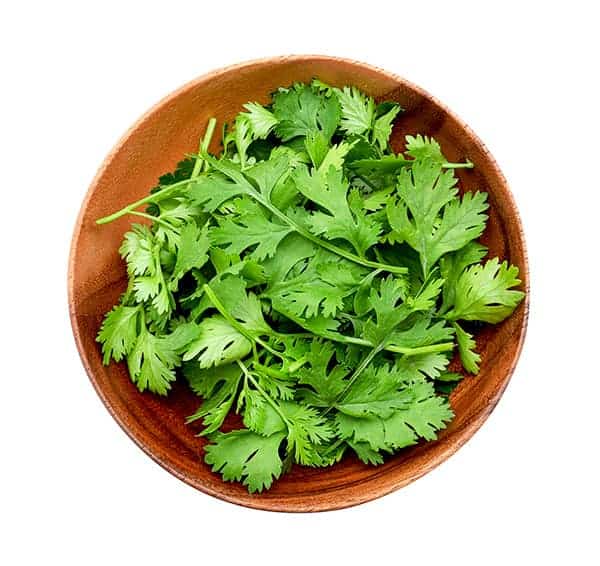 Place the fresh coriander, chilli, peanut butter, soy sauce, juice and zest of both limes juice in a food processor. Add the peeled garlic and ginger to the processor. Lastly, add a splash of water. Blend until the paste is a spoonable consistency, add a bit more water if it is too thick. Season with salt and pepper. Set aside half of the mixture in a small serving bowl.
Place the chicken breasts, alternating ends, side by side on a chopping board. Carefully push the skewers through the chicken. Slice between the skewers to make four large kebabs. If you use smaller skewers only use 4 chicken breasts. Spoon the rest of your satay mixture into a roasting tray, add the kebabs and coat with the paste, and drizzle with olive oil. Before grilling season with salt. Place on the top shelf, and grill for approximately 10 minutes. Turn and drizzle with honey and cook for a further 10 minutes.
Spicy Noodles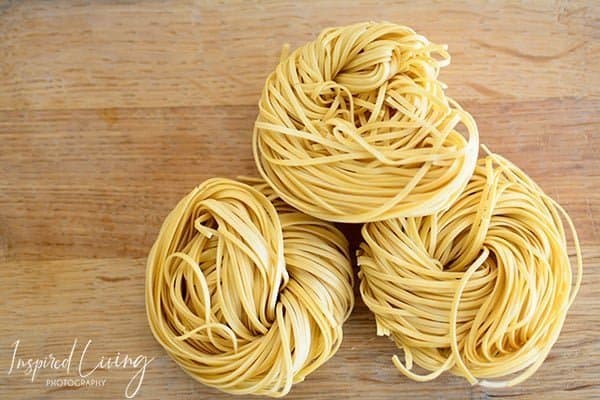 Ingredients
340g Medium egg noodles
2 Tbsp Olive Oil
1/2 Red onion chopped
1 – 2 Fresh red chillies chopped
1 Clove of garlic, crushed
Small piece of ginger, grated
Small bunch fresh coriander roughly chopped
3 Tbsp Sweet Indonesian soy sauce
1/2 Tsp sesame oil
1 Tsp fish sauce
3 Tbsp sweet chilli sauce
1 Lime
Method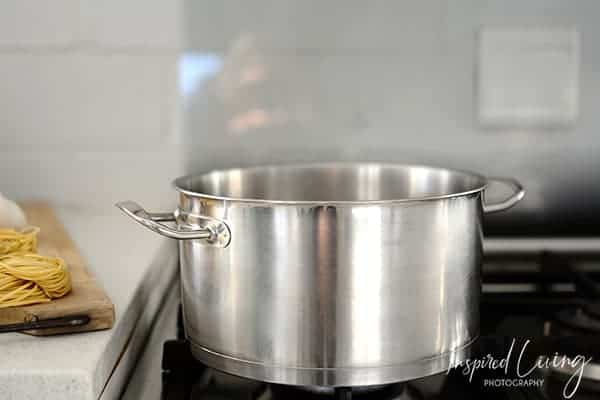 While the chicken is grilling place a large pot of salted water on the stove, over high heat. Once the water is boiling, add the nests of noodles and cook for approximately 5 minutes. Remember to separate the noodle strands once in the water to ensure even cooking.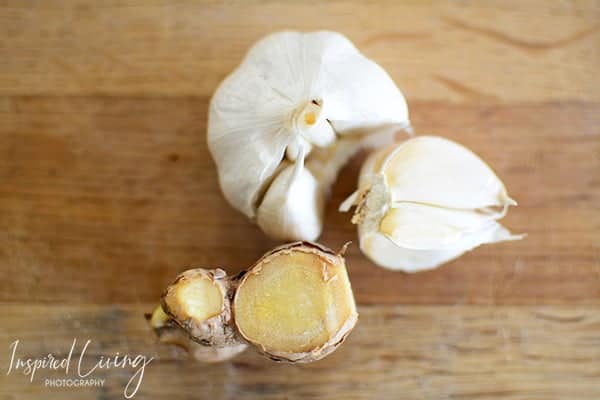 Drizzle olive oil into a large pan and place over medium heat, add the onion, garlic, ginger and chilli. Once the onions are translucent add the soy, chilli and fish sauce and sesame oil, as well as a splash of water. Cook over medium heat for a few minutes. Lastly, squeeze in the juice of one lime and add the chopped coriander. Taste to check the seasoning and adjust if necessary.
When cooked strain the noodles and add a splash of olive oil, cover and set aside.
To Serve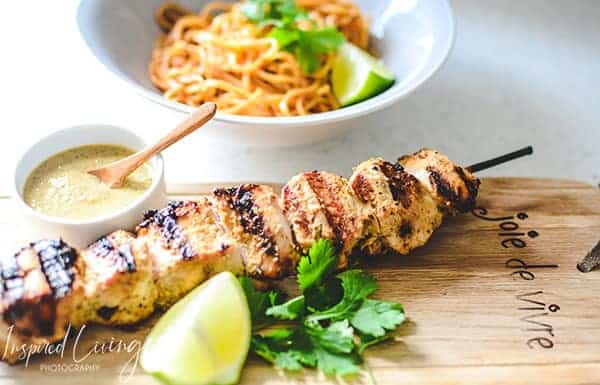 Once the chicken satay skewers are cooked, place on a wooden serving board with wedges of lime and coriander. Heat the sauce mixture, add the noodles to the pan tossing gently, dish into individual bottles and sprinkle with coriander. Take everything to the table, including the bowl of satay sauce, and enjoy.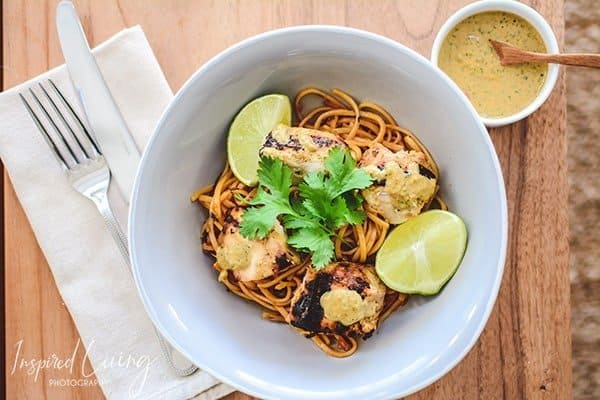 Wine Pairing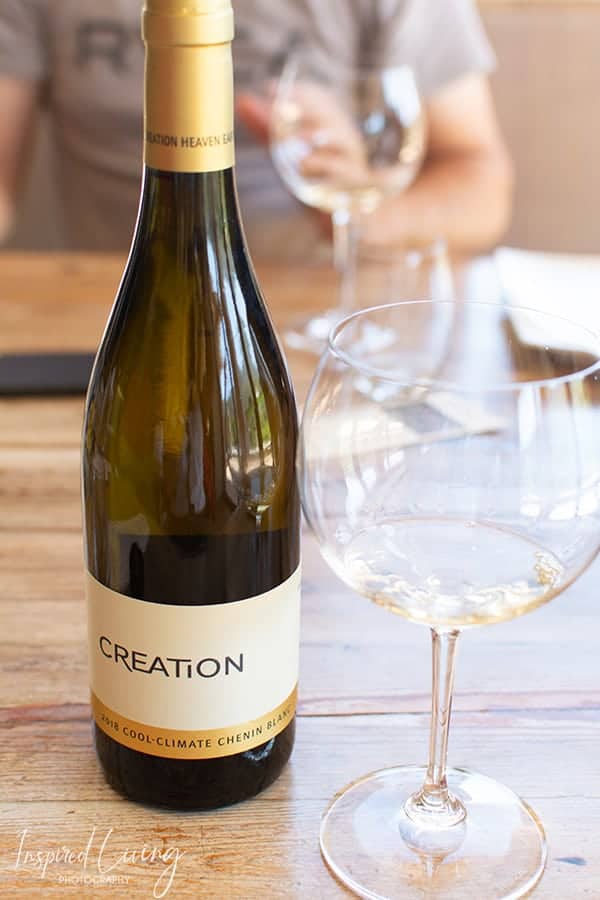 The wines that I would recommend pairing this dish with this dish are either a Cool-climate Creation Chenin Blanc or a Bouchard Finlayson Galpin Peak Pinot Noir.
Images
©2010 – 2019 Inspired Living and Fiona Rossiter. Please do not use any images featured on this website, without written consent from the copyright holder and owner.
If you have enjoyed this Satay Chicken Skewers recipe, please share it by hitting the buttons below⇓. For video reviews, please subscribe to the Inspired Living YouTube channel.
Disclosure
No compensation was received for writing this post. We have no material connection to the brands, products, or services mentioned in this post. Care has been taken to ensure that all information provided, including prices, are deemed correct at time of publishing. These are, however, subject to change at the establishment's discretion. Please note that all opinions, content, and images are the property of Inspired Living or Fiona Rossiter unless otherwise stated. To see more, read the full PR & Disclosure Policy below.