September is Heart Health Awareness month and in celebration, I have created a deliciously healthy and nutritious Thai Fish Curry Recipe, in collaboration with I&J and MSC (Marine Stewardship Council).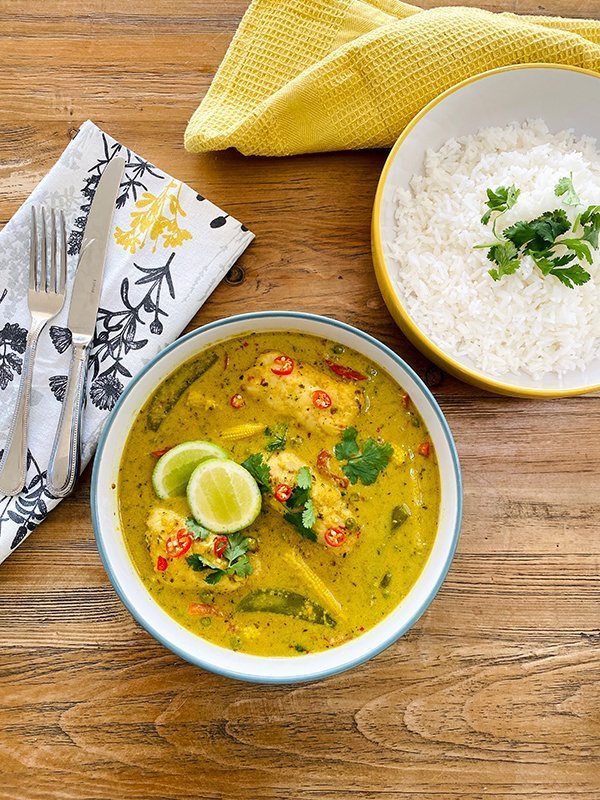 The health benefits of eating seafood, 2 to 3 times a week, are vast. Not only is seafood high in protein, but it also provides good nutrients, vitamins, and essential omega-3 fatty acids, beneficial to both heart and overall health. Personally, I try to incorporate fish, such as hake, tuna, and salmon, into our diet at least twice a week.
When selecting your favourite I&J seafood products, keep a lookout for The Heart and Stroke Foundation's Heart Mark logo, as well as the MSC Blue Fish Label. Switching to MSC certified sustainable seafood will have a considerable impact on our oceans. For my recipe, I have used the I&J Deep Water Hake Medallions. You can also find a recipe video on the Inspired Living Instagram feed.
Thai Fish Curry Recipe
Curry Paste
Ingredients:
1 Tbsp Coriander Seeds
2 Tsp Cumin Seeds
1 Tsp Black Peppercorns
6 – 8 Red Chillies (Dried or Fresh)
3 – 4 Spring Onions
4 Lemon Grass Stems (Chopped)
2 Tbsp Olive Oil
3 – 4 Garlic Cloves
1/2 Cup Fresh Coriander (Leaves & Stems)
2 Tsp Lime Rind
1/4 Cup Lime Juice
2 Tsp Turmeric
4cm Piece Ginger or Galangal
2 Tsp Shrimp Paste
Method:
Add all of the curry paste ingredients to a food processor and blitz into a paste. Set aside.
Fish Curry – Serves 4 People
Ingredients:
1 x Box I&J Deep Water Hake Medallions or Fillets (Cook from frozen)
1 – 2 Tbsp Olive or Coconut Oil
3 Tbsp Curry Paste (See recipe above or use shop-bought yellow or red paste)
1 Tin Coconut Cream
1 Tbsp Sweet Indonesian Soy Sauce
1 Tbsp Fish Sauce
1/2 Cup Lime Juice
1 Cup Baby Corn
1 Cup Sugar Snap Peas
1 Cup Red Pepper (Chopped)
1 Cup Petit Pois Peas

Handful Chopped Coriander

1 Spring Onion (Chopped)
Salt to taste
Method:
Heat 1 to 2 tablespoons olive oil in a heavy-based frying pan or wok then and add the thai curry paste. Sauté the paste over medium heat for approximatley 2 to 3 minutes. Stir often, and add a splash of water if necessary.
Pour in the coconut cream, stir to combine, and then add the sweet Indonesian soy sauce, fish sauce and lime juice. Cook for a further 2 minutes over medium heat.
Next add the baby corn, sugar snap peas, red pepper and petit pois peas and stir.
Add the I&J Hake medallions (cooking from frozen), reduce the heat and simmer for 5 to 10 minutes or until the fish is cooked.
Check the seasoning and add a dash of salt if necessary. Finish off the fish curry with a sprinkle of fresh coriander leaves and chopped spring onion, and you are ready to serve.
Serve the Thai fish curry with steamed Jasmine rice, chopped coriander and a squeeze of lime. ENJOY!
Keep an eye out for the I&J in-store promotions, and remember to enter the competition for a chance to win big! To enter the competition, scan the QR code or WhatsApp proof of purchase of any of the featured I&J products, approved with the Heart Mark, and MSC blue fish label.
Choose #FeelgoodSeafood and take care of your heart, as well as our oceans.