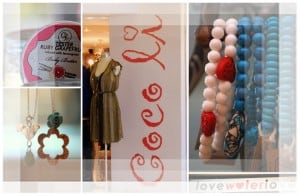 I never need an excuse to shop and I absolutely adore the Cape Quarter Centre in Green Point, Cape Town.  It feels as if you have crossed the Rubicon when you step into the centre; it has a wonderful cosmopolitan air about it and I was certainly not disappointed when I popped in to the centre on Monday, it was a hive of activity. The main purpose of my visit was to interview the lovely Leigh Tzouvanni, co-owner of  the beautiful boutique gift store Coco li.
 Tell Us A Bit About Coco li?
Coco li is a joint venture started by myself and my sister Lana Goslett. We opened our first store, in 2004, in The Paddocks Centre in Milnerton.  We both have a background in Interior Design and architecture and the business was born out of our shared love of all things beautiful. Having a united vision and passion made establishing Coco li an easy venture; what better way to spend your day than surround by all the creative flare and beauty that feeds your passion. Five years later, in 2009, we opened our second store in Greenpoint's Cape Quarter extension.
"Coco li is the perfect little boutique where you will not only be inspired to spoil someone else but you will also have free rein to spoil yourself. Come and get lost in our treasure chest…" You can expect gifts to be adorned with exquisite wraps that are then tied with vintage lace ribbons and perhaps even finished off with a rose – something uniquely Coco li and a real treat for the recipient of your gift."
What Type of Products Do You Stock?
We stock a vast array of gorgeous upmarket goodies which range from unique homeware pieces, jewellery and stunning designer clothing, including some vintage pieces. I have even managed to source a few vintage clutches!
When asked what her favourite products are, Leigh's response was fitting – I love it all!!
Where Do You Source Most of  Your Products?
We maintain that 90% of our products are local and we import a few items to fill the gaps. We are lucky to live in the country we do and have access to such talented designers and such well-made local products, which include unique clothing collections from a selection of SA designers.
What Would You Say Your Personal Décor Style Is?
My personal style is definitely quirky with vintage inspiration, a great deal of what you see in store will be mirrored in my own home.
 Do You Travel for Business?
I do not do much in the way of business travel at present but as the business grows I would love to travel to source more unique items of interest to add to our growing range.
You Have Developed Your Own Body Products – Tell Us More About Them
We have developed a range of local bath and body products, with the help of a friend of mine Tanya, who has her own range of natural body products, called Naturals! We worked on fragrances and bottling together and our labels were designed by Bridget from loveletterstationery!  The Coco li Body Range includes Himalayan Bath Salts, Salt & Sugar Body Scrub, Body Butter and Hand and Body Lotion. These products come in soothing fragrances such as "Chamomile & Rose" and "Vanilla" and for something more invigorating, a vibrant "Ruby Grapefruit". I am very excited to announce that we are currently in the process of developing a range of diffusers and massage oils.
Thank you so much to Leigh for giving me the opportunity to interview you and learn a bit more about Coco li, it is a beautiful shop filled with exquisite products! I wish you every success with the further development of your Coco li Body Range and we will definitely keep readers up to date with any new products that are added.
Images: ©FAR Photography