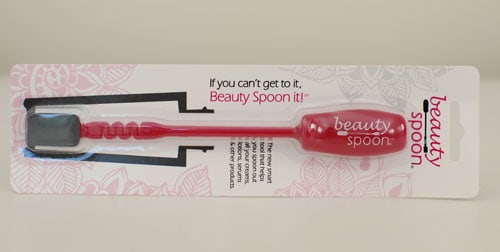 A few weeks ago I received an email enquiring whether I would like to receive a Beauty Spoon to try. I was intrigued from the onset! I have heard about this amazing beauty tool but had never yet seen it in the flesh.
So what is a Beauty Spoon? The Beauty Spoon is designed with an ergonomic handle and flexible stem making it easy to retrieve every ounce of liquid and cream located at the bottom of your product bottles and containers. It can be most frustrating when you can see the cream at the bottom of the jar but are not able to get to it, especially with beauty products being so expensive! It also comes equipped with a contoured spoon for retaining and scooping out as much liquid as possible.
When you are finished using it simply wash The Beauty Spoon with soap and it is also dishwasher safe! Using The Beauty Spoon, to scoop out your beauty products, also avoids getting bacteria, from your hands, into your products when you are using them.

I am loving using my Beauty Spoon and think that it is an essential beauty tool that maximizes the use of all your beauty products!
The Beauty Spoon retails at R110 and if you would like to find out more or purchase your own Beauty Spoon visit their website.