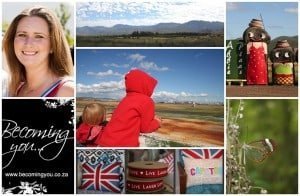 Today we get to look inside the life of Kathryn Rossiter; Kathryn is the creator of the blog Becoming you.
Tell Us About Yourself:
I am from Cape Town, South Africa – the top tourism destination in the world!
I live in an area known as the Southern Suburbs of Cape Town. It is a beautiful area surrounded by mountains, forests, nature reserves and beaches! It really is a paradise to raise small children and I have to pinch myself that we are so blessed to live in a place so many people pay a small fortune to visit on holiday. We enjoy a wonderful outdoor lifestyle with great weather (besides the wind!) I love living in Cape Town as I am very fortunate to have grown up here and all my close family live within 10 minutes drive!
I am passionate about my children, family, friends, chocolate, magazines, books, photography, blogging….
My Dream – To be a success at raising my children while not losing sight of who I am or how important my marriage is! To travel the world would be pretty nice too!
What Motivates & Inspires You?
Hard to know really but I do want to end my life knowing I was really great at something. The admiration of my children and family as well as an inner drive to succeed at all I do also spurs me onwards….
God, the ultimate creator, is a pretty awesome source of inspiration don't you think??? Just look at nature and how perfect and scientific and beautiful it all is. I mean babies – come on they are the ultimate creation, totally amazing!
What Are Your Strengths & Weaknesses?
Strengths: The willpower to avoid chips and fizzy drinks Weaknesses: The lack of willpower to avoid chocolate and cake…. Seriously my greatest strength is my organizational skills; my greatest weakness has to be patience as a mom or on the road 😉
What Do You Treasure Most In Life?
My husband is a gem, memories, happy times with family, good friendships, holidays, photographs, sentimental jewellery like my engagement ring, and the security of my home!
What Are Your Fears?
Like most, the fear that keeps me awake at night is probably that health problems would befall me or my family, security is a big concern in SA and the future well-being of my kids is pretty scary too. But perfect love casts out fear and I'm pretty well covered by someone much larger than me who is looking out for all these concerns!
What Keeps You Busy?
I have always wanted to work in publishing from the age of 14, when I would spend all my pocket-money on magazines and then pour over them for hours in my room on my own! I still would love to do this but for now I have 3 jobs – the paying one is as a Media Liaison where I write documents, guides, newsletters, website content and do social media 1 day per week. The unpaying one is my blog – Becoming you – which is something I hope will grow into a paying job soon! It is my current baby and I love it. My unpaying, full-time, no overtime, intensively emotionally draining job is being a mom to 2 employers! 😉
What Do You Do For fun?
Have I said blog? Yes that is pretty time intensive at present. Also seeing friends, walks in nature, eating out when the budget allows, outings with my family, painting, and entertaining but not cooking, visiting the beach, reading, watching movies, camping holidays or weekends away.
I try to find time for blogging, photography, gardening, Beth Moore bible study, painting, some baking and sewing crafts or things for my kids occasionally (when patience allows)
What are your successes or failures?
My greatest successes are the 2 little people I birthed; my greatest failure is not always seeing what value lies in raising 2 little people to become successful big people!
What has been your greatest challenge thus far in your life?
As a child and teen my family went through a few rough years in terms of health, finances, job security, moving city, changing school and subsequent friend issues. It was a very hard time for me and not one I wish to repeat but I definitely think that what they say about difficulties making you who you are is true in this case. I learnt a lot during that time and I am better for it now. Another difficult period in my life was when I was newly married and living in a foreign country for 2 years with my husband. The experience was full of very high highs and low lows but we definitely learnt to rely heavily on God and each other during this time!!
If you could do something different with your life what would it be?
Occasionally I do regret that I didn't go to university after school – not due to grades but rather finances…. I don't think I am worse off today because of it but I would like to prove myself, mostly to me but to others too! I'm not sure if I'm committed enough to study part-time though, not yet anyway. If I could change something in my life right now it would be to have more travel experiences… I would love to see somewhere new or go on an adventure once a year.
Thanks Kathryn for sharing your life with us, we wish you every success and we hope that one day you will realise your dream of a life in journalism!
Also in this interview series Real Women – Real Life, meet Ellie Coburn from The Ellie Life….
Image Source: Kathryn from Becoming you