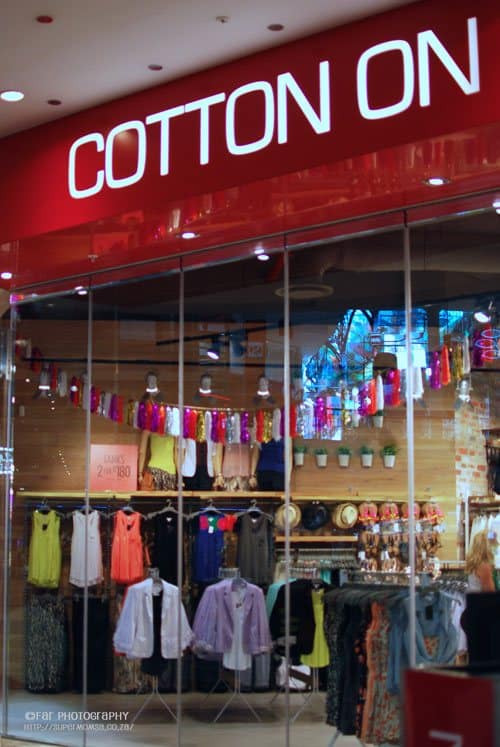 Last week I was invited to attend the opening of Cotton On, Super Store, in canal Walk, Cape Town. As you could probably guess I would never turn down an opportunity to shop and I was rather curious as to what this new store has to offer the Capetonian consumer!
The Australian brand is well-known for effortless style at affordable prices. I must confess I did find the prices quite reasonable, I would have to say probably less than half what you would pay for a similar item at the likes of high-street store like Zara. The store is huge and the staff were helpful and friendly.
The Cotton On Super Store is the second of its kind in SA and it houses all their popular brands: Mens, Ladies, Cotton On Body and Cotton On Kids. Plus a small section of Typo goodies. The opening of the Super Store is perfectly timed, with Christmas on our door step and summer officially here!
Their ladies wear ranges from casual everyday T-shirts, shorts and dresses to something a bit smarter for work or an evening out. I definitely prefer their more casual range, I loved their summery boob-tube dresses and their casual jackets. I really liked the prints on their T's but I found the fit really odd – a bit too big across the chest area!
Their mens T-shirts are great and really reasonably priced. They are made from beautifully soft cotton, with trendy prints and awesome colours for summer. I bought MR two and he absolutely loves them 🙂
The swim wear range was rather popular with all the shoppers there, I must admit I am not ready to start the swim wear search but when I am I will definitely head back to Cotton On to have a look. I also loved their Body range, which features really pretty underwear and gorgeous sleep wear.
Cotton On Kids is very cute and they have super trendy goodies for the little-ones, the only negative is that the kids range only caters up to the age of 7 so if you have older sprouts you are out of luck!
I would definitely recommend a visit to the Cotton On Super Store but I would advise you make it soon before the seasons mayhem really starts. Thanks to Cotton On for the preview and our goodie bag 🙂
PS. I will share my purchase from Cotton On in a separate post!
Cotton On Super Store Canal Walk is located on the Lower Level Shop 85LL, Contact Tel:(021) 552 0726, Opening Times are 9am to 9pm.